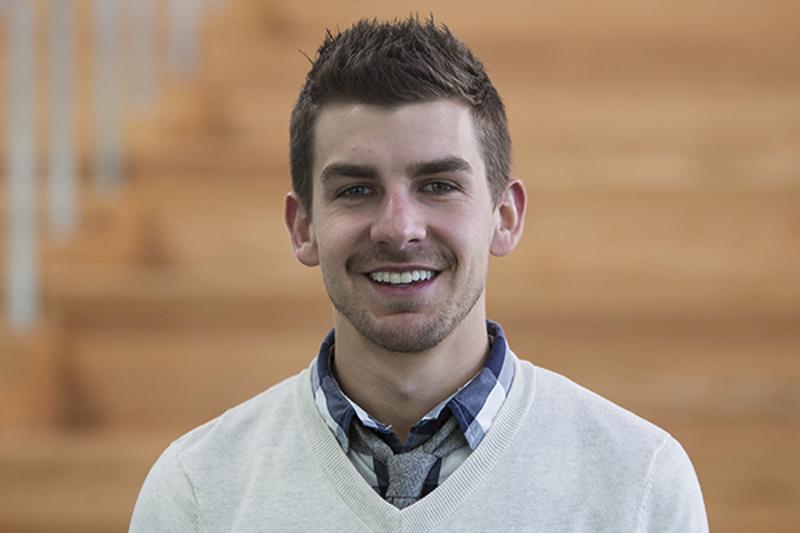 Kevin Schultz is a senior with a double major in journalism and English at NKU where he has covered everything from administration and student government to the environment and diversity. He is the former Editor-in-Chief of The Northerner and currently presides as president of NKU's Society of Professional Journalists chapter and is a member of Sigma Tau Delta English Honors Society, Lambda Pi Eta National Communication Association's Honor Society and the university's Honors Program.
Kevin has interned at Cincinnati Magazine and was previously an ASME intern at Scientific American Magazine and a Scripps Howard Foundation Intern at the Scripps Howard Center for Civic Engagement.
In his free time, Kevin enjoys running, reading, drinking large amounts of coffee and spending time with his dog Roscoe.
Follow him on Twitter @KevinEdSchultz.
Kevin Schultz, Digital Projects Manager
Apr 03, 2015

Early Childhood Center faces uncertain future

(Story/Media)

Feb 26, 2015

Students take to the capitol, advocate for equal funding

(Story/Media)

Dec 28, 2014

University takes next steps in environmental evolution

(Story)

Dec 28, 2014

Former modern dancer spins a web of 'green' influence at NKU

(Story)

Nov 03, 2014

BREAKING: Former dance coach improperly used $6,800, could be center of investigation

(Story)

Nov 02, 2014

Student-created chemical recycling machine could cut costs, benefit the environment

(Story)

Nov 01, 2014

Hillary Clinton draws big crowds to campus

(Story)

Oct 22, 2014

Students learn firsthand from world-famous National Geographic photographer

(Story)

Oct 06, 2014

'Kill the Messenger' captures story of former Northerner editor's rich life and tragic death

(Media)

Oct 03, 2014

Hollywood and journalism: the unseen connection

(Story)

Oct 02, 2014

University attempts to address small desk issue

(Story/Media)

Sep 15, 2014

Religious activist's message sparks controversy

(Media)

Sep 01, 2014

'Fitting in' isn't an option for some students with diverse body types

(Story)

May 02, 2014

Letter from the editor

(Story)

May 02, 2014

Q & A with President Mearns

(Story)

Apr 30, 2014

Student's passion for success has far-reaching influence

(Story)

Apr 17, 2014

"Closure" to Scott Eaton investigation

(Story)

Apr 16, 2014

Students channel passion to save local urban forest

(Story/Media)

Apr 09, 2014

Technological advances transform higher education

(Story)

Apr 04, 2014

SGA Election 2014: Battle continues as Judicial Council hears arguments regarding grievance

(Story)

Apr 02, 2014

Grievance filed against president-elect could overturn election results

(Story)

Apr 02, 2014

Student feedback heard in Strategic Planning session

(Media)

Apr 02, 2014

Student senate looks to plumbing to promote a greener campus

(Story)

Mar 26, 2014

Explore our interactive, behind the scenes guide to the university's recycling initiatives

(Story)

Feb 18, 2014

UPDATE: Student transported to hospital after being struck by vehicle

(Story)

Feb 12, 2014

A tale of 'never been kissed'

(Media)

Feb 12, 2014

Campus questions Chick-fil-A possibility

(Story)

Feb 05, 2014

Snow takes university by storm

(Story)

Jan 30, 2014

Sneak a peek into this spring's art exhibits

(Media)

Jan 17, 2014

Making smarter food choices begins with a 'Healthy U'

(Story)

Jan 17, 2014

What will NKU's new tobacco policy mean for violators and those trying to quit?

(Media)

Nov 21, 2013

African-American students feel lost in the crowd

(Story/Media)

Nov 19, 2013

Top five things to know about Wednesday's Board of Regents meeting

(Story)

Nov 06, 2013

Anti-abortion group aims 'to educate' campus through use of graphic images

(Story/Media)

Nov 01, 2013

Take advantages of endless opportunities to give back

(Story)

Nov 01, 2013

Explosives dog and officer share special bond

(Media)

Oct 31, 2013

University announces new VP for Academic Affairs and Provost

(Story)

Sep 26, 2013

Student twerks way to a top spot in Juicy J contest

(Story)

Sep 19, 2013

Northerner to go more digital

(Story)

Sep 19, 2013

Investigation on Scott Eaton reveals over $300,000 'misappropriated'

(Story)

Aug 30, 2013

University releases draft of strategic plan

(Story)

Aug 29, 2013

Freedom to smoke or freedom to choose: A difficult topic, a more difficult decision

(Story)

Aug 22, 2013

Administrative turnover sweeps campus

(Story)

Aug 16, 2013

Regents sworn in at early morning meeting

(Story)

Aug 16, 2013

President presents preview of strategic plan at Fall Convocation

(Story)

Aug 13, 2013

New athletic director celebrates 'a new day in NKU athletics' with Chamber of Commerce

(Story)

May 27, 2013

Northerner writer wins national recognition

(Story)

Apr 18, 2013

Pros and cons to new syllabus bank

(Story)

Apr 12, 2013

Rock music brings in big crowds on campus

(Story/Media)

Apr 11, 2013

SGA wants $63,000 for student orgs.

(Story)

Apr 04, 2013

Pederson secures second term as SGA president

(Story)

Mar 28, 2013

Pederson, Trump win top spots in SGA election

(Story)

Mar 21, 2013

A Glance at the Candidates

(Story)

Mar 21, 2013

Student Senate addresses campus safety concerns

(Story)

Feb 28, 2013

Student Senate asks for changes in meal experience

(Story)

Feb 22, 2013

Students unblocked from NKU Dining's Twitter account

(Story)

Feb 20, 2013

Student parking permit prices set to increase to cover future costs

(Story)

Feb 19, 2013

NKU Dining blocks users on Twitter

(Story)

Feb 14, 2013

Provost plans for transition into faculty

(Story)

Feb 07, 2013

SGA plans to improve university brand

(Story)

Jan 31, 2013

Freshmen applications up 30 percent

(Story)

Jan 31, 2013

Dean of Students to SGA: 'Get motivated'

(Story)

Jan 24, 2013

Part-time professors caught up in full-time problem

(Story)

Jan 17, 2013

Upgrades expected over the next two years

(Story)

Dec 06, 2012

Student Senate making progress toward Pederson's "Big Eight Goals"

(Story)

Nov 28, 2012

Expanded meal plans could offer value, convenience

(Story)

Nov 15, 2012

Early syllabus release in question

(Story)

Nov 07, 2012

Open forum sessions on the way

(Story)

Oct 25, 2012

Student senate holds biannual safety walk

(Story)

Oct 11, 2012

Ceremony planned to install new president

(Story)

Oct 11, 2012

Student senate considers town hall meetings

(Story)

Oct 04, 2012

Chase admission standards questioned

(Story)

Oct 04, 2012

Five senate seats filled, two still remain

(Story)

Sep 27, 2012

Chase dean announces retirement

(Story)

Sep 20, 2012

First resolutions underway for senate

(Story)

Sep 12, 2012

Freshmen senators elected, five seats now open

(Story)

Sep 06, 2012

A look back at student government's work

(Story)

Aug 30, 2012

Campus Rec Fee: Where will your money go?

(Story)

Aug 30, 2012

No resolutions yet, but plans for this year in the works

(Story)

Aug 30, 2012

Renovations across campus under way

(Story)

Apr 17, 2012

Extended library hours in question

(Story)

Apr 11, 2012

Horror film showcases students' talents

(Story)