Student twerks way to a top spot in Juicy J contest
Well-known rapper Juicy J could soon be making it rain for one NKU student who twerked her way to the top of a nationwide competition that promises to pay the winner $50,000 in scholarship money.
Freshman undeclared major Morgan Bruin entered the competition in the beginning of September and has since received nearly 60,000 votes for her video on the contest's website and over 20,000 views on YouTube.
Bruin is in fourth place in the competition as of Sept. 25 and is asking for your votes.
Juicy J's contest
The nationwide contest is being held online at thejuicyj.com/scholarship.
According to a video of Juicy J on the website, the rapper is asking "ladies" all across the country to send in videos of themselves. The only requirements were to include a shout out to Juicy J and World Star Hip Hop and use the song "Scholarship" in each YouTube video.
"I will be picking the winner myself out of the top 10 videos," Juicy J said in a video announcement about the competition. "I want to see a video of you telling me or showing me why you deserve this money."
And while twerking isn't a mandatory requirement for the video competition, it is something that almost all of the contestants are doing to make themselves stand out.
"I don't fit the mold," Bruin said. "I apologize to my family in the video. I don't want to offend anyone by doing it, but I have a talent that people to deserve to see. And if I have to twerk my way up, I have to twerk my way up."
In fact, out of all the top 10 videos which could eventually be considered by Juicy J for the grand prize, as of Sept. 25, eight of the contestants twerked in their videos.
Bruin's part in 'twerk culture'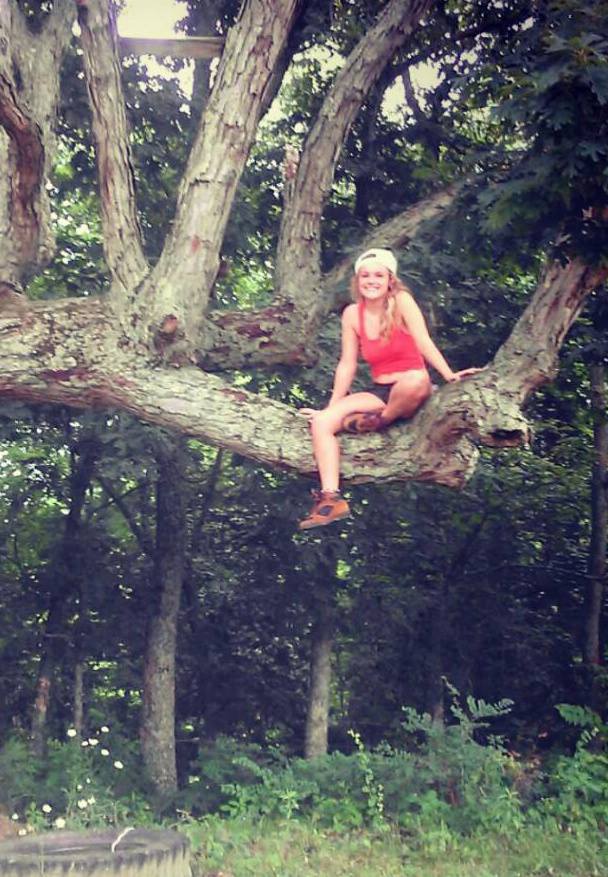 An employee of Mellow Mushroom and a lover of karma, hiking and trees, twerking in her living room– as seen in her video– is probably the last thing you would expect Bruin to be doing in her free time.
"I'm not the typical twerker… I have a great mind and a great heart," Bruin said. "But I can dance like a 'slut' I guess… and it really took a lot of courage to do."
Bruin is almost what she would call the modern version of a hippy.
She said she loves good energy and yoga, so she admitted she doesn't fit into the standard view of twerk culture which has recently developed into a bigger part of pop culture after things such as the MTV Video Music Awards performance by Miley Cyrus and the YouTube sensation "Twerk" by Lady which has over 7 million views on YouTube.
Bruin said she heard about the contest from an ex-boyfriend who told her she could never win or even attempt something like this. She said she decided to do the contest after taking time for serious thought.
"I did it to prove myself to other people… I have never taken any dance classes or anything and I have always had a passion for it," she said. "Dancing really helps me express myself and I just so happen to be best at twerking."
She also had other reasons for competing.
"I want to win this scholarship to join the Peace Corps and stuff, not just to win it to say I can twerk better than other people," she said. "I'm doing it to move up in the world, to show people you don't have to be a certain type of person to do certain things."
Bruin admitted that she also sought the approval of her mother before deciding to participate.
"She really thought I could win it," Bruin said about her mom. "So now she is really into it. She has tallies and checkmarks of how many views and votes I get."
Moving forward
The contest runs till Sept. 30 and the winner is set to be announced on Oct. 7, according to Bruin.
After the event, Bruin plans to keep making videos.
"I just did this all by myself… I even burped in my video. I turned this one in because it showed a lot of personality. I didn't want it to be perfect; I wanted to show people you can have flaws."
She hopes this effort in showing a true part of who she is allows her to remain in the spotlight.
"Hopefully I can win over America and be America's next sweetheart, by being able to twerk," she said.
Apparently, Bruin can twerk much better than what is shown in her video though.
"I didn't do bad in my twerking video, but I could do so much better. I'd hate to sound cocky, cause I'm pretty humble, but when it comes to twerking… I don't play."
How you can get involved
Go to to thejuicyj.com/scholarship to view Bruin's video and/or vote for your favorite. To submit your own video, read the directions towards the top of the page.
What is Twerking?
"The rhythmic gyrating of the lower fleshy extremities in a lascivious manner with the intent to elicit sexual arousal or laughter in ones intended audience," according to the top post for the word on Urbandictionary.com.
"To dance to popular music in a sexually provocative manner involving thrusting hip movements and a low, squatting stance," according to The Oxford English Dictionary.