Students learn firsthand from world-famous National Geographic photographer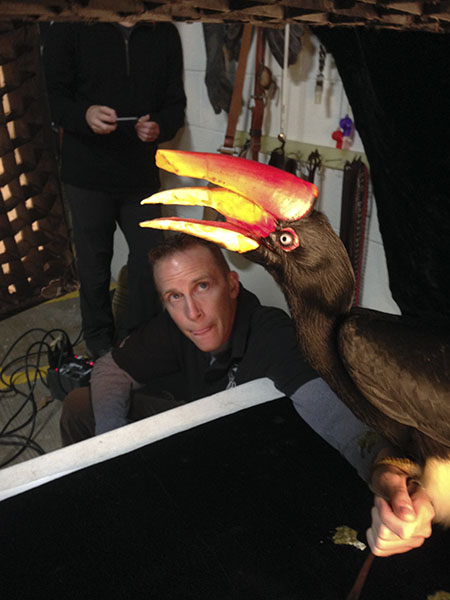 Have you seen the large canvases flying high on building sides across campus? The ones showing a litter of baby coyotes, a group of African wild dogs and a pair of Golden snub-nosed monkeys?
A pair of NKU students most definitely have.
The two students have a special interest in the projects, one which snagged them an inside look at just how these images are made.
The well-known National Geographic animal photographer Joel Sartore behind these works gave the pair of students a behind-the-scenes look at what it's like to photograph animals in captivity.
NKU students Emily Keener and Evan Sgouris spent last Wednesday alongside birds, small fish and several other animals as a part of an excursion they took to the Columbus Zoo and an additional aquatic life center with Sartore.
Sartore photographed the different animals as a part of his Photo Ark project—a collection of over 4,000 species he has photographed over the past nine years in an attempt to photograph every species of animal held in the world's zoos.
Sgouris, a junior photography major, was invited to go on the trip due to his position interning at the NKU art gallery, one of over fifty venues to host a FotoFocus gallery featuring Sartore's work. Sgouris said he was not only just happy to get to see how Sartore does his work, but that he learned a lot about the Photo Ark project, how it works, and about photography in general.
"A big thing for me was the way that he shot the animals," Sgouris said. "Especially the way he shot fish. I learned the style he used for getting them to sit still, lighting techniques and more."
Sgouris also made a trip with Sartore to the Cincinnati Zoo on Thursday where he was the sole student to help Sartore in the process of photographing birds and salamanders there.
"It was nice to see how he interacted with the people at the zoo. Some people are really iffy about being around a camera, but he really put people at ease," Sgouris said.  "I absolutely loved it. He would say stuff like 'it's just a fish day,' but even that for me was awesome."
Keener, a junior environmental science major, said the opportunity to do the shoot in Columbus with Sartore arose from his planned lecture last Thursday night at NKU, which landed him in the area a day earlier than necessary.
Not wanting to waste anytime, Keener and Sgouris were invited to accompany Sartore as he travelled to Columbus to use his time in the area to capture photos of some species he has yet to photographically document.
The students helped Sartore photograph two birds at the Columbus Zoo and then went to a mussel and freshwater fish facility that is linked to the zoo, where the group "staked out in a room" and went through the Photo Ark database to see if he had photographed all of its species or not.
Keener was invited on the trip due to her time spent this past summer doing research on Sartore's work. She joined forces with another student to look into ways this sort of scientific photography can help teach and communicate scientific lessons.
"I researched each of the 27 animals and compiled unique and interesting 'fun facts,'" Keener said in her research poster about the project. "These fun facts were used to illustrate important scientific concepts such as natural selection, adaptation, physiological advantages and parental behavior and care."
Overall Sartore, who has been a freelance photographer for National Geographic for 20 years and whose current Photo Ark project is his own independent project separate from the National Geographic brand, said his goal is to document endangered species and landscapes in order to show a world worth saving.
And this is something that really resonated with Keener.
"I think it is important to collaborate with other fields to make science relatable," she said. "I like art as an avenue to show people that science is not just a bunch of fancy words. I'm really into anything that communicates science and photography is something that definitely has the potential to do this."