Students unblocked from NKU Dining's Twitter account
Issue, according to NKU Dining, was "a big miscommunication"
NKU Dining announced Monday Feb. 18 that it had unblocked all students from its live Twitter feed. The department added that the entire issue over blocking students from its Twitter account last week was due to a general misunderstanding within the department.
"We understand there was some confusion about blocking people the other day. We want you to be able to say anything you want to say on NKU Dining's Twitter feed," the department said via its Twitter and Facebook accounts. "We just ask that you do not use any vulgar language or profanity in your tweets."
Residential District Manager for NKU Dining Melissa Pompa, who created the idea for NKU's live Twitter events, said the issue in blocking students came from a miscommunication between what members within the department considered "profanity".
According to Pompa, all students have been unblocked and the policy for blocking students in the future has been established across the department. "No student will be blocked unless they are making threats at or targeting a person," she said.
Besides this issue that started on Feb. 12, Pompa said that the program has been a great success.
"We want Dining Services to be transparent," she said. "The point of this project is to not make it feel like students' recommendations are hidden or go nowhere."
For example, NKU Dining Director of Operations Jorge Elizagaray told the story of how a tweet about hard bread served in Norse Commons from a disappointed student allowed the problem to be solved almost immediately.
However, the students that have unblocked since the blocking incident have mixed reactions.
The first student who was blocked, junior sports business and marketing major Matt Hepner expressed that he still feels disappointed. "I couldn't care less," he said. "…I offer suggestions about how to improve our dining on campus and then get spat on for it. Sorry for trying to help."
Hepner also expressed his feelings via Twitter about his unblocking. "Well I am back from nku dining purgatory. Potentially more awkward than Voldemort hugging Harry Potter," he tweeted.
Another student, Billy Enderle, who was apparently blocked from NKU Dining's twitter account, showed his excitement with being unblocked. "@nkudining Are you letting me, @UveBeenHeckeled and @Matt_The_Stud out of timeout now?? #Freedom!" he tweeted referring to other students who were blocked with him.
A false Twitter account has been made in what seems like an attempt to satirize the recent Twitter issue and other NKU Dining services. The false NKU Dining account's handle is @FAKE_NKUDining, not to be confused with the department's actual handle @NKUDining.
Regardless of reactions, Pompa made it clear that it is important for all students to be and remain unblocked in order for all students to have the ability to express their feelings towards the services provided by NKU Dining.
Northern Kentucky University is the first of all the "Chartwell Schools" across the country to roll-out their live Twitter feed comments in real time, according to Melissa Pompa.
Pompa and Elizagaray both felt optimistic about the future of this project at NKU.
"Now hopefully everyone knows of our real vision for this project," Pompa said.
The issue with NKU Dining's Twitter feed occurred during the live Twitter feed event on Tuesday Feb. 12. Several students from NKU led an outcry on several social media platforms announcing that they had been blocked from the NKU Dining Twitter account.
NKU Dining said they had blocked the students for using "profane" language in their tweets.
About the Contributor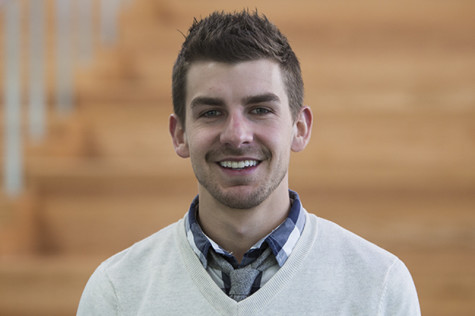 Kevin Schultz, Digital Projects Manager
Kevin Schultz is a senior with a double major in journalism and English at NKU where he has covered everything from administration and student government...