University attempts to address small desk issue
Past Coverage of the Issue
Student government works to 'bridge the gap' between a student-body concern and its administrative response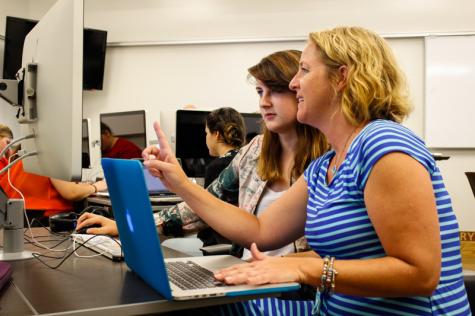 NKU administration and Student Government Association (SGA) have heard the concerns of students across campus regarding desks in classrooms that are much too small.
SGA members said they want to work with university administration to solve the problem and that they are glad this discussion was brought to light as the result of a story The Northerner published on Aug. 27.
"That is the main reason we are jumping in on this," said SGA President John Jose, who is currently working on a resolution with SGA University Improvements Chair Patrick Reagan to recommend replacing the desks in order to provide all students with a comfortable learning experience.
"I've even spoken with professors and they agree that the desks need to be replaced," Reagan, a junior economics and international studies double major, said. "And it's not just for students with diverse body proportions, it's disabled students, anyone over five foot six. I mean my knees hit the desk. It's ridiculous."
University architects plan to hold a meeting to create a dialogue on potential ways to deal with the small desk issue. "I intend to set up a meeting to discuss all of the points of view," said Mary Lee Schott, university architect and manager for interior design.
The varying points of view, according to Schott, include disabilities, maintenance, durability and funding. The comfort of students with diverse body proportions will also be considered.
Senior sociology major Tara Pennington voiced her concerns with the small desks to The Northerner earlier this semester and said she's happy to hear people are listening.
"I am so glad that there are organizations and people in charge who can and will actually do something about it instead of just listening and doing nothing," she said. "They actually are taking action."
Factors to face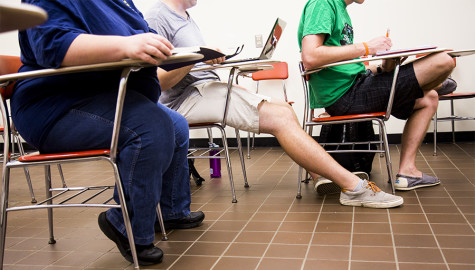 Schott listed the American with Disabilities Act (ADA) regulations, the number of students required to fit in classrooms, the approach to teaching used in each room, financing, a lack of communication with students, and future renovation plans as factors that must be considered in order to move forward and address the issue.
"I feel like sometimes my hands are tied because I'd love to be able to provide an easy answer or a quick reply…" she said. "But, I am at the mercy of so many other things."
Financing and future renovations
Funding is one of the biggest issues, according to Schott; the money doesn't come out of nowhere.
Funding hasn't been delegated for changes within Founders Hall because it is on the horizon of being renovated. Schott said the building will see changes with the creation of the new Health Innovations Center.
"Anytime we build a new building or renovate my goal is to bring in the newest and latest upgrades to the furniture no matter whether it is a classroom or not," she said.
However, SGA believes the student learning experience should be a top priority. Jose said the SGA will communicate the issue to administration and leave the divvying up of money to the them.
"The university always appropriates money for improvements," Reagan said. "If they see that there is a significant student concern that is represented by us, then that money may already be there."
Regulations and standards
All furniture used in classrooms at the university must meet specific standards, Schott said. Those include the ADA regulations that ensure wheelchair accessibility. Schott also said all of the manufacturers she uses to fill rooms have set standards for factors such as durability and accessibility.
Room capacity and teaching style
The option for inclusive desks is also limited by the size and set up of the classrooms.
"If the professors who teach in specific classrooms need team building and the availability of pushing desk together, there are a lot of discussions that need to happen to address how we can support… as many constituents as possible," Schott said.
She believes it would be a good idea to provide several kinds of classroom setups so that professors can have a variety of options to suit their teaching styles and give more options for types of desks.
Tara Pennington agrees with the idea of trying new ways of equipping the classroom. "Let's look at innovative ways to work through this issue," she said, "maybe [some] ways for desks that are not as restrictive on the human body. You know, look outside the box."
Campus Communication
Schott said it can sometimes be hard to know what will work best and what is currently working for students. Several years ago university architects set out desks for students to sample and asked for feedback before purchasing new desks. And at that time the student response was very limited, Schott said.
"Frankly, if we don't get feedback like this then I think we make assumptions wrongly that things are okay," she said.
Next Steps
Reagan said this all can be looked at from a customer service standpoint.
"The university is providing a service, which is education, and providing the facilities to have that education is just part of good customer service," he said. "Those desks are… old and the university should've replaced those years ago."
Pennington said just four desks in each room would suffice for the meantime, but she doesn't want people to forget there are students everyday who face the embarrassment and discomfort with the current desks.
Reagan said students can go to the SGA office (in SU 330) if they have any questions. Students can also contact SGA senators through email.
Reagan plans to meet with NKU Vice President for Facilities Management Larry Blake to get more specific details regarding the possibilities for desk replacements.
In the meantime, the university is working to address the parts to this complex issue.
"It's a hard puzzle," Schott said, "but we are trying to figure it out."
Small desks can be found in following rooms on campus (and more).
Founder's Hall:
111, 113, 116, 213, 215, 219, 230,
300, 302, 315, 317, 319, 321, 322, 
323, 324, 329, 400, 401, 523, 524, 
525
Landrum Academic Center:
203, 205, 207, 526, 528, 531