Snow takes university by storm
Layers of snow, sleet and ice blanketed campus Tuesday night into Wednesday morning, leaving campus to appear as a vast ghost town after an exodus of students, faculty and staff left campus due to the cancellation of all classes after 4 p.m.,  announced by NKU officials Tuesday afternoon.
But just because campus was emptied, doesn't mean communication about the winter weather on and around campus stopped.
Students, faculty, staff and other community members took to social media to express their concerns about the weather at NKU; discussing whether to stay open, close or delay classes for future days.
One freshman undeclared  major at NKU took to Twitter:
"NKU is located in Campbell County, a county that is under a Level 2 snow emergency. Let's just go ahead and #CloseNKU for Wednesday."

— Megan Elizabeth Cummins (@Meganekc) via Twitter February 5, 2014
The hashtag Cummins used, "#CloseNKU," gained huge popularity on Twitter within the last couple of days, with countless users tweeting their opinions, as well as sharing their own experiences with the weather.
Facebook was also a popular outlet used.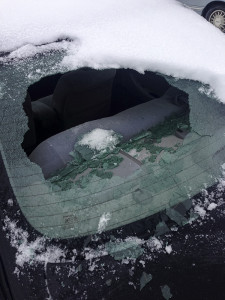 Sophomore electronic media and broadcasting major Brian Murray posted a photo of his back windshield, which broke while scraping snow and ice Wednesday morning in the Callahan lower parking lot.
"All this snow has been dampening my day," he said. "I was cleaning off my front windshield and everything was fine. Then I went to clean off the back… heard all the ice shift and thought 'this is terrible'."
Chris Cole, director of marketing and communications for NKU, said while NKU officials do not take all social media posts directly into account before making the decision on whether to stay open or not, all the ongoing communication is still a good thing.
"We can share with officials the tone and tenor of what's out there," he said referring to the large amount of social media posts about NKU's decisions to stay open or closed.
"Ten years ago we wouldn't have had Facebook or Twitter… Now it's easier to communicate with people and the institution," Cole said.
Cole also noted that all the new means of communication, including social media, allow easier and faster modes of communication for informing people about possible closures and delays.
"Rather than relying on traditional media to get the word out, we now have Norse Alert, Facebook and Twitter," Cole said.
Vice President for Administration and Finance Kenneth Ramey recommends the official decision on whether to stay open, delay or close, to NKU President Geoffrey Mearns, according to Cole. Ramey makes his decision for the recommendation under the advice of University Police Chief Jason Willis, Assistant Vice President for Facilities Management Larry Blake and other local officials.
"I think it was a really good idea for NKU to close today due to the ice on top of all this snow," Murray said regarding NKU's decision. "This ice is really bad."
Other opinions expressed on social media can be seen on page five, and by looking up "#CloseNKU" on Twitter.
As of Feb. 5, the National Weather Service is calling for below freezing temperatures throughout the week, with chances for additional snow on Friday and Saturday.
According to service's records, the area around the university received "Heavy Snow and Significant Ice/Mixed Precipitation" in the past two days.