Students take to the capitol, advocate for equal funding
A group of NKU students visited the state capitol today to pay a visit to state legislators and advocate for outcomes-based funding for post-secondary institutions.
"We've been meeting with representatives to talk about funding and how it affects us," NKU Student Government Association President John Jose said. "It's been a very productive meeting and we're just trying to spread knowledge."
Jose and a group of NKU students who intern for the state made the trip — along with seven other SGA members (six senators and legislative liaison).
"This is a different aspect of student government responsibility that we haven't focused on so much before," Jose said. "But it is our job to advocate for the students of our university."
Jose said it's important to show the legislators the faces behind the students whose fates these legislators hold.
"We're trying to bring actual students to talk to and help inform our legislators," Jose said. "They don't always see or hear specifically where we come from."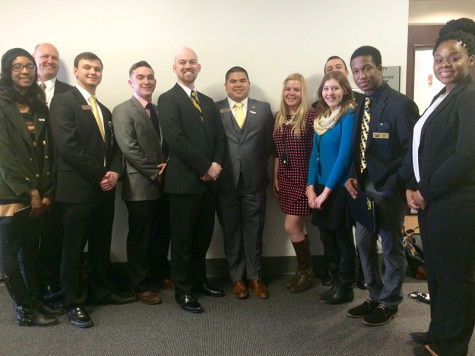 This trip comes at a time when Northern Kentucky University is the least state-funded of all state public universities, according to NKU's 2014 Annual Financial Report.
NKU Vice President for Government and Community Relations Joe Wind accompanied the group of students.
He said the students visiting on behalf of this issue is important because there is a general lack of understanding around this sort of legislation and that the state needs to take a logical approach and measure such funding by results (including number of graduates, programs, etc.)
"This isn't just an NKU issue; it's about students throughout the state of Kentucky," Wind said.
NKU President Geoffrey Mearns and other university leaders will join the students and Wind at the capitol tonight as a part of Mearns' "The Road to NKU" series of events.
Check back to TheNortherner.com for further coverage of today's events at the state capitol.