Pros and cons to new syllabus bank
What was once merely an idea from NKU's Student Senate is now a reality, as students across the university were recently given access to an online course syllabus bank developed by NKU's Office of Information Technology.
"This portal has been developed to allow users easy access to undergraduate and graduate syllabi, in an effort to learn more about NKU instructors and courses before registering for classes," the site for the new database said.
The idea for this online syllabus bank came from the Student Senate resolution that was first presented by Senator Tanner Elrod at the group's Nov. 12 meeting last semester.
SGA President Erik Pederson has advocated for this idea with several other members, such as Vice President Allen Hornung and Secretary for Administrative Affairs David Trump, since the resolution was first presented.
"Open access to classroom information is very important for students," Pederson said. "I am very excited to show students [the new bank] and have already got responses from some students talking about how curious they are about the bank."
Kenneth Rhee, current chair of NKU's Teaching Effectiveness and Enhancement Committee, understands the advantage associated with this initiative in that it will help students make more informed decisions when they're selecting the courses they are registering for, but cautions "there are always advantages and disadvantages when it comes to stuff like this."
One disadvantage of giving students online access to course syllabuses, according to Rhee, could be this initiative missing the focus of what students really need in order for them to make more informed decisions about classes.
"We wouldn't want students to come to class with false assumptions," Rhee said. "We want students to understand that this isn't the final say, but rather a guideline."
It is important for students to understand that syllabuses are constantly changing in a positive way due to professors improving the courses, keeping courses up-to-date and more, according to Rhee.
Another disadvantage, according to Rhee, is how the online syllabus use would be controlled.
"If an instructor came up with something really unique for a course, it could be lost online," he said. "We want to make sure students are aware that these are copyright materials."
The Office of the Provost instituted this new syllabus bank and the Faculty Senate and its associated committees were not involved with the process, according to Rhee, who said that other solutions are available that could be more effective.
A better solution to addressing this issue could've been having students visit classes to learn professors' different teaching styles or having professors release their teaching styles, according to Rhee.  Learning professors' individual classroom techniques is one example of a more focused solution that he thinks will help students make informed course selection decisions.
"Those kinds of things you can't really learn from syllabi," he said.
Overall, while Rhee sees the advantages that this initiative provides, he believes further dialogue between students, faculty and staff could result in a more focused and refined system.
"As long as we continue to engage in a continuous dialogue, it could lead to a much more effective solution," Rhee said.
About the Contributor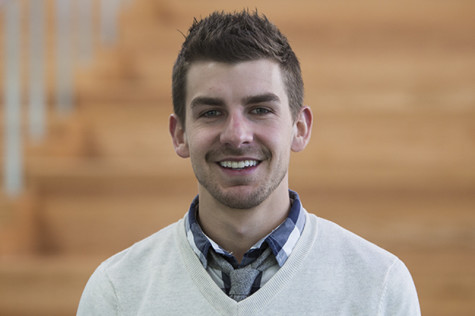 Kevin Schultz, Digital Projects Manager
Kevin Schultz is a senior with a double major in journalism and English at NKU where he has covered everything from administration and student government...