Early Childhood Center faces uncertain future
Changes could soon be coming to the university's Early Childhood Center.
The on-campus educational daycare, which serves 52 children per day, is under the spotlight of a task force, created by NKU President Geoffrey Mearns, as a part of implementing a next step in the school's strategic plan.
"In this instance, no one is questioning the quality of the childhood center," Mearns said. "The question is: in these difficult financial times, is the center financially viable over the long-term as it is presently structured?"
The group assigned to determining the center's long-term financial viability, led by Cindy Reed, dean of the college of education and human services, reached its preliminary conclusion.
The center is in need of change—at least as it currently stands.
The group highlighted several areas with potential for positive change, which they are currently exploring further.
Some of these possible changes for the Early Childhood Center were laid out in an email obtained by The Northerner from Kimberley Turner, assistant vice president for student support and business operations, late last week.
Turner listed the following as possible changes for the center being considered by the task force:
increasing child-instructor ratios
increasing child class sizes
increasing overall child care fees
reducing the center's schedule flexibility
no longer being able to care for children under 2 years of age
no longer partaking in the accreditation through NAEYC
setting aside some spots for students for emergency or "drop-in" childcare
reducing the childcare fees for students
The university community has reacted to the possibility of these changes in varied ways.
While administrators have remained hopeful toward the future changes and outlook of the center, parents of children in the center have been left with questions.
The Impact
Tiffany Harris is a senior social work major at NKU who has a lot of questions. Harris has dropped her 4-year-old daughter off at the center while she attends class for the past 2.5 years.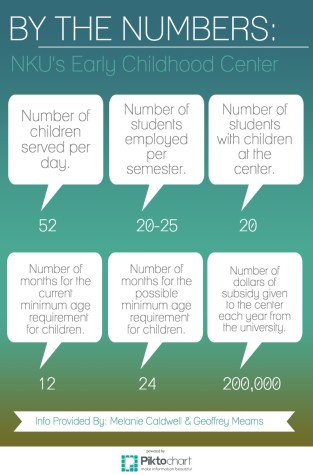 "I think I just want things brought to the forefront," she said. "I received the same email as other student parents. I think I just want someone to explain what is going on. If I need to make changes, I can't wait until the last minute. Childcare is definitely something that you have to plan for."
Mearns understands this. He is currently waiting to hear from the task force on the definite recommendations himself. He hopes that will happen in the next few weeks. Then everyone else will be informed too.Courtesy of Tiffany Harris
In the meantime, he says the taskforce will finish assessing the center's impact per cost— the biggest issue that this assessment boils down to.
The number of children who are at the center on an annual basis is small, according to Mearns—only about 40, maybe 50 at most.
"My understanding is that only half of those are often times the children of students. So I think it is incumbent on us to ask ourselves whether that substantial university subsidy of nearly $200,000 a year is warranted to support the small number of children who are the children of our students, when you consider that there may be other potentially more critical uses of those resources," Mearns said.
However, being one of those small numbers has made all the difference to Harris, who started at NKU in fall of 2010.
"At that time I was pregnant," Harris said. "I finished out my fall semester. I went home, had my daughter and did online classes for the spring semester. Then I came back to NKU for the fall."
But coming back to NKU from Shelbyville, Ky with a daughter presented its own unique challenges.
"When I came back, my daughter had to go to childcare in Covington. At that time my daughter wasn't able to enroll [at NKU] because she was not of age," Harris said.
Harris' daughter was at that Covington, Ky daycare until she was old enough (12 months of age, according to the center's current policy) for NKU's center. She has remained there ever since.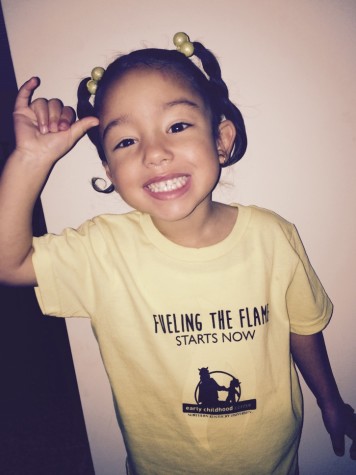 "It has been very important to me, not only just because of the location," Harris said. "Their teaching is outstanding. In the past she was at a daycare where they just kind of babysat. Here, she is actually learning. They're teaching. They have procedures and standards and curriculum."
Not only that, but Harris said the on-campus location and sense of community of the center have allowed her to enjoy more time with her daugher.
When she has breaks in between classes she sometimes picks her daughter up and eats with her at the student union. Or they take a walk around the lake.
If Harris gets out of class early (around 4 p.m.), she sometimes studies in the library until the center closes at 6 p.m.
This time to study at school is important for Harris. "Because when I get home, it's a completely different hat that I'm wearing."
This all comes down to aiding student success, according to Harris.
"Ultimately, we are here for our education," she said. "And with my daughter being at that center, I've never once had to worry about her whereabouts or whether or not she is okay. I can completely, 100 percent focus inside the classroom and I have no worries."
Possible Changes
All of these possible changes derive from goal number five of NKU's strategic plan that deals with strengthening the infrastructure, including the financial infrastructure of the university.
"It called upon us to examine the quality, relevance and sustainability of programs all across campus," Mearns said. "I think it is incumbent upon us to examine a variety of activities all across campus and one of those was the early childhood center. So it's not the only one, but it is one that we are looking at."
This is a question of whether the center's expense can be justified given all of the other needs across campus.
Melanie Caldwell, director of NKU's Early Childhood Center, understands this.
"I don't really think that they singled us out for any particular reason, I just think we are one of many," Caldwell said.
As it pertains to the possible changes, Caldwell said they could have consequences if implemented. Particularly the increased age minimum.
"We do have families that will be impacted," Caldwell said. "Their children will not be 24 months once our accreditation expires. So we are working with child care licensing to see what we can do for these families."
Harris believes this new age requirement will definitely have an impact.
"It impacted me in the past, with them accepting only children over one year old at the time. I'm sure it will impact more as the age may increase to two years of age," Harris said.
As far as a possible increase in fees go, Caldwell thinks other possible changes, such as class size and instructor ratios, associated with child care quality could play into how that change goes.
"I don't know if they [parents] would be willing to pay that same amount if the care isn't as exceptional as it has been," she said. "If the care is going to become similar to what is around the corner, then the rate needs to be what is around the corner. I can't imagine the task force isn't considering that."
Harris, who is graduating in May, said from her experience with her daughter that any increase in student fees would be a big deal. "If I were to have some time left with my education, I would potentially have to pull her out because the price."
Caldwell said the center did not reapply for the NAEYC (a nationwide, "gold standard" for child care centers) because she wasn't sure whether the task force recommendations would allow the center to meet the accreditations requirements—therefore potentially resulting in the center losing its accreditation.
Harris wasn't sure about the specifics of the NAEYC. However, she doesn't like the idea of the center no longer having that label.
"I don't really want my kid just put in any place. I want the teachers to have to live up to certain standards. Just like our education. It is the same thing. I wanted to enroll in an accredited program because I wanted standards," Harris said.
As far as others' reactions goes, Mearns said he is open to dialogue. He has already received one letter and has said he is open to meeting with concerned parents with more constructive ideas.
Overall, Mearns insisted that it is not his goal to eliminate the childcare center, rather to see if there is a plan for it that is financially viable.
Caldwell understands and anxiously awaits this future plan for the center.
"From my best knowledge the center closing has never been an option on the table," she said. "Change is always hard, no one likes that. But I think when we come out on the other side, there will be a lot of benefits."