Students channel passion to save local urban forest
A student's passion for nature and saving the wilderness recently landed him in the most unlikely of places: the city of Cincinnati's urban Price Hill neighborhood.
Just across the Ohio River, nestled between bustling streets and historic houses, senior sociology major Luke Freeman's latest endeavor has him measuring trees and drilling up soil in an area some community members didn't even know existed.
Freeman works at Imago Earth Center, a 36-year-old environmental education organization interested in getting people who live in urban areas to be as sustainable as possible.
His mission is to track and reestablish the health of the center's urban forest, and in turn, help the community surrounding it.
"The biggest thing we are doing is we preserve 36 acres of urban green space. Sixteen acres is free and open to the public," said Chris Clements, executive director of Imago. "So anybody, regardless of where they live or what they make, can ride a bus, they can walk, they can bike or they can drive and they can have a place to be in nature."
This green space and organization is even more vital to the area due to its location just three miles from downtown Cincinnati in a low income neighborhood, according to Clements.
The Project
The research Freeman is currently working on is called the Permanent Forest Plot Project, which was started to acquire a large set of data about the different forest types in the United States.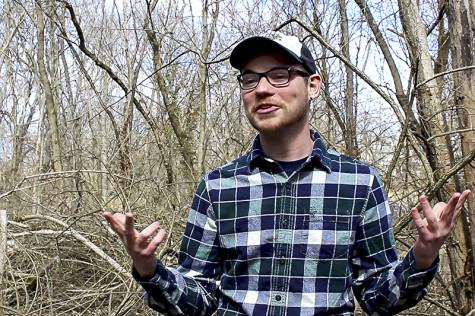 "So in this forest, an urban forest, we are trying to look at how big the trees are growing in the area, the species compositions, soil characteristics such as PH and organic matter, and moisture to look at the bare minerals they have to work with and grow," Freeman said.
Freeman also uses tools such as calipers to measure and track tree growth.
"This measurement allows us to track the tree's growth, which tells us the biomass of these plots," he said. "You can use it to detect growth rates, how certain species are doing in different areas."
All of these findings can be used to help predict the forest health and ways that may improve it in the future.
"Our big plan with the land is something we call the vibrant forest project," Clements said. "What we want to demonstrate is how urban forests can be these happy, healthy places where people can get out to, but also where wildlife and plants are happy and healthy as well."
NKU environmental science major Katie Ollier is also working working on the project.
"I just started onto Imago here this semester and so far it has been just a fantastic experience," Ollier said. "I really wouldn't change it for anything."
The researchers for this project record all data to an online database, so they will be able to make analyses with the additional information that other people doing similar projects have gathered.
Tucked into the corner of Freeman and Ollier's first plot was an old and decrepit looking tree, so big they had to pull out a measuring tape to collect data instead of using their calipers.
"This tree is the biggest tree on our plot and one of the oldest in the forest," Freeman said. "Over the next couple of years, we will come back and track this tree's growth and make predictions about its health from the numbers we're collecting."
Why this urban forest?
Freeman first ventured to Imago for a sociology project to see how the forest area affects the community around it.
From there, he tried working with the center in any way he could, eventually getting the opportunity to start working out in the forest.
Clements said the effect of this project could be great for the community and that he is really trying to get everyone outdoors and in nature, specifically the area's youth.
"All the science is telling us that kids who spend time outdoors are happier, healthier and do better in school," Clements said. "We are also training tomorrow's environmental leaders in this process."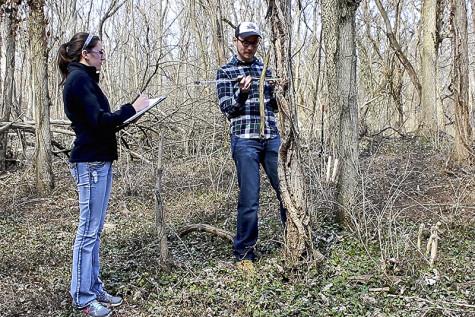 Clements said Imago is doing everything from holding workshops for adults, to summer camps for children, to teaching urban community members how to plant and grow their own vegetables indoors.
Freeman and Clements hope tracking and assessing the health of the forest will provide the community with a natural place to visit so they can be more in touch with sustainability and nature.
"This is just us doing our part to protect the natural world," Freeman said. "Especially right here in Cincinnati. Urban forests just aren't everywhere. So I think they are important. Plus the impact I think this could have on the community is limitless."
While Ollier isn't from this area, she said the project is still of the utmost importance to her as well.
"I am actually from farther down south and we have more land down there," she said. "Not everyone gets to have that feeling of 'oh, let's go out and play in the woods, let's go experience nature, let's hear the birds sing.' No one in these cities and urban areas really get that experience, so this is definitely important, not just for the community, but for the future of this area."
Why Freeman?
As a sociology major, Freeman stands out due to his dual passion for both the environment and the people within it.
"I feel sorry for everyone who is locked in an office all day, staring at a computer, typing," he said. "I'm out here with the birds, they are singing to me and the trees are blowing in the wind. I just feel like this is where I have to be."
He said finding Imago has really been a blessing, and Clements agrees.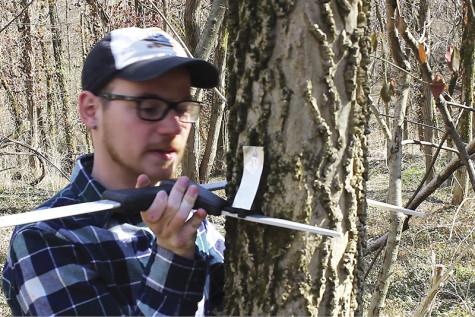 NKU is really looking for these partnerships and really wants their students engaged, according to Clements, who also thinks that Freeman is setting a really good foundation for future students to get involved with this kind of work.
Besides his work for Imago, Luke also works for NKU's Center or Environmental Restoration and is the Campus Recruitment Leader for NKU's Environmentally Concerned Organization of Students.
"Being the liaison between the organization and the rest of campus means I am the active face of the organization," Freeman said. "That's good because I could talk about fracking and mountaintop removal mining, or this kind of stuff all day."
Freeman plans to graduate in 2014, with hopes to one day work for the US Forest Service, because overall, this kind of work is really what he is passionate about.
"Forest conservation, forest restoration is like I guess fixing this mess that we've been left with and looking for solutions," Freeman said. "That is really what I'm about."