Anti-abortion group aims 'to educate' campus through use of graphic images
University community reacts with an array of heated responses
Graphic scenes of lynching, bodies of deceased Holocaust victims, mutilated fetuses and various other images were displayed on campus Nov. 6 as a part of the Genocide Awareness Project which sparked a campus debate about abortion.
"The images are too graphic," Tera Stadtmiller, freshman undeclared major said. "They're nasty. Abortion is a woman's choice. If you want to have a baby, have it. If you don't want to have a baby, then it's your choice."
Northern Right to Life, a student organization at NKU, invited the Center for Bio-Ethical Reform to campus to showcase their project in the university's central plaza.
Jane Bullington, project director for the Center for Bio-Ethical Reform, said this controversial display is aimed to do two different things.
"First, we are trying to show that babies are living human beings, even in the first trimester," Bullington said. "Second, we are trying to show that abortion is an act of violence that tears human beings apart."
There are about 1.2 million abortions in America per year, according to Bullington, who called this act "a greater genocide than those that occurred in places such as Russia… Germany… or Cambodia."
Many students, faculty and staff who passed by the display, located in front of the Student Union, reacted with varying degrees of shock, surprise and disgust.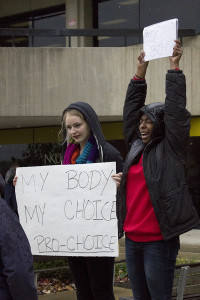 Megan Mayon, freshman pre-medicine major, along with Stadtmiller, found the display to be appalling.
After hearing about the display, the two decided to voice their opposing opinions on the issue by standing out on a bench in the rain across from the display.
They held signs that read, "My body, my choice."
Mayon thought the display's message was just wrong. "To compare it to the Holocaust and then lynching…. which was used for hate… It's just offending."
However, other students, such as Northern Right to Life President Ella Beckman, thought the display was showing an important message.
"It's important to show people what it [abortion] really is," Beckman said. "Because until people feel uncomfortable about it, and realize what it really is, they're not going to change; you're not going to get the laws changed, or people's hearts changed."
Still, Stephanie Knoll, an undecided freshman, said that she thought the display was inappropriate.
"Whether or not people agree, abortion is their choice and they shouldn't be trying to shove their opinions down everyone's throats, especially not with images that might upset some people or children which tour this campus a lot, so I think it's kind of dumb," Knoll said.
"Graphic images have been used to drive change in a lot of different social issues," Beckman said. "Martin Luther King… used a lot of graphic images of people hurt or hung, like what we have shown here, so we're trying to use that same method to promote the pro-life cause."
Dozens of other students across campus took to social media to express their views on the topic; many saying that the display interrupted their educational process.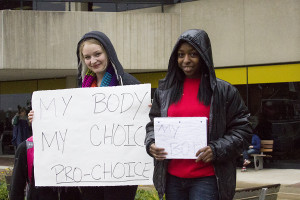 "I'm pissed. NKU is a learning institution not an abortion clinic. I can't believe this is allowed," Rosa Christophel, senior anthropology major, posted via her Facebook account.
Christophel later asked, via social media, if anyone on campus would like to "join a crusade" against the display and "to bring sharpies and a poster board".
And while Bullington, and many other members who were working the display, acknowledged that the images were very graphic, they all seemed confident in their organization's positive overall message.
"We're only out here to do education," Bullington said.