Former modern dancer spins a web of 'green' influence at NKU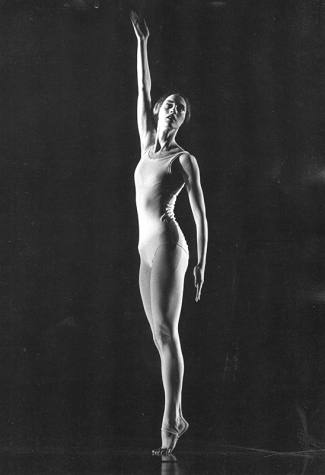 Jane Goode didn't catch on to her nickname at NKU quickly.
Students would scurry up behind her on campus shouting "Green lady, green lady!" only to have her turn her head in confusion.
In fact, being a leader for everything "green" or sustainability related wasn't even something she knew she would take on when interviewing for her position at the university.
Goode joined NKU's staff as a campus planner back in 2008, inheriting with that role the responsibilities of NKU Green — the university's "center" for all things on environmental sustainability.
But eventually, Goode caught on.
She now accepts the wide range of nicknames given to her at any given time, even NKU's "green ringleader," as one student calls her.
In her time at NKU, Goode has made her mark as a presence in the field of sustainability at NKU and beyond — planning the university's Earth Week, mentoring students for NKU Green, speaking on behalf of NKU at different events in the region and more.
However, now six years after her arrival to NKU as a campus planning coordinator — devoting part of her time to coordinate sustainability efforts as required in her position — someone new may be taking her spot within all things green.
A somewhat 'chequered' past
Goode's lifetime career dedicated to shaping spaces began with shaping her very own body.
"I did modern dance in New York City. Think leotards, tights, bare feet."
Then there was the Lincoln Center in New York, where she eventually planned galleries; the music center of Los Angeles, where she did more planning; back to school for architecture, to learn how to shape space with other objects; a decade working for an architecture firm in Cincinnati, shaping spaces throughout the tri-state; and then her arrival to NKU as a campus planner, where she has shaped spaces for the past six years.
But as a part of her role as a campus planner, she learned a new dimension to shaping space: doing it in an environmentally sustainable way.
But the now so-called 'green lady' on campus hasn't always been so passionate about green issues.
"So many people who used to work with me in the architecture firm are really surprised about my stance in sustainability here on campus now," Goode said. "But I continue to wave the flag as 'the green lady.' People chase me across the campus yelling 'green lady, green lady.' It's fun. I didn't use to answer to it, but I have gotten used to it."
Goode didn't start dance until late compared to most people. As a little girl in St. Louis, Goode was sent to a ballet class. She hated it — it was "just too structured."
But when she made it to high school, she started modern dance. Years later, she went to Washington University. Her mother thought she was going to be a musician and her father thought she was going to be a mathematician.
By the end of the first week Goode was carrying mostly dance classes.
After college, Goode did what any aspiring dancer did at the time — moved to New York City.
"It was fun," she said about her time dancing with several different companies in the city. "It was a wonderful time. It's being poor and living in the city and doing what you love. It was great. I was really kind of glad that I did dance before architecture. The reverse would have been difficult."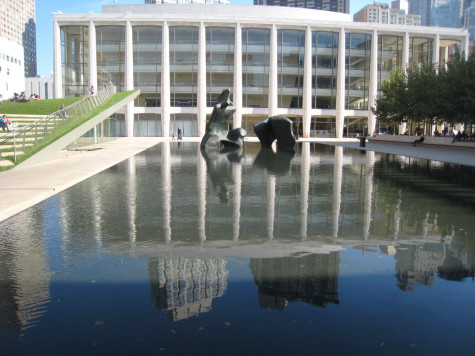 However, her time in the city wasn't always so easy.
"It really is being a small girl from the midwest in New York City and making it by doing what you need to do. I think that song if you can make it there you can make it anywhere is really true. Because it is hard. And you feel like you've accomplished something when you accomplish something there because everyone else wants to do the same thing that you are doing there."
But one can only do professional dance in New York City for so long.
Goode then went into arts management.
She started at a small company called Roundabout Theatre, an off-broadway theatre company. She did development for them and then got a job at the Lincoln Center.
"I started just in an administrative position in the gift shop, but here I was in the Lincoln Center everyday — it was just truly an amazing place."
Eventually Goode proposed the need to build a gallery to house the center's large scale pictures and prints they had been doing since the 60s.
"They had works sitting in the basement basically rotting," Goode said. "These were just fabulous works. Liechtenstein, Stella, the greats of the era were commissioned to do these posters and so eventually it became politically expedient to do that."
This led to Goode's opportunity to work with one of "the best architects" on the Lincoln Center gallery.
"I'm a little former dancer, a little girl from the
midwest, working there with Gwathmey Siegel," 
Goode recalled smiling. "I had a little plastic
ruler and a number two pencil and I'd  say, 'I
want this' and it would come back and it would be 
architectural plans and I thought, 'Oh, this is cool. 
I can shape space on a temporary basis with my
body, but if I put this line on this piece of paper,
 they are going to build a wall and it shapes
space permanently.'"
That's when Goode knew that in her "next life" she was going to be an architect.
"It was fun working with all the artists. You'd see all these people working at Lincoln Center and it becomes a community. You are part of the environment. So if the paparazzi are there, you say good morning."
Goode's next venture landed her on the west coast to work for the Music Center of Los Angeles.  
"I hit the east coast, and then I hit the west. I worked for the Music Center of Los Angeles, which is the LA equivalent to the Lincoln Center. We lived there for a year and four days. I was really used to the east and not really used to the nouveau riche bourgeois of the west."
However, Goode said she got to do really interesting projects, including working with the Joffrey Ballet for which she got to organize an event that Nancy Reagan attended.
"All of hollywood came," she said. "I got to dance with Gene Kelly. I literally put Sidney Poitier in his seat because he was late."
However, she just wasn't comfortable with her new setting and soon moved to Louisville before eventually making her way to the Cincinnati area, where she still lives today.
It was then time to live her next life as an architect.
"Women in my family live to be 95, 100-years-old, compared to some people I have a full other life," she said.
So, Goode applied to architecture school at the University of Cincinnati.
"I was probably one of the last students accepted into my class. I was actually traveling in Europe and I kept calling back to see if I was in."
Eventually she got the confirmation and decided if she was last in, she'd be the first out.
"Sometimes you just have to pull up your socks and decide. My classmates were all sort of traditional students. They called us non-traditional students — which just meant 'older.'"
Beside being a traditional students, most of Goode's fellow students were also men.
"It was harder being a woman and especially harder
being an older woman too. Some of the faculty felt
threatened and I had to be careful about how I would
say things so they wouldn't feel threatened. But they
finally figured out that I understood that I didn't know
what they knew and the reason I was sitting in my
classroom is that I wanted to learn. It really makes
no difference how old you are. It's who has the knowledge
and which way is it going?"
Goode graduated from architecture school in 1998 and then joined an architecture firm, taking a job for 10 years doing educational architecture, primarily high school.
That's where she first really started thinking about sustainability.
"A lot of my colleagues at my firm were a lot more into sustainability," she said. "They pushed everyone to try and be more sustainable in their projects. I've always been more about clients' point of view, who say they can't afford it."
Influence at NKU
Goode was asked to take on the responsibilities of NKU Green when she arrived.
That was six years ago.
In that time span, Goode said she has learned a great deal about sustainability and environmental issues.
"I'm now often asked to represent the university in the area on behalf of sustainability," she said.
Besides representing the university, Goode is involved with many other green activities, initiatives and events on NKU's campus. From planning Mt. Trashmore to sending our commuter surveys to track the university's carbon footprint, she has learned a lot about how the environment can shape a space, too.
Rose Marie Santos, NKU graduate, former president of NKU's Environmentally Concerned Organization of Students and interim Director of NKU's Center for Environmental Education, said Goode has played a key role in the evolution of sustainability at the university.
For example, Santos said Earth Week was formerly a student-ran project, but it became so big that students could no longer handle it.
"We had to hand it over to administration which expected an Earth Day or Earth Week every year," she said. "Jane taking it on and it becoming a priority of the institution itself is growth."
Hope Marksberry, an NKU student, Sierra Club intern, NKU Green student representative and Kentucky Student Environmental Coalition delegate has also been involved in the university's environmental sustainability movement.
She said Goode is very influential on campus when it comes to being green.
"She is very inspirational, very smart and a really classy lady," Marksberry said. "I really feel like her presence around NKU has done a lot for sustainability and the future."
Marksberry said Goode is devoted and just really has a way to get things done.
"I think that it definitely is a big job and I think she has done a great job with balancing things," Marksberry said. "Obviously it is not her main duty, but with that I think she has put a lot of effort into it, a lot more than some people may have. She really cares about it and you can tell in her work."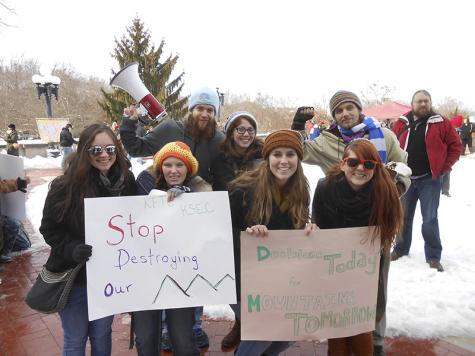 But sometimes it is hard for Goode to juggle her primary duties within university planning with NKU Green duties.
"Up to this point it's been a lot of picking and choosing. Also, at this point, six years after arriving here, I know kind of how to connect to get things done," Goode said.
That's something she hopes she will have the opportunity to share with the new Director of Energy Management and sustainability manager the university is hiring to help alleviate her duties and allow the issue of energy and sustainability to be focused on more solely.
And while Goode may no longer be in charge of NKU Green duties, students, faculty and staff alike believe she will always be the "green lady."
"I definitely think Jane will always be a strong presence in sustainability at NKU," Marksberry said. "Just because we are adding to these efforts doesn't mean extra help isn't well needed. You can tell she really cares about it and it is a big job… so there is a lot to do."
As far as Goode is concerned, she just wants people to know every little thing they can do can and does help.
"I think we've finally gotten to the point where people aren't asking if it's happening, if climate change is happening, I know there is still some holdouts, I know that, but most people understand it is changing for whatever reason and that it is within our power to at least slow it down," she said.
That's a far cry from a young dancer living in New York City with limited knowledge of sustainability. Or even that compared to her just 10 years ago, working at the architectural firm.
The bottom line is we are all shaping space through living our own lives everyday, Goode said. Learning to do so sustainably is what we all need to work toward, she added.
"It is kind of hard to not try," Goode said. "There is so much we can do that is so easy. It doesn't take much to recycle. It doesn't take a lot to reuse, to flip a light switch, to climb a  stair. There are a lot of other things that people can do and not everyone has to do everything, but it sure would be helpful if everyone did something. I think it's something that needs to be a part of all of us."
The truth is that if we want to continue to live on this planet, all of us need to be doing something."