Administrative turnover sweeps campus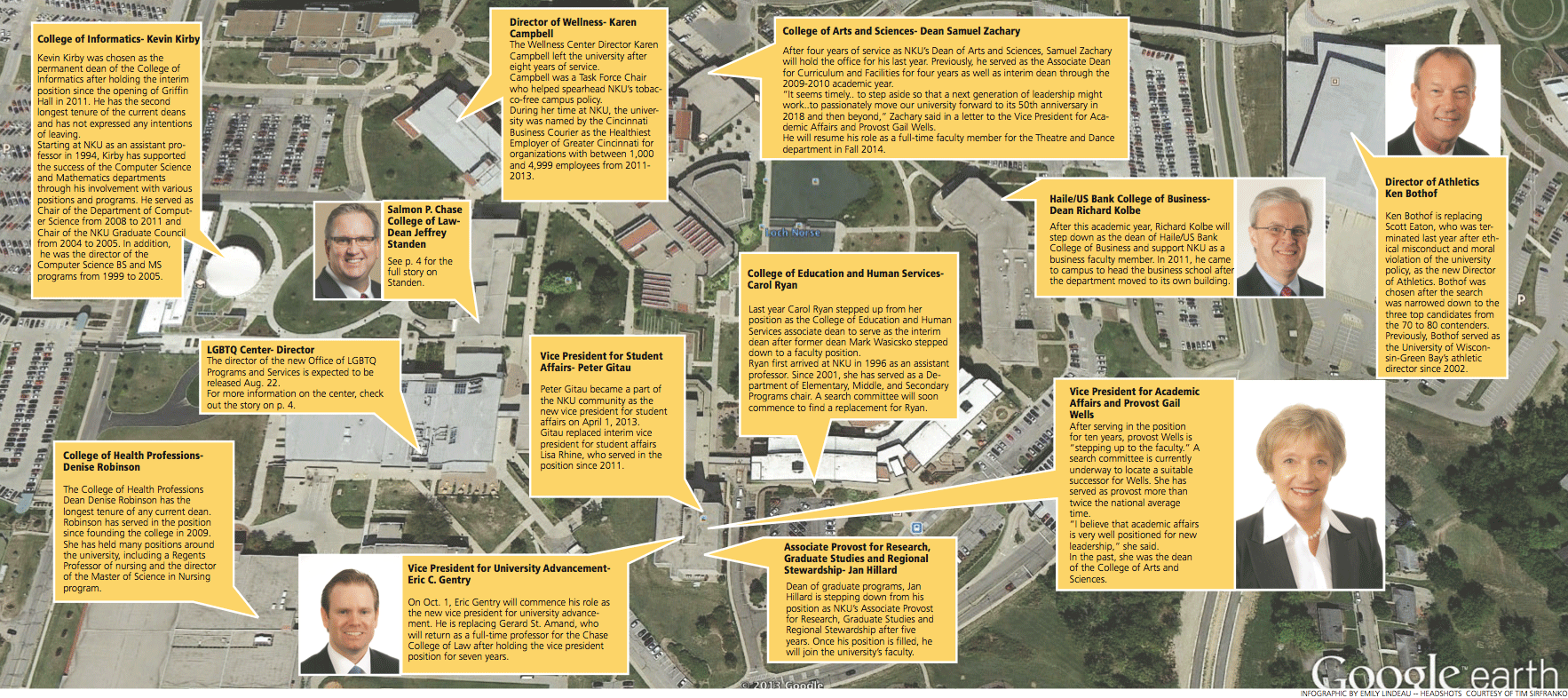 Are you unable to recognize some of the top administrative figures as you settle into your schedule this fall semester?

If not, it's probably not just because of your fuzzy memory or those long summer nights.

NKU has experienced significant administrative turnover over this past year.
It started with the initiation of current President Geoffrey Mearns on the first day of school last fall, all the way up to the present-day situation with two deans leaving their administrative positions, one new dean, two new vice presidents, the provost leaving and one dean holding an interim position.

Only two deans, Denise Robinson from the College of Health Professions and Kevin Kirby from the College of Informatics, aren't new to or leaving their positions.

"I think universities go through periods where there are changes in leaderships," Provost Gail Wells said. "And I think it, in general, is very healthy. People can come in from the outside with new perspectives. They can help us look at things that we have all done a certain way."

However, Wells acknowledged that the transition period between administrators may be a challenging time.

"Whenever you have changes in leadership there is a transition period where you want to make sure the person has all the knowledge they need to be successful so there is a transfer of knowledge and transition period," she said. "We all need to make sure we do what we can to make them successful."

A study by the Macrothink Institute, a private organization dedicated to scientific research and publication, released in January of 2013, spotlighted other possible negative impacts associated with heavy staff turnover.

The study concluded that turnover negatively affects the organization financially as well as socially.

"Staff turnover can have a negative effect on an organization," the study said. "It can lead to a loss of productivity, profitability, corporate knowledge, and skills and competencies. In addition, staff turnover is not just an issue for the organization experiencing staff turnover; it can also cause headaches for external organizations communicating with them."

However, NKU President Geoffrey Mearns agreed with Wells' point that the turnover could be a positive experience, and even stated that he thinks "it will have a positive effect on students".

"[The turnover's] timing fits in well with the strategic plan," Mearns said. "The new administrators can marry their ideas with ideas from the strategic plan."

Administrative turnover may have a correlation with the transition into a new university president. For example, Brown University expected "significant administrative turnover" during its last presidential transition in 2012.

Overall, Mearns stated that administrative turnover is natural and to be expected for a university. He added that in the end, it is always an individual's decision.

"Turnover will always continue," Mearns said. "All of those [administrators] are at different points in their career. There is a constant flow. My sense is that the pace will probably slow down throughout the next 3-5 years."