Music lovers trickled into the Student Union's multipurpose room Thursday night as Cincinnati "creative radio rock" band Cinema Sleep took the stage and sent their mix of traditional heavy rock and melodic pop booming up and out to the rest of the building.
Around 100 listeners consisting of students and the general public gathered at 7 p.m. to hear the band play as part of Activities Programming Board's free Club Norse event that featured the two local bands Cinema Sleep and PUBLIC.
Cinema Sleep was the first band to hit the stage and left the crowd jumping, head bobbing and singing along.
NKU junior pre-social work major Delilah Patton loved Cinema Sleep's performance. "They're amazing!" she said after the band signed her newly purchased copy of Cinema Sleep's latest EP. "They were one of the best bands I've heard in a long time."
Frontman and lead singer for Cinema Sleep, Brady Reis, thought the show was a great time. "It was a lot of fun playing at NKU," he said. "My little brother is a sophomore here and he brought all of his friends out to support us, so that was cool."
Reis said he first played at NKU as part of a different band and couldn't pass up this chance to play at NKU again, with Cinema Sleep, when asked by Chanell Karr, Activities Programming Board's Secretary of Public Relations, to be a part of this event.
"It really just seemed like everyone had fun and was singing along," Reis said. "It would be awesome to get to come back and play another show sometime."
The second band, indie pop rock group PUBLIC, took the stage at around 8:15 p.m.
While the multipurpose room cleared out to around 50 people, the group still seemed to be a hit with the remaining crowd.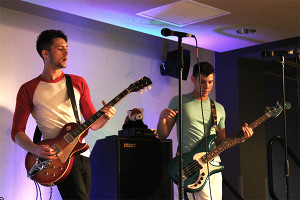 The climax of PUBLIC's performance appeared to be their last song of the night, "I Need You," which left the group to overcome a minor technical difficulty. However, a quick fix by guitarist and lead singer John Vaughn allowed PUBLIC to get the crowd yelling, clapping and up off their feet.
Sophomore English major Aaron Hatfield was impressed by PUBLIC's performance. "It was brilliant," he said. "It was awesome and definitely made tonight worth coming out to!"
Hatfield compared PUBLIC's upbeat sound to that of the popular pop rock band The Killer's, which he said was a "really good thing."
Overall both bands played for about 45 minutes and while they had contrasting rock sounds, it seemed they were both still able to win over the crowds' approval.
Activities Programming Board President Tina Hoesl was happy with the Club Norse event. "I think it was a success!" she said. "I think people loved this event and I hope to see many other bands in this genre come out to play at other APB events."
More information for the bands can be found on their Facebook pages https://www.facebook.com/cinemasleep/app_178091127385 and https://www.facebook.com/publictheband/app_204974879526524?ref=ts. Both bands have music available on iTunes as well.
[imagebrowser id=23]