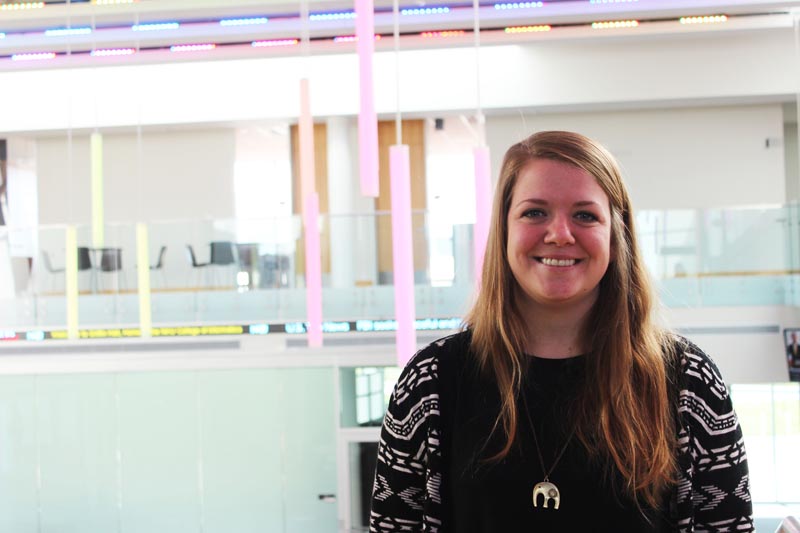 Carrie Crotzer has worked for The Northerner since October of 2013 where she began writing for various sections, moving up through the sports editor and managing editor positions before becoming the Editor-in-Chief.
She is a senior journalism major minoring in communications with hopes of graduating in May of 2016. After graduation Carrie hopes to move on to a news outlet that is striving to change the face of journalism on the digital platform and constantly creating new ways to tell stories through multimedia.
Originally from Louisville, Ky., she can be found most days wandering the streets of Northern Kentucky and Cincinnati, Oh. looking for the perfect cup of coffee.


Carrie Crotzer, Editor-in-Chief
Apr 29, 2016

Dr. Proctor leaving, but will always love NKU

(Story/Media)

Apr 23, 2016

The life of a Saudi student at NKU

(Story)

Apr 20, 2016

Saudi student population set to vanish

(Story)

Apr 19, 2016

Budget to cause tuition increases

(Story)

Mar 03, 2016

Open forum discusses budget cuts, tuition increases

(Story/Media)

Feb 03, 2016

State budget to impact university funding

(Story)

Jan 27, 2016

Outcomes-based funding top priority for Mearns

(Story)

Jan 21, 2016

Home sweet home: Flex Housing to provide a space for all students

(Story)

Dec 02, 2015

Policing NKU: Tactics to keep campus safe

(Story)

Sep 19, 2015

A Kentuckian's response to Kim Davis

(Story)

Sep 19, 2015

Chief of Police focuses on community outreach

(Story)

Sep 09, 2015

Learning more about the gun incident

(Story)

Sep 03, 2015

Feeling the loss of a fellow journalist

(Story)

Sep 02, 2015

UPDATED: NKU officers respond to gun incident

(Story)

Aug 27, 2015

BREAKING: NKU Police respond to student in possession of gun

(Story)

Aug 26, 2015

Defining our purpose

(Story)

Aug 26, 2015

Soccer teams off to a hot start

(Story)

Aug 19, 2015

GALLERY: Campus Rec makes debut

(Story)

Aug 17, 2015

1-1 draw in final exhibition for women's soccer

(Story/Media)

Aug 14, 2015

10 things you missed at the Fall Convocation

(Story)

Aug 05, 2015

Police chief candidates offer a variety of backgrounds

(Media)

Jul 30, 2015

NKU searches for new police chief, PD turmoil nearby

(Story)

Jun 22, 2015

A new name for the home of the Norse

(Story)

May 11, 2015

Geographic reasons behind move to Horizon League

(Story)

May 09, 2015

Reports NKU to move to Horizon League

(Story)

Apr 27, 2015

'It's A Grand Night For Murder' not so grand

(Story)

Apr 14, 2015

Office encompasses campus spirit

(Story)

Apr 14, 2015

Politics to take over campus for an evening

(Story)

Apr 09, 2015

UPDATE: Kim Turner named temporary replacement for Peter Gitau

(Story)

Apr 08, 2015

Half office, half classroom

(Story)

Apr 06, 2015

BREAKING: NKU announces new men's basketball head coach

(Story)

Apr 03, 2015

Professor's wall mimic his mind and travel

(Story)

Mar 28, 2015

Professor's career spent chasing the whale

(Story)

Mar 18, 2015

Bottles, cars and the periodic table

(Story)

Mar 18, 2015

Bezold and NKU part ways after 25 years

(Story)

Mar 16, 2015

BREAKING: NKU men's basketball head coach not to return

(Story)

Mar 11, 2015
Mar 06, 2015

Norse defeat Upstate, advance to semifinals

(Story)

Mar 04, 2015

A treasure chest of chocolate

(Story)

Feb 25, 2015

A colorful girl in a colorful world

(Story)

Feb 19, 2015

The power of 'Les Miserables' takes NKU's mainstage

(Story)

Feb 19, 2015

A quiet man with high importance

(Story)

Feb 18, 2015

Snow day for some, hard work for others

(Story)

Feb 17, 2015

UPDATED: University paid $200,000 to ex-employee related to Scott Eaton case

(Story)

Feb 16, 2015

GALLERY: Massive cleanup of snow won't happen until tonight

(Story)

Feb 14, 2015

Persons career night bring Norse out on top

(Story)

Feb 11, 2015

Sitting high above the concrete jungle, the wall of windows allows for it all to be taken in with one view

(Story)

Feb 07, 2015

Women's basketball bounce back against Lipscomb

(Story)

Feb 05, 2015

Toy collection has home in professor's office

(Story)

Feb 04, 2015

NKU's Top Offices

(Story)

Jan 22, 2015

Jackson's career night not enough for Norse

(Story)

Jan 03, 2015

Women's basketball streak ends to Wright State

(Story)

Dec 07, 2014

Loss delivers lessons for men's basketball

(Story)

Dec 07, 2014

Hot Seat with Anthony Monaco

(Story)

Dec 05, 2014

Athletic department breaks even

(Story)

Dec 05, 2014

Brown family shares life stories with NKU

(Story)

Dec 01, 2014

Hot Seat with Jayden Julian

(Story)

Nov 22, 2014

Athletic department plans to diversify

(Story)

Nov 22, 2014

Men's basketball dominate Ohio Mid-Western

(Story)

Nov 19, 2014

Bezold gets win in 300th game of career

(Story)

Nov 15, 2014

Ruble leads team to victory on Senior Night

(Story)

Nov 14, 2014

Creamer leads volleyball to 3-0 victory

(Story)

Nov 12, 2014

Coach Bezold looks back at last 25 years

(Story)

Nov 12, 2014

Third season as Division I brings big name competition

(Story)

Nov 12, 2014

Back to fundamentals

(Story)

Nov 12, 2014

Men's basketball key players

(Story)

Nov 10, 2014

GALLERY: Little Big Town rock NKU

(Story)

Nov 07, 2014

Athletics a driving force in a family bond

(Story)

Nov 03, 2014

Hot Seat with Macy Hamblin

(Story)

Nov 01, 2014

Golden goal brings victory on Senior Night

(Story)

Nov 01, 2014

Volleyball sweeps Stetson at home

(Story)

Nov 01, 2014

Hillary Clinton draws big crowds to campus

(Story)

Oct 30, 2014

College-aged voters: the senate election is in your hands

(Story)

Oct 27, 2014

Hot Seat with Jenna Ruble

(Story)

Oct 24, 2014

Athletic recruitment policies change

(Story)

Oct 24, 2014

Volleyball finds thrilling win over Lipscomb

(Story)

Oct 18, 2014

Women's soccer picks up win in last home game

(Story)

Oct 15, 2014

Norse find loss under rain

(Story)

Oct 15, 2014

Hot Seat with A.J. Fleak

(Story)

Oct 11, 2014

Men's soccer takes first conference loss

(Story)

Oct 11, 2014

Volleyball sees quick win over Jacksonville

(Story)

Oct 10, 2014

NKU volleyball battles for win against North Florida

(Story)

Oct 06, 2014

'Go Gold' campaign passes halfway mark

(Story)

Oct 06, 2014

Hot Seat with Kelsey Laumann

(Story)

Oct 06, 2014

Q&A: NKU 'Kill the Messenger' premiere panel discussion

(Story)

Oct 05, 2014

NKU faces second conference loss in same weekend

(Story)

Oct 04, 2014

Norse draw in sixth overtime of season

(Story)

Sep 28, 2014

Men's soccer takes second loss of weekend

(Story)

Sep 26, 2014

Fake grass brings benefits

(Story)

Sep 22, 2014

Hot Seat with Ian O'Reilly

(Story)

Sep 20, 2014

Beard causes petition

(Story)

Sep 17, 2014

Loss comes in final minutes for women's soccer

(Story)

Sep 16, 2014

Volleyball clenches narrow victory over Evansville

(Story)

Sep 14, 2014

Yellow cards give Norse third draw of season

(Story)

Sep 14, 2014

Hot Seat with Keely Creamer

(Story)

Sep 10, 2014

Student-athletes succeed on and off the court

(Story)

Sep 09, 2014

NKU women's soccer battle to a draw against Xavier

(Story)

Sep 06, 2014

NKU volleyball faces victory and defeat in tournament

(Story)

Sep 05, 2014

NKU volleyball takes victory over Samford

(Story)

Sep 05, 2014

2014 women's volleyball players to watch this season

(Story)

Sep 03, 2014

Globe trotting soccer player makes NKU his new home

(Story)

Aug 31, 2014

Campus freezes over for a good cause

(Story)

Aug 29, 2014

NKU men's soccer draw in first game against Cincinnati

(Story)

Aug 23, 2014

Lightning forces early end to first game of the season

(Story)

Aug 20, 2014

Atlantic Sun eligibity rules changed in favor of NKU

(Story)

Aug 18, 2014

Mens soccer team draws against UK, shatters attendance record

(Story)

Jun 22, 2014

Northerner editor takes a look back at her exciting trip to South Africa

(Story)

May 12, 2014

Northerner member kicks off summer in South Africa

(Story)

May 07, 2014

'Syllabus Day' could make or break students

(Story)

Apr 28, 2014

Hard work is the key to confidence

(Story)

Apr 22, 2014

Graffiti takes over Griffin

(Story)

Apr 22, 2014

Pride marches through campus

(Story)

Apr 16, 2014

Self-powered elliptical machines turn exercising green

(Story)

Apr 01, 2014

Updated: Late night flood causes disruption to NKU residents

(Story)

Mar 28, 2014

Jose and Hahnel clinch SGA victory with two-vote margin

(Media)

Mar 27, 2014

University evolves from small farm to modern institution

(Story)

Mar 20, 2014

Norse take down McNeese, advance to next round of Women's Baketball Invitational

(Story)

Mar 20, 2014

Professor opens half-way house for women

(Story)

Mar 19, 2014

Professor says that history boils down to food

(Story)

Feb 28, 2014

Men's golf team aspires to be in top 80 of conference

(Story)

Feb 27, 2014

Two NKU students rap battle for 2 Chainz tickets

(Story)

Feb 26, 2014

They've got '99 problems' but extra credit ain't one

(Story)

Jan 30, 2014

Sneak a peek into this spring's art exhibits

(Story)

Nov 12, 2013

Students help plan first-ever DAV 5K

(Story)