Third season as Division I brings big name competition
Both the men's and women's basketball teams are gearing up for their third season as a Division I program, and this season brings for the Norse a face-off against many experienced NCAA tournament teams.
Men's Basketball
The men's squad will face Wisconsin in their away season opener on Nov. 14, which will then be followed by a visit to Nebraska two days later. Other notable games include Idaho, Northwestern and the hosting of West Virginia at the Bank of Kentucky Center.
"West Virginia is a name everybody recognizes. They're a team that has been to the Final Four. They've got a coach who has been in this business for a long, long time and is one of the greatest to ever do it," Assistant Coach Ethan Faulkner said. "I know we expect it to be a packed house that night."
Junior, forward/center Jalen Billups is looking forward to playing every opponent this season and has high hopes for every game.
"The toughest challenge will be Wisconsin, but I am looking forward to playing Northwestern, West Virginia, Nebraska and Wisconsin," Billups said. "I look forward to playing each one of them and beating each one of them."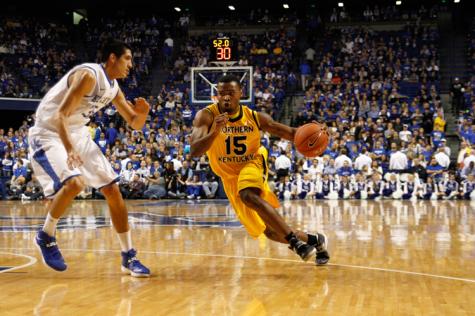 Head Coach Dave Bezold agreed that Wisconsin would be the hardest challenge based on this year's NCAA tournament results and the preseason polls.
"They've got everybody back from their final four team and they are picked second or third in the nation. They're tremendous," Bezold said.
Bezold said Wisconsin is the hardest opponent because they are seasoned and have played big games, and have won them. The team is ranked third in the nation and harbor two expected first round NBA draft picks in their lineup. Frank Kaminsky and Sam Dekker are both ranked in the top 10 players in college hoops as shown on ESPN. Dekker ranks at number six and Kaminsky tops the list at number one.
"They will absolutely expose any weakness you have on either end of the floor," Bezold said.
The Norse will face number 21 Nebraska to top off the opening weekend of the season, which will prove to be another tough opponent, according to Bezold.
"Nebraska is really good. They have a player who is picked in the preseason to be player of the year. I think he is a projected top ten pick in the NBA draft," Bezold said.
According to Bezold, Northwestern is going to be another team to pay close attention to this season because they had a good run last year and have improved into the coming season as well as Toledo.
The teams that Bezold and Billups brought up are all teams that Bezold believes will make the NCAA tournament in March of next year.
"It's always exciting to play against the big name schools. Those are the teams you grow up watching on TV. It's a chance to go in and knock off some of the top programs in the country," Faulkner said.
Faulkner, who was named assistant coach in July, knows what it is like to play big name programs as a player for NKU and now he will have the chance to coach against these opponents.
The biggest difference, according to Faulkner, is the fan base and how many people show up to watch the game. When the Norse visited UK last season they played in front of 23,000 people and sometimes it is only around 3,000 if they are playing a team like Florida Gulf Coast.
"Those are hostile environments, but more than anything else I think that prepares us for environments that we go to for conference play. Hopefully one day it will prepare us for an environment of play in a conference championship, which is obviously our ultimate goal," Faulkner said.
As far as the teams in the Atlantic Sun conference Bezold believes that each game will be tough for the Norse this season.
"When you come off of a season where you win five conference games, they are all difficult. There aren't any games in college that are not." Bezold said.
The Norse have proved that as a team they can hang in the tough games as Faulkner pointed out. The squad narrowly lost by one point at Purdue in the season opener last year. Other close games, that had a final score within a 10-point margin NKU lost eight games, and recorded six of their nine wins. Six of those losses were conference games.
Women's basketball
The women's basketball team are gearing up to face big names such as Cincinnati, the University of Kentucky and Marquette this season.
They came about acquiring these games through Head Coach Dawn Plitzuweit's connections she has built with coaches at other schools.
"I was at a coaching conference in New York City, and had a chance to talk to Matthew Mitchell, who is the head coach at the University of Kentucky, and we talked about the opportunity to play each other," Plitzuweit said. "He offered that they would do a home and home with us, which is great for our program to bring a team like the University of Kentucky in the The Bank of Kentucky Center."
Games such as the team's match-up against Marquette came about from a different perspective.
"So when we were looking at teams who we could start home and homes series with, we try to identify Division I programs with players out of this area, who have an interest to bring girls back close to home," Plitzuweit said.
Marquette's interest in bringing players back to the region their from and Plitzuweit's relationship with their former head coach helped to secure that home and home series.
The chance to play Cincinnati came about as part of a tournament that the team will be taking place in just across the river.
When it came to securing the big name match-ups, Plitzuweit heavily credits here staff.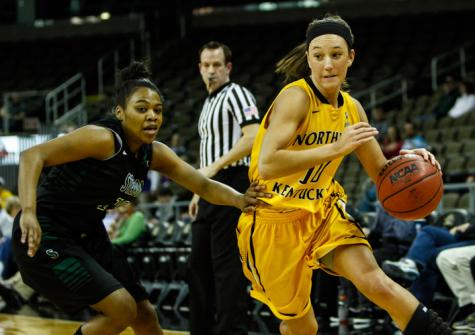 "Coach Lynn and our staff takes care of our scheduling and they did a great job of scheduling there," Plitzuweit said.
As far as preparation for the games against the three big teams, Plitzuweit says her team will go into every game with the same mind-set.
"Our goal is to put our players in the best position to compete in every game we play," Plitzuweit said. "So those games won't be any different. It's a matter of preparing for those teams like we prepare for any other team that we play."
Plitzuweit believes that the strength of their non-conference will assist the team in succeeding within the Atlantic Sun Conference this season.
"We believe that the strength of your non-conference schedule sets you up to play well in your conference," Plitzuweit said.