Men's basketball dominate Ohio Mid-Western
Every player on the men's basketball team saw the court Saturday night against Ohio Mid-Western as NKU dominated in a 98-48 win.
The game started off quick for the Norse as they took of on a 17-0 run before OMW would get their first points just over six minutes into the game.
Tyler White would pick up three of his four 3-pointers in the first half and lead the team with 11 points going into the half.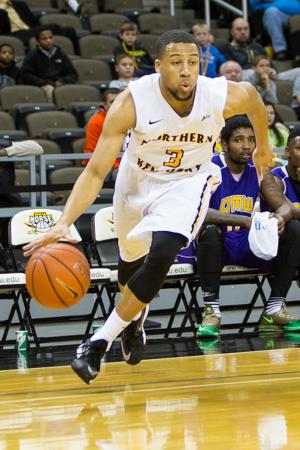 "I felt like I shot really good. My teammates found me when I was in the open space, and I was able to knock down my open shots," White said.
Daniel Camps would pick up six of his eight points in the second half, and Cole Murray would also pick up six of his nine points in the second half.
Along with every player seeing the court, every player was able to pick up points tonight as the Norse shot for 61.9 percent as a team.
"We have good chemistry," freshman guard Tayler Persons said. "One guy can be the lead scorer in one game and not be in the next game. We have a lot of guys that can score, and that's one of our biggest things as a team is that we just know whoever's hot, just give them the ball."
While new to the team, Persons has quickly found a place with the Norse as he has played in all four games this season averaging 25.5 minutes and 8.5 points per game.
"I feel like my freshman year has started out pretty well," Persons said. "I wish we had two more wins, but I feel like overall I'm playing good. It's because I've got a lot of good teammates around me and my coaches believe in me and I feel like we're headed in the right direction."
Coming off of two big wins for the Norse, they next head west to face Eastern Washington and Idaho over the Thanksgiving Break.
"I feel like [the wins] help us a lot, they give us the confidence to actually play with teams, and it gets us into a rhythm and our chemistry gets so much better with the win," White said.