Bezold gets win in 300th game of career
NKU men's basketball took on North Carolina A&T Wednesday night garnering their first win of the season, defeating the Aggies 68-55.
The game, which was the team's first home game of the year, also marked David Bezold's 300th game in his time as head coach for the Norse.
"I honestly didn't even know it," Bezold said. "But it mean's I'm getting old, it means the beard is grey now. But it feels great that we're able to do it here… It's just a great feeling, I'm very fortunate."
The Norse dominated the game over the Aggies, never once allowing them to take the lead.
"It was exciting because we played the past two games against really good teams, so just to come in here and play really good in front of our home, it feels really good," Jalen Billups said.
Sophomore guard Cole Murray posted a career high of 21 points tonight, all of them coming off of 3-point field goals.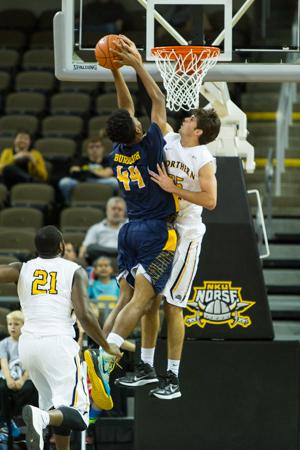 "My teammates really got me the ball in a good position," Murray said. "They made sure they found me when I was open and I was open a lot, but like I said earlier it was a good team win."
Murray, who did not start the game, lead the team in points for the game.
"I learned a long time ago from my predecessor, Ken Shields, that the best team isn't the one that you start if you're going to win. So to have that productivity sitting there is a heck of a luxury," Bezold said.
Bezold added that the one area the team struggled with was creating their own energy.
"One difficult thing to do is, playing in the arena at Wisconsin with 17,000 people with incredible energy and playing at Nebraska with incredible energy, we're not there yet, so you walk out here and we've got 7,000 empty seats," Bezold said. "So that's one thing that's difficult coming off those very emotional games like that is coming here and having to create that energy yourself."
With the win, NKU moves to 1-2 on the season.
The Norse next take on Ohio Mid-Western on Saturday, Nov. 22. at 7 p.m.