Outcomes-based funding top priority for Mearns
NKU President Geoffrey Mearns addressed the Student Government Association at their Monday meeting on Jan. 25, calling for them to aid in the battle against Frankfort to change the decades old funding model used to fund state universities.
"What I'm talking about is that for probably about 20 years there is a problem that is impeding the university and the problem is that we are substantially underfunded compared to our peers institutions and other comprehensive universities in the state of Kentucky," Mearns said in the meeting.
Current funding from the state  accounts for half of NKU's budget, according to Mearns, but does not come close to covering that much of the overall budget.
Outcomes-based funding would give an equation to how decisions are made and how money is given to colleges.
Mearns believes that because of what outcomes-based funding is based off of, it is the best solution to help bring NKU to a level playing field with other state institutions.
"There are some elected officials who prefer to performance-based funding, but performance-based funding is based on grades, like retention rates and graduation rates," Mearns said. "Outcomes-based is very different. It is still focused on performance, but the kind of performance it is focused on is number of hours earned by students and degrees conferred."
Much of the current deficit for NKU in the current funding model is that NKU has vastly grown compared to other universities in the state over the last 15 years.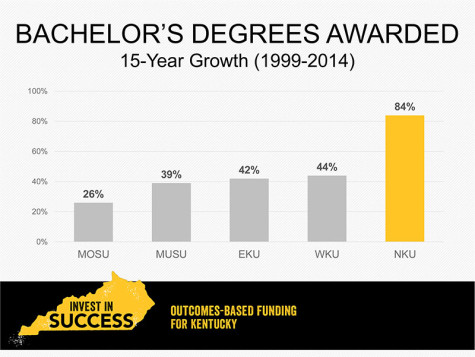 According to research released by NKU, between 1999 and 2014, NKU awarded 84 percent more bachelor's degree to first-time enrolled students, nearly doubling the second closest, Western Kentucky University, which increased by only 44 percent.
The research also shows that state funds only cover 28 percent of budget costs while student tuition rates about for 72 percent of NKU's yearly budget.
"What has happened as a result of this disparity is that the financial burden has been shifted that financial burden of the taxpayers and that disparity onto the backs of you, the students and your parents," Mearns said.
With moving the state to an outcomes-based funding model, Mearns said that the university would receive $10.7 million more annually to add to NKU's budget.
Mearns asks that all students, faculty and staff go to investinsuccessky.com to send an email to their state representatives, calling for action and a change to the outcomes-based funding model.
"This is a university on the rise and you can see it in so many ways," Mearns said. "What I ask you to do is add your voice. We need to let them hear from you and your fellow students."