Jackson's career night not enough for Norse
The NKU men's basketball team took on the University of North Florida Thursday night, battling nearly shot-for-shot throughout the night, but still falling 74-66 to the Ospreys.
NKU started off the first half strong but would struggle to keep up with the Ospreys throughout the rest of the game.
"This is one of those nights where as a coach you're a little befuddled because I thought we were going to come into this game with a lot of confidence … and for the first half I really felt like it was really strange," NKU Head Coach Dave Bezold said.
At the half, NKU would go to the locker room down 33-27.
The Norse came back in the second half seemingly ready for a different game as Chad Jackson and Tyler White would both make impressive shots within the first few minutes.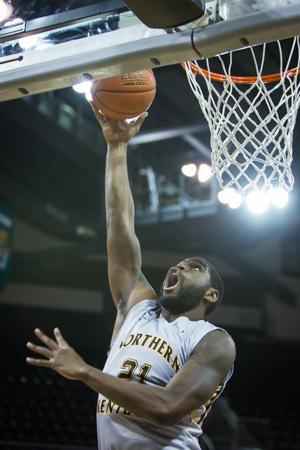 However, strong play by C. Jackson, White and Jalen Billups throughout the second half wouldn't be enough to put the Norse on top at any point.
C. Jackson's career high 26 points on the night helped to keep the Norse in the game as he also had a double-double with 12 rebounds.
"I just wanted to come out and be aggressive and try to help my team as much as I could," C. Jackson said.
Billups also picked up 18 points and five rebounds.
With the loss NKU moves to 8-11 on the season and 2-2 in the Atlantic Sun Conference.
NKU will take on Jacksonville in their next game at home on Saturday, Jan. 24 at 1 p.m.