Loss delivers lessons for men's basketball
NKU men's basketball team saw their biggest crowd since going Division I Sunday night as they took on the West Virginia Mountaineers at home, taking their fifth loss of the season 67-42.
NKU started the first half strong with Chad Jackson picking up the first six points of the game for NKU.
"I think I'm just getting back used to things," Jackson said. "I had the redshirt season, I think it was almost two years since I had played a real college game, so these past couple of games I've just been getting more confident in myself and my playing."
The first half would see little action for both teams as the score would be tied 6-6 at 8 minutes into the game.
WVU would take the lead off of two free throws, but Daniel Camps would quickly respond with a double-handed dunk that would momentarily keep the Norse in the game.
NKU would go to the locker room down 20-17 at the half.
The second half started slow and stayed slow for the Norse as they were outscored 22 points in the half.
For the Norse, C. Jackson led the team with 12 points on the night and five offensive rebounds. Jordan Jackson had 10 points on the night and picked up five defensive rebounds.
"I thought they [NKU] played really hard. I thought they were really physical," WVU Head Coach Bob Huggins said after the game.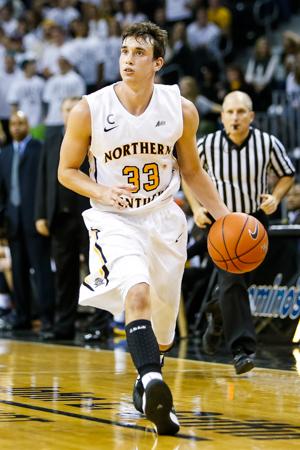 However, many players NKU typically looks to for scoring, such as Cole Murray and Tyler Persons, weren't a strong presence in the game tonight.
"Hopefully it's one of those, 'They're in a slump and they'll come out of it,'" Head Coach Dave Bezold said. "And they will, it's a little different when you're playing this high caliber, those windows close a little quicker."
C. Jackson and Monaco see this game along with the teams earlier games this season against Nebraska and Wisconsin, all three of which have been ranked opponents at the time of the games, as learning lessons to make them stronger in the Atlantic Sun Conference.
"We're going to be good this year," Monaco said. "I feel like the way we fought against the three teams that we played this year, it really showed growth in our team… Everything is just about growing and getting better and then winning the conference is definitely our goal and playing these teams is really going to help us in the end."
NKU moves to 3-5 on the season.
The Norse have the next week off before facing UC-Clermont at home on Sunday, Dec. 20.