Open forum discusses budget cuts, tuition increases
NKU held the first of two open forums Thursday in the Student Union Ballroom for faculty and staff to address concerns of the state budget, funding throughout the university and recruitment and retention rates.
The forum discussed several options for how the university will move forward with the overall budget potentially facing severe cuts across the board. All numbers given during the presentation are currently hypothetical until a state budget is approved.
These cuts would be the result of Gov. Matt Bevin's proposal to cut 9 percent from the state budget over the course of two fiscal years. This would mean a $2.1 million cut in 2015-16 and $2.2 million in 2016-17, according to Mike Hales, the chief financial officer for NKU.
Much of the presentation and discussion among staff and faculty centered around ways to increase funding for the university to account for the significant cuts in state funding.
One of the proposed ways to increase funding was a 4 percent increase to student tuition for the next school year. The additional revenue for the university would bring in $4.9 million.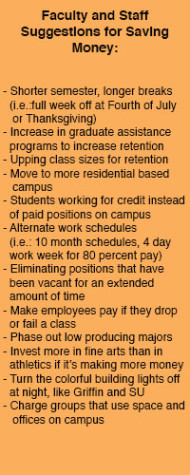 Carrie Crotzer
However, the university projects an increase in scholarships, which could potentially cost the university $1.9 million.
Many thoughts were focused on enrollment and retention rates throughout the university during the presentation, and ways in which to increase in both areas for the university.
"Our new students for the fall of '15 were up 4 percent," Hales said. "We've actually brought more students in in the last year than are going out. However, the problem is that there was a large decline in returning students so that has counteracted."
Another major deficit for the university, according to Hales, is the amount that they have to pay into the Kentucky Employee Retirement System. The year, of $48.5 million in state funding, NKU paid $14.9 million of it back into KERS.
Projections for the 2017-18 fiscal year project $54.8 million in funding for NKU, but $19 million of that would be channeled back to the state for KERS.
In preparation for potential cuts at the state level, Hales said that vice presidents across the university are preparing budgets for the next year that include cuts of between 4 and 6 percent and will have those completed by March 9.
President Geoffrey Mearns said that the university won't know the final results of the budget until mid-April.
"I think we have been very proactive in trying to educate the university about how some of the discussions in Frankfort affect our budget so that people can see in a very transparent way," Mearns said on the purpose of the forum. "I think we recognize that those of us on the eighth floor, we don't have a monopoly on all of the good ideas, it's often quite the opposite."