Ruble leads team to victory on Senior Night
NKU volleyball picked up a win in their final game of the regular season Saturday afternoon against USC Upstate, winning 3-1 on Senior Night.
Three players were honored as part of Senior Night, including Kiersten Ham, Megan Wanstrath, and Jenna Ruble.
The first set started off slow for both teams, however NKU picked up the set 25-15.
"Today was a little odd, we started out playing really slow, we kind of started out at their pace I think," Keely Creamer said after the match.
The second and third sets proved to be a much different match-up though as NKU would only pick up the second set 25-21, and USC Upstate would take the third set 25-23.
The energy of the match changed quickly in the fourth set as the Norse came out strong, winning the final set of the day 25-10.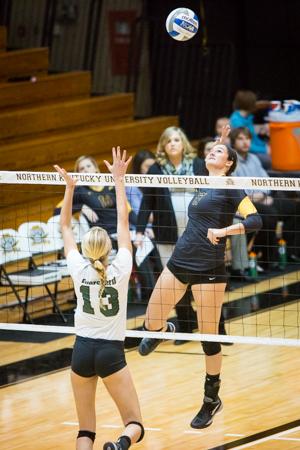 With the win over USC, the Norse have secured the number three seed in the Atlantic Sun Conference Championship that will kick off on Tuesday, Nov. 18.
With the win, NKU moves to 18-10 on the season, and 7-7 in the A-Sun conference.
"I mean that's everything that you want out of a Senior Day, to come out in win big," Wanstrath, who has missed most of her senior season due to injury, said. "It was nice last night clenching our conference spot and then this was just about ranking today. We wanted to win, and what better way than to be home with all of our family and friends here, doing it big."
All three seniors feel that they have been blessed to be a part of the team in their time at NKU.
"I knew I always wanted to play college volleyball, but making the decision on where was huge for me and I made the right decision coming here," Ham said. "It's just completely changed me."
Wanstrath said that being at NKU has given her more than just a place to play volleyball and go to school.
"Out of everything it gave me friends and a support system," Wanstrath said. "You'll have good days and bad days, but your team is, we're so tight, it's just been a lot of good vibes around this program, and I wouldn't trade it for the world."
Ruble, who tied her career high of 21 kills today, also felt that her time at NKU has been invaluable.
"I'm just so proud to be a part of it, it is a big deal for Northern, and I'm just thankful for it," Ruble said. "By ending up here as been a blessing in disguise. Everything has gone well here and I couldn't be more proud to be a Norse."