Budget to cause tuition increases
Retention rates, tuition increases and budget cuts were all key topics in NKU President Geoffrey Mearns' Annual Budget Report on April 18.
While Mearns was excited to announce that there will be no increase in the cost of parking, the university is currently considering multiple options for tuition increases to recommend to the Board of Regents in mid-May.
"We have not yet formalized a rate increase for tuition. We anticipate that we will do that after we consult with students," Mearns said. "We will formulate our recommendation to the board at the meeting [on April 27]."
He said that unlike previous, they are using a two year budget projection to create a more comprehensive and strategic plan.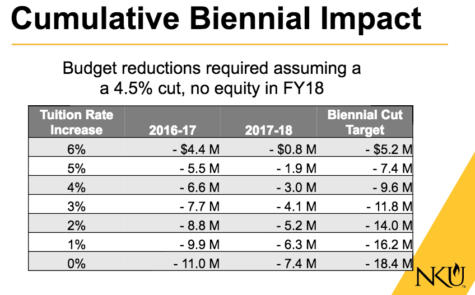 "We don't intend to ask the board to increase tuition by 6 percent," Mearns said. "But that gives you a view of the magnitude of the pressure we face as a result of the decisions in Frankfort."
Another factor that is significantly impacting the university budget is the amount NKU is required to pay back into the Kentucky Employees Retirement System.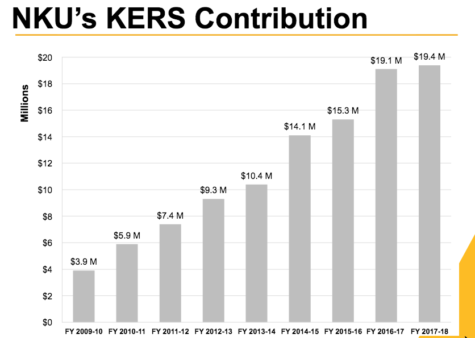 In 2010, NKU was only required to pay only $3.9 million. For the 2014-15 fiscal year, the amount had increased to $15.3 million. Over the next fiscal years, the university will pay over $19 million each year back into KERS.
"In 2010 that represented less than 2 percent of the budget," Mearns said of the over 500 percent increase over six years. "Next year, it will cost nearly 10 percent of the budget."
Along with retention rates, the university is also heavily focusing energy into recruiting to make up for a decline in students.
Mearns said that even though enrollment has remained steady, the degrees conferred have substantially increased.
Last year saw the highest number of degrees ever conferred by the university and almost 3,000 degrees will be conferred this year. Mearns added that NKU is not recruiting a substantial number of new students to make up for the high graduation rates.
The cost NKU is putting towards scholarships will continue to increase over the next two years, both for need-based and merit-based scholarships.
In 2014, the university spent $12.8 million on scholarships and $17.4 million in 2015. They are projected to spend $19.3 million this year, followed by an additional $21.2 million in 2017.
Mearns also briefly addressed the recent announcement that the university is considering selling WNKU to an outside operator.
He emphasized that it is still only in consideration, but that the costs have been increasing at exponential margins over the last six years, and that it became pertinent for the NKU to consider selling the station.
"We want to use this to increase the best and brightest in our Commonwealth coming to our university," Mearns said. "Second, we want to use this to increase our diversity which is in our strategic plan."
No numbers for the budget have been finalized yet. Mearns said that after the Board of Regents meeting on April 29, a special meeting will be called in mid-May to finalize the budget for the 2016-17 fiscal year.