Women's basketball bounce back against Lipscomb
The NKU women's basketball team kicked off the homecoming double-header against Lipscomb University Saturday afternoon, picking up the win, 64-57.
NKU took off with a slow start with the score sitting at 10-7 in favor of NKU at the 10 minute mark.
NKU went into the locker room at the half down 28-22.
"It was great to see that we found a way defensively to be in the game until our offense came around," NKU Head Coach Dawn Plitzuweit said.
The second half would prove to be a different game for the Norse as they would outscore the Bisons 43-29.
Melody Doss would pick up her second three-pointer of the day bringing NKU within two of Lipscomb (37-35) with 12:09 left in the second half. The shot would be the turning point for the Norse as they would next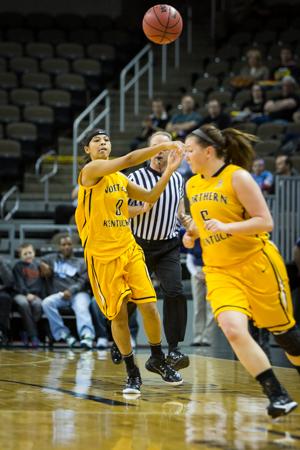 take the lead of a shot by Kasey Uetrecht, never returning it to the Bisons.
"We were together the whole way through and it just shows how much we've grown since the beginning of the season and how much we stuck with it and came out on top," Doss said.
Doss would lead the Norse on the day with her season high of 25 points. Shar'Rae Davis followed tying her season high of 14 points. Christine Roush led with seven rebounds.
Plitzuweit commended her team for their relentlessness throughout the game.
"Our players really committed to finding a way and not hang their head or give in because things weren't going their way," Plitzuweit said. "What is really a tribute to their character and to their level is that it sometimes can be easy to hang your head at that point and time and our players didn't."
With the win the Norse move to 14-9 on the season and 5-3 in the Atlantic Sun Conference.
NKU next go on the road to take on Florida Gulf Coast University and Stetson University before returning home Feb. 19 against Jacksonville.