Women's basketball streak ends to Wright State
The NKU women's basketball team's four-game winning streak came to an end Saturday afternoon, taking a 72-60 loss against Wright State University.
"I was really proud of our kids for their effort," NKU Head Coach Dawn Plitzuweit said. "I thought we played against a really good team in Wright State, a team that has a lot of fire power offensively, and defensively turned us over and made us pay for it."
The first half would start with NKU struggling to find their footing against the Raiders, exchanging the lead several times in the first minutes of the game.
Kelley Weigman would end WSU's last lead in the first half with a field goal with 9:28 left in the half.
At the half NKU would be up 34-28, with Melody Doss leading the team with 10 points and seven rebounds.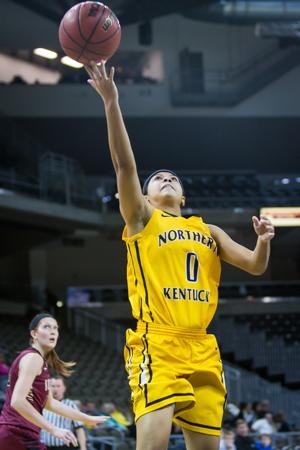 Things would change in the second half however as the Raiders would outscore the Norse 44-26.
Part of this came from a struggle with free throws, with NKU only making 59 percent of their shots on the night.
"We were fortunate enough to get to the free throw line, but we didn't hit as many as we normally do…we're a good free throw shooting team sand that was something that just kind of happened, and that happens in games," Plitzuweit said.
NKU would try to mount a comeback in the last 10 minutes, but it would only push the team into more foul trouble as Christine Roush would foul out of the game.
Doss would end the night leading the team with 17 points and 14 rebounds.
"I think we had two or three rebounds that had fouls that put us in tough spots," Plitzuweit said. "I thought our kids who came in off the bench did a good job and really battled for us."
NKU next faces Georgetown at home on January 6th before turning to the road to start conference play against Lipscomb and Kennesaw State.