Creamer leads volleyball to 3-0 victory
NKU Volleyball dominated a tough Kennesaw State Friday night, picking up a 3-0 win against the Owls, and securing a bid to the Atlantic Sun Conference Championships in their first year of eligibilty.
Keely Creamer led the Norse with 14 kills and a .647 hitting percentage.
"Keely is so athletic, she's able to do so many things for us, so I'm not surprised she hit .700 or something like that," Head Coach Liz Hart said after the game. "She did a great job terminating the ball, so we were able to move her around."
The game was quite the turn-around from the first match-up between Kennesaw and NKU, as the Owls dominated in a 3-1 victory over the Norse earlier this season.
"The first time we played Kennesaw they kind of showed us up a little bit, so I was ready to go tonight," Creamer said. "I wanted so badly to beat them and get revenge."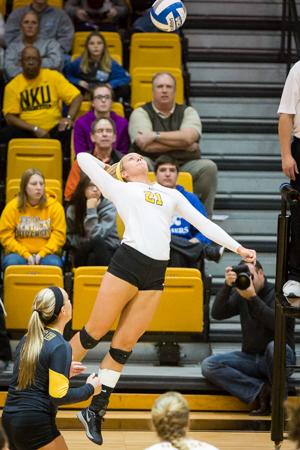 NKU came out strong in the first set dominating a 25-11 win. Kennesaw's first point in the set would be the only time in the game that the Owls would lead. In the set,Creamer would go four for four on kills.
The second set took a turn though as the Owls would go on a late 7 point run before Creamer would pick up a kill that led the Norse to their final four points of the set, winning 25-21.
NKU would pick up the final set of the night, 25-17, in much of the same manor of the second set.
"I felt like we did a good job being resilient," Hart said. "I felt like there was a huge difference when they got us out of system, and maybe not as clean with the ball as we could have been. But we were resilient."
Outside hitter Jayden Julian also commented on the toughness of Kennesaw.
"We definitely knew Kennesaw wasn't going to go down without a fight, so we just had to have a great energy, and it was great to have a big crowd here.
With the win, NKU moves to 17-10 overall and 6-7 in the A-Sun Conference.
The Norse next take on USC Upstate as part of Senior Night on Saturday, Nov. 15 at 3 p.m.