Persons career night bring Norse out on top
NKU took on the Stetson Hatters Saturday night looking for redemption after a tough loss to Florida Gulf Coast Thursday. The Norse were able to find it with a 82-57 win.
The last time the two teams met, just over two weeks ago, Stetson was able to dominate with a 85-75 win over NKU.
"When we came out last time against Stetson, we didn't have an energy at all and tonight we had a lot more energy," Tyler White said. "We came out ready to play basically. We made some shots early and kept going from there."
NKU started off strong in the first half going up 10-5 with 17 minutes still left in the first half.
White would have 12 points by the end of the first with Tayler Persons following with 10 points and 7 rebounds in the first half.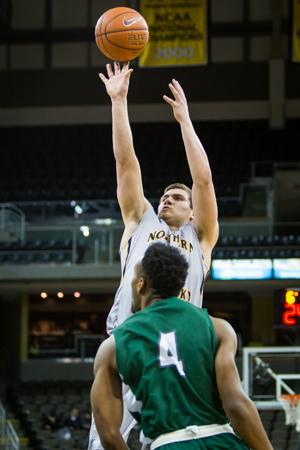 "I felt like we were more relaxed and we just played our game," Persons said. "Tonight we really stepped up on our defense and that led to our offense."
Persons would have a career-high 11 rebounds on the night while also gaining his first-career double-double with 16 points.
Todd Johnson would open the second half with two shots extending the Norse lead 48-29 five minutes in the half.
NKU wouldn't allow the Hatters to come back at any point in the half, closing the game with back-to-back three's by Dean Danos and Cole Murray.
With the win NKU move to 11-14 overall and 5-5 in the Atlantic Sun Conference.
NKU next goes to the road for three games before returning home Feb. 28 to take on USC Upstate for Senior Night.