Hot Seat with Jayden Julian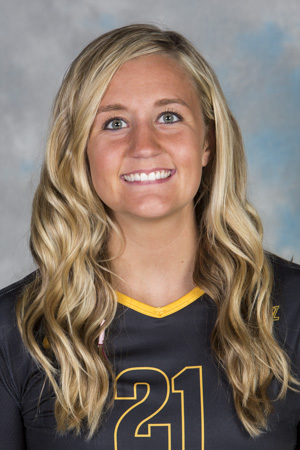 Sport: Volleyball
Year: Junior
Major: Human Resource Management
With 287 kills on the season and a hitting percentage of .170, Jayden Julian is a key part to the volleyball team's offense, but what else do you know about her?
Q: What is your favorite pre-game meal?
A: Probably Wendy's spicy chicken meal.
Q: Do you have any sports related superstitions?
A: Not really, except I have to braid Taylor's hair before every game, like I'm the one that does her hair before every game.
Q: What would be your best achievement to date?
A: I saw the court as a freshman for Northern, so that was a big step for me being in as a freshman and having your coaches trust you that much.
Q: What is the number one song played on your iPod?
A: That song that Tim McGraw and Faith Hill sing together right now, "Meanwhile Back at Mama's"
Q: Who is your celebrity crush?
A: Ben Affleck.
Q: If you won the lottery, what is the first thing you would do?
A: I would give a chunk of it to my parents and let them travel because I know that's what they want to do with their lives now that they're older and getting ready for retirement.
Q: What scares you the most? Why?
A: Walking up the really high steps to water rides. I just don't like standing in lines up there.
Q: What is your favorite flavor of ice cream?
A: Blue moon cookie dough from United Dairy Farmers.
Q: What is your dream vacation destination?
A: Fiji, for sure.
Q: What other sport do you wish you were equally as good at?
A: Tennis.
Q: What is your favorite TV show or movie?
A: Either J-Bird, or JJ, or just J.
Q: What are your pet peeves?
A: People chewing their gum really loud.
Q: What is your favorite movie or TV show?
A: Movie, I have tons, but I would say "My Best Friend's Wedding." And then for TV show, I'm currently watching "Walking Dead," so I'm getting into that.
Q: What is your favorite holiday? Why?
A: I would say Halloween. I just love dressing up, and it's close to my birthday so it's a good time of year for me.
Q: What are your hobbies outside of volleyball?
A: I love singing karaoke.
Q: You all recently qualified for post-season play in your first year of eligibility, so what does that mean to you?*
A: I think it is just a great accomplishment for everyone.
*The Norse were eliminated in the semi-final of the Atlantic Sun Conference Tournament by Lipscomb, taking a 3-2 loss.