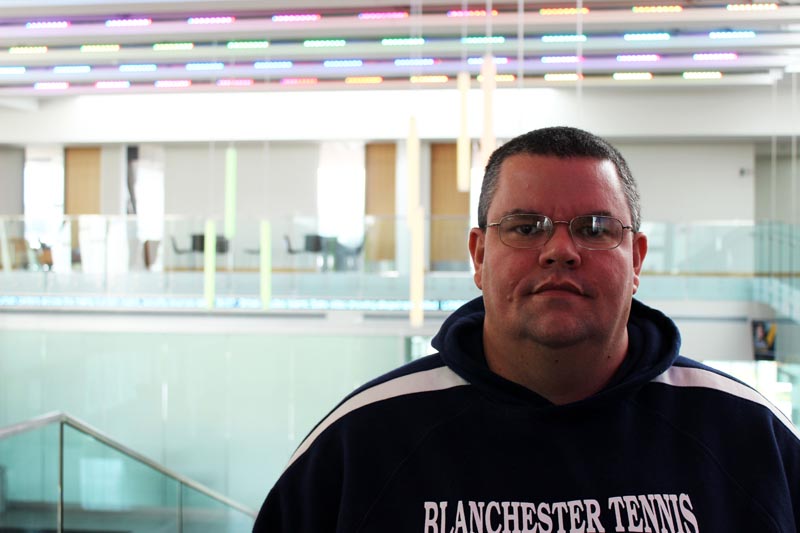 Matt Sexton brings 20 years of journalistic experience to The Northerner. A life-long resident of Blanchester, Ohio, Matt is also the varsity girls tennis coach at Blanchester High School and a sports writer for the Wilmington News Journal in Wilmington, Ohio.
At the News Journal, he has covered three Ohio high school state football championships and two OHSAA state ice hockey championships, in addition to hundreds of regular-season football and basketball games. He is a journalism major with an EMB minor.
He hopes to graduate in the spring of 2017, assuming he doesn't change his minor for the 20th time.
Matt Sexton, Sports and Political Editor
Apr 02, 2019

NKU to review women's basketball after players accuse coach of emotional abuse

(Media)

Dec 30, 2017

The Northerner's top 10 stories of 2017

(Media)

Dec 04, 2017

#NorseNotebook NKU defensive-minded team with high powered offense

(Media)

Apr 19, 2017

A goodbye from the editor of The Northerner

(Story)

Mar 28, 2017

SGA candidates make final pitch to student body

(Media)

Mar 18, 2017

Norse bid for an upset falls short against Kentucky

(Story)

Mar 17, 2017

Halftime: Kentucky surges to lead over Norse

(Story)

Mar 15, 2017

St. Amand to lead NKU while Mearns replacement found

(Story/Media)

Mar 08, 2017

Norse notebook: Raucous crowd propels Norse to victory

(Story)

Mar 07, 2017

Norse up! NKU to the NCAA tournament

(Story)

Mar 07, 2017

Norse notebook: Norse are Cinderella no longer

(Story)

Mar 06, 2017

Norse notebook: Young team poised at game's end

(Story)

Mar 06, 2017

St. Amand to be considered for interim president

(Story)

Mar 06, 2017

In year one, NKU 40 minutes from NCAA berth

(Story)

Mar 05, 2017

Third time's the same: Norse advance to semifinals

(Story)

Mar 01, 2017

WATCH: NCAA tourney bids on the Horizon?

(Story/Media)

Feb 28, 2017

Despite constant changes, Murray thrives for Norse

(Media)

Feb 27, 2017

NKU, UK and St. Elizabeth to partner on regional medical school

(Story/Media)

Feb 24, 2017

Norse break four game skid by blasting Milwaukee

(Story/Media)

Feb 21, 2017

Strong finish lifts Norse over Wright State

(Story)

Feb 14, 2017

Board of Regents votes to sell WNKU

(Story/Media)

Feb 10, 2017

Is UC basketball coming to BB&T Arena?

(Story)

Feb 09, 2017

VIDEO: Late defensive stops propel Norse over Green Bay

(Story)

Jan 25, 2017

Mearns at NKU, A look back

(Story)

Jan 24, 2017

BREAKING: NKU President Mearns leaving for Ball State

(Story)

Jan 05, 2017

Faulkner hits career high as Norse blast Penguins

(Story)

Jan 05, 2017

Critical free throws lift Cleveland State past NKU

(Story)

Dec 31, 2016

Oakland pulls away late to defeat Norse

(Story)

Dec 31, 2016

Strong second quarter propels Milwaukee past NKU

(Story)

Dec 29, 2016

Norse drain 14 threes in win over Detroit Mercy

(Story)

Dec 29, 2016

Green Bay opens title defense with win over NKU

(Story)

Dec 23, 2016

Strong second half propels West Virginia past NKU

(Story)

Dec 21, 2016

Norse win second straight in Vegas over Southern Miss

(Story)

Dec 21, 2016

Norse sluggish, but pull away for sixth straight win

(Story)

Dec 20, 2016

Norse drop opener in Vegas to Portland State

(Story)

Dec 19, 2016

From student to chief: Gaffin to lead NKU police

(Story)

Dec 08, 2016

Hoosiers' pace too much for NKU women

(Story)

Dec 07, 2016

Norse defense finishes strong in win over Eastern Illinois

(Story)

Nov 30, 2016

McDonald scores 32 as Norse beat Morehead State

(Story)

Nov 26, 2016

Scoring droughts doom Norse in loss to NC Central

(Story)

Nov 21, 2016

Late scoring drought thwarts Norse rally in loss to Ohio

(Story)

Nov 19, 2016

Second quarter surge propels Norse to first win

(Story/Media)

Nov 18, 2016

Norse can't hold second half lead, fall to Austin Peay

(Story)

Nov 13, 2016

Hill too large as NKU falls short at Illinois

(Story)

Nov 11, 2016

Offense struggles as NKU women open with road loss

(Story)

Nov 10, 2016

2016 Basketball Preview

(Story/Media)

Nov 08, 2016

Decision 2016: The Northerner Election Day Coverage

(Media)

Nov 05, 2016

Norse women's soccer to NCAA tourney

(Story)

Nov 03, 2016

NKU modifies master plan for new residence hall

(Story)

Oct 31, 2016

Students fall prey to scammers, check fraud

(Story/Media)

Oct 27, 2016

US Bank, NKU partner for 3 cybersecurity scholarships

(Story)

Oct 19, 2016

Tornado Warning for NKU campus expires

(Story)

Oct 13, 2016

UPDATE: Gaffin: 'No elevated danger on campus' after rape

(Story)

Sep 12, 2016

EDITORIAL: A day I'll never forget

(Story)

Sep 08, 2016

Student journalist conference at NKU Friday

(Story)

Sep 02, 2016

EDITORIAL: We stand with UK's Kentucky Kernel

(Story)

Aug 28, 2016

Interim chief leads NKU police as search begins for top spot

(Story)

Aug 24, 2016

NKU Fall Sports Look to Improve in Second Year in Horizon League

(Media)

Aug 10, 2016

No restrictions, no excuses for Division I Norse

(Story)

Jun 08, 2016

Gates named NKU VP of Legal Affairs and General Counsel

(Story)

May 25, 2016

BREAKING: NKU announces new VP for student affairs

(Story)

May 19, 2016

Funding shortfall forces NKU to cut 100 positions

(Story)

May 10, 2016

All in the family; Whitaker introduced as NKU head coach

(Story/Media)

May 06, 2016

BREAKING: NKU hires UK assistant to lead women's basketball

(Story)

Apr 29, 2016

Men's tennis to Horizon League semifinals after 4-2 win

(Story)

Apr 28, 2016

VIDEO: Foreign-born tennis players find family at NKU

(Story/Media)

Apr 27, 2016

BREAKING: NKU approves 3 percent tuition increase

(Story)

Apr 22, 2016

Plitzuweit leaves NKU for South Dakota

(Story)

Apr 20, 2016

Student discusses restoration of felon voting rights

(Story)

Apr 06, 2016

NKU to explore sale of WNKU

(Story)

Apr 05, 2016

Fighting for responsible journalism

(Story)

Mar 24, 2016

New logo causes stir in Norse Nation

(Media)

Mar 17, 2016

USC Upstate ends NKU season in WBI opener

(Story)

Mar 17, 2016

Online voting registration comes to Kentucky

(Story)

Mar 14, 2016

Not done: NKU women to play in WBI

(Story)

Mar 12, 2016

Heartbreak for Norse with double OT loss

(Story)

Mar 11, 2016

Norse blast Valpo to advance to Horizon semifinals

(Story)

Mar 10, 2016

Norse get revenge, bounce CSU from Horizon tourney

(Story)

Mar 10, 2016

Norse look for revenge in Horizon tourney opener

(Story)

Mar 05, 2016

Super freshman Abshaw stuns NKU on senior night

(Story)

Mar 05, 2016

Norse season ends in Horizon League tourney

(Story)

Mar 03, 2016

GALLERY: Davis sparks Norse to win over Penguins

(Story)

Mar 01, 2016

Millennials looking for election coverage with an attitude

(Story)

Mar 01, 2016

Free throw shooting puts Norse among nation's best

(Story/Media)

Feb 28, 2016

Hot-shooting Penguins overwhelm NKU

(Story)

Feb 28, 2016

Green Bay defense stifles Norse

(Story)

Feb 26, 2016

Panthers cool off Norse, 78-71

(Story)

Feb 26, 2016

Cleveland State holds off Norse, 63-58

(Story)

Feb 21, 2016

Wright State holds on to defeat Norse, 67-65

(Story)

Feb 18, 2016

GALLERY: Detroit gets #Roushed in Norse rout

(Story)

Feb 16, 2016

GALLERY: Detroit holds on to spoil senior night

(Story)

Feb 13, 2016

NKU comeback falls short against Wright State

(Story)

Feb 13, 2016

Norse fall in final seconds to Illinois-Chicago

(Story)

Feb 11, 2016

League-leading Valparaiso downs NKU

(Story)

Feb 07, 2016

Norse women sweep four-game road trip

(Story)

Feb 04, 2016

NKU women win third straight, 72-61

(Story)

Feb 04, 2016

GALLERY: Late rally falls short as Norse beaten by Green Bay

(Story)

Feb 04, 2016

NKU sports in #headlines

(Story)

Feb 01, 2016

GALLERY: Oakland pulls away late to defeat Norse

(Story)

Jan 30, 2016

Hot-shooting Norse pound Penguins

(Story)

Jan 29, 2016

Norse down Detroit for third win in four games

(Story)

Jan 28, 2016

Twin power! Roush sisters nearly outscore Cleveland State

(Story)

Jan 28, 2016

Students broadcast in a class of their own

(Media)

Jan 25, 2016

Valparaiso defense smothers Norse

(Story)

Jan 23, 2016

GALLERY: Milwaukee frustrates, defeats Norse

(Story)

Jan 23, 2016

Murray lifts Norse to overtime win over UIC

(Story)

Jan 21, 2016

GALLERY: Phoenix rise in fourth to hold off Norse

(Story)

Jan 19, 2016

Norse get huge win at Oakland, 90-73

(Story)

Jan 18, 2016

Norse comeback falls short against Cleveland State

(Story)

Jan 18, 2016

Winning basket waived off as Norse lose in Detroit

(Story)

Jan 15, 2016

Norse get first Horizon League win in rout

(Story)

Jan 14, 2016

NKU women pick up road win at Oakland

(Story)

Jan 10, 2016

Billups reaches 1,000 points; NKU falls to WSU

(Story)

Jan 10, 2016

Second half rally falls short for NKU women

(Story)

Jan 04, 2016

Late Milwaukee surge thwarts Norse

(Story)

Jan 02, 2016

Billups reaches rebounding milestone as Norse fall

(Story)

Jan 02, 2016

Uetrecht three douses Flames

(Story)

Dec 31, 2015

Norse end non-league schedule with loss at Toledo

(Story)

Dec 30, 2015

GALLERY: Valpo stuns NKU in controversial finish

(Story)

Dec 23, 2015

GALLERY: NKU delivers a beating to IU Kokomo

(Story)

Dec 19, 2015

GALLERY: Unselfish Norse keep Redhawks winless

(Story)

Dec 19, 2015

GALLERY: Brown buzzer-beater buries Norse in overtime

(Story)

Dec 16, 2015

GALLERY: Norse bludgeon IU Kokomo, 104-33

(Story)

Dec 15, 2015

LeVert triple-double leads Michigan past NKU

(Story)

Dec 13, 2015

GALLERY: NKU women rout West Virginia State 92-47

(Story)

Dec 13, 2015

GALLERY: Smothering defense helps propel Norse past Norfolk State

(Story)

Dec 08, 2015

Kinch continues hot play as Norse bounce IPFW

(Story)

Dec 08, 2015

NKU men fall in overtime to Eastern Illinois

(Story)

Dec 02, 2015

GALLERY: Kentucky pulls away late to avoid upset against Norse

(Story)

Dec 02, 2015

NKU basketball player suspended indefinitely after DUI arrest

(Story)

Nov 30, 2015

Billups' 20 points not enough as Norse fall 74-63

(Story)

Nov 30, 2015

Norse women rally late to defeat Robert Morris

(Story)

Nov 29, 2015

Norse women crush Tennessee Tech, 88-62

(Story)

Nov 23, 2015

GALLERY: Valiant Norse effort comes up short at Xavier

(Story)

Nov 19, 2015

Bearcats edge Norse in final minutes, 71-68

(Story)

Nov 17, 2015

GALLERY: Second half surge gives Norse men first win, 83-71

(Story)

Nov 13, 2015

Norse fall in season opener to West Virginia

(Story)

Nov 13, 2015

GALLERY: Norse take Redhawks to school in 71-57 win

(Story)

Nov 11, 2015

Women hope to pick up where they ended last season

(Story)

Nov 11, 2015

Men's basketball hopes 'toughness' defines team

(Story/Media)

Nov 10, 2015

2015-16 Must-see women's basketball games

(Story)

Nov 10, 2015

2015-16 Must-see men's basketball games

(Story)

Nov 10, 2015

5 years in Detroit; Commissioner sets goals for Horizon League

(Story/Media)

Nov 09, 2015

Men's soccer season ends in quarterfinals to Wright State

(Story)

Nov 09, 2015

Men's soccer blanked; Will host Wright State in league quarterfinals

(Story)

Nov 06, 2015

Women's soccer season ends in penalties to Oakland

(Story)

Nov 04, 2015

Fleak makes Division I transition easier for men's soccer

(Story/Media)

Nov 04, 2015

Norse drop final non-conference tilt to Evansville, 4-0

(Story)

Nov 04, 2015

WEEKEND ROUNDUP: Volleyball splits weekend matches

(Story)

Nov 03, 2015

GALLERY: Laumann goal sends NKU to Horizon League semifinals, 1-0

(Story)

Nov 02, 2015

Baseball team's 'rock star' makes Buddy Walk personal

(Story)

Oct 31, 2015

Women's soccer downs Green Bay; Will host tourney quarterfinal Monday

(Story)

Oct 29, 2015

GALLERY: Late Addai goal helps NKU salvage 2-2 draw

(Story)

Oct 28, 2015

GALLERY: Volleyball continues torrid play by defeating Wright State

(Story)

Oct 25, 2015

Volleyball on a roll, sweep weekend Horizon League matches

(Story)

Oct 25, 2015

Soccer roundup: Scoreless draw puts women's soccer in Horizon League tourney

(Story)

Oct 23, 2015

Qualah golden goal lifts men's soccer over Eastern Illinois

(Story)

Oct 23, 2015

Oakland hands NKU second straight league defeat, 1-0

(Story)

Oct 23, 2015

SPORTS ROUNDUP: Fall tennis season wraps up at ITA Regionals

(Story/Media)

Oct 20, 2015

Fighting time and genetics

(Story)

Oct 18, 2015

Cleveland State golden goal hands women's soccer first loss

(Story)

Oct 18, 2015

Men's soccer battles Valpo to scoreless draw

(Story)

Oct 18, 2015

Oakland defeats Norse volleyball in three sets

(Story)

Oct 13, 2015

Volleyball wins second straight with five-set victory over Cleveland State

(Story)

Oct 13, 2015

Flames burn men's soccer in overtime, 1-0

(Story)

Oct 13, 2015

Golden goal propels women's soccer past Valpo, 3-2

(Story)

Oct 09, 2015

AP editor immersed in unbelievable presidential election cycle

(Story)

Oct 09, 2015

Scripps' Six@Six kicks off sixth year with AP editor speech

(Story)

Oct 09, 2015

Volleyball roundup: NKU drops pair after win over Green Bay

(Story)

Oct 09, 2015

Men's soccer downs Cleveland State, 2-1

(Story)

Oct 05, 2015

NKU, Oakland men's soccer battle to 1-1 draw

(Story)

Oct 05, 2015

Women's soccer downs Detroit, 3-1

(Story)

Oct 02, 2015

Men's soccer still unbeaten in Horizon after 1-0 win

(Story)

Sep 30, 2015

Portz shoots 66 to finish third at NKU Fall Classic

(Story)

Sep 29, 2015

Women's soccer splits weekend matches; still unbeaten in Horizon

(Story)

Sep 26, 2015

Men's soccer draws in Detroit, 1-1

(Story)

Sep 24, 2015

Men's soccer wins first Horizon League game, 1-0

(Story)

Sep 21, 2015

Men's soccer falls to Dayton, 4-0

(Story)

Sep 21, 2015

Women sixth, men ninth at Cedarville Friendship Invite

(Story)

Sep 21, 2015

Volleyball drops a pair in Miami Invitational

(Story)

Sep 21, 2015

Women's soccer team splits pair, wins first Horizon League match

(Story)

Sep 21, 2015

Maginley wins a pair of events at Greater Cincinnati Collegiate Invitational

(Story/Media)

Sep 21, 2015

Women's tennis takes two singles crowns at GCCI

(Story/Media)

Sep 18, 2015

Women's basketball announces first Horizon League slate

(Story)

Sep 17, 2015

Men's tennis looks to improve with new faces, offseason success

(Story)

Sep 17, 2015

Women's tennis hopes for success in Horizon League

(Story)

Sep 17, 2015

Women's tennis opens fall season with 7-0 win

(Story)

Sep 15, 2015

Cross country teams take sixth at Bluegrass

(Story)

Sep 15, 2015

Leigeb leads women's golf to NKU fall classic win

(Story)

Sep 14, 2015

Volleyball sweeps competition in Evansville

(Story)

Sep 14, 2015

Addai scores twice as Norse blank IPFW, 2-0

(Story)

Sep 14, 2015

Illinois hands women's soccer first loss, 1-0

(Story)

Sep 09, 2015

Men's basketball Horizon League schedule finalized

(Story)

Sep 07, 2015

Norse golf finishes tied for eighth at Turning Stone

(Story)

Sep 07, 2015

Men's soccer splits pair in Mayor's Cup

(Story)

Sep 07, 2015

Norse volleyball goes 2-1 at Cougar Classic

(Story)

Sep 07, 2015

Men's cross country second, women sixth at Queen City Invite

(Story)

Sep 04, 2015

Women's soccer looks for 5-0 start against Xavier

(Story)

Sep 01, 2015

From boredom to wrestling

(Story)

Sep 01, 2015

UK visit to NKU highlights women's hoops schedule

(Story)

Aug 31, 2015

Volleyball drops three in Queen City weekend

(Story)

Aug 31, 2015

Women's golf sets record in season opener

(Story)

Aug 31, 2015

Women's soccer wins fourth straight, 1-0

(Story)

Aug 31, 2015

Men's soccer blanks Memphis for first win, 1-0

(Story)

Aug 31, 2015

Men's basketball announce non-conference schedule

(Story)