Norse break four game skid by blasting Milwaukee
HIGHLAND HEIGHTS, Ky. – One team entered BB&T Arena Friday night with a four-game winning streak including a win over perennial power Green Bay. One team entered with a four-game losing streak.
In a reversal of fortune, Northern Kentucky never trailed Friday, breaking its losing streak in style by blowing out Milwaukee 72-51.
"We're so excited to pick up such a quality win," NKU head coach Camryn Whitaker said. "Milwaukee is a team that beat Green Bay by 12. I continue to preach to these kids defense, and it's paying off."
The game was tied for just 45 seconds. The Norse (9-20 overall, 5-12 in Horizon League) led the rest of the way. Milwaukee fell to 19-9 overall and 11-6 in the Horizon League.
For the Norse, it was an opportunity to remind the rest of the Horizon League that despite its record, NKU plans to be a tough out in next week's tournament.
"People are looking at us and counting us out already," NKU senior guard Shar'Rae Davis said. "This win is a statement. Don't count us out … no one wants to face us in the tournament.
The game was decided behind the three-point arc. Both team attempted 19 threes. NKU made 13 of them, while Milwaukee made just two.
Overall, NKU shot 52.9 percent from the floor (27 of 51) while holding Milwaukee to just 34.4 percent (21 of 61).
"We gave up some offensive rebounds, but we forced them to take some shots that they weren't comfortable taking," Whitaker said. "The way we played offensively was very unselfish."
Not only did the high shooting percentage power the offense, but it allowed the Norse to get back and set up on defense, something Whitaker said was a must against a dangerous transition team like Milwaukee.
"When you hit shots, it's harder for them to push it down your throat," Whitaker said. "That's what Milwaukee is really good at — transition."
Davis and Taryn Taugher led the Norse with 16 points each. Mikayla Terry added 13 points while Rebecca Lyttle added 12
Steph Kostowicz and Jenny Lindner led Milwaukee with 11 points each. NKU was very physical with Kostowicz, as she hit the floor several times in the first half. She made just 4 of 13 from the floor.
"The goal was to not let them cut freely through the paint," Whitaker said. "We know how good their post players are, so we didn't want to allow them any easy baskets down low."
The NKU women will wrap up the regular season 3:30 p.m. Sunday at home against Green Bay before beginning the Horizon League tournament March 3.
Uetrecht out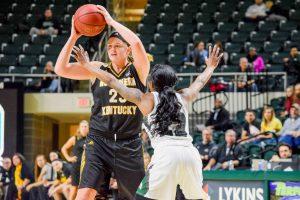 Kasey Uetrecht, NKU's leading scorer, will miss the remainder of the season.
Just minutes after the postgame press conference ended Friday night, NKU athletics released a statement saying Uetrecht will not be with the team, "due to personal reasons."
The release stated the university would have no further comment.
Uetrecht, a junior guard from Oregonia, Ohio, averaged 11.1 points per game. She started in all 27 games prior to NKU's loss at Oakland Monday. She did not play in either that game or Friday's game. She was not on the bench Friday.
SUMMARY
Friday, Feb. 24, 2017
At BB&T Arena, Highland Heights, Kentucky
Northern Kentucky 72, Milwaukee 51
M — 9 – 14 – 14 – 14 — 51
N — 22 – 14 – 20 – 16 — 72
(51) MILWAUKEE (fg-3fg-ft-tp) Kostowicz 4-0-3-11, Farley 3-1-0-7, Lindstrom 1-0-0-2, Lindner 4-1-2-11, Ford-Washington 3-0-0-6, Hayes 2-0-0-4, Reit 1-0-0-2, Cunningham 1-0-0-2, Two Bears 1-0-0-2, Swan 0-0-2-2, Wakeman 1-0-0-2. TOTALS 21-2-7-51.
(72) NORTHERN KENTUCKY (fg-3fg-ft-tp) Lyttle 6-0-0-12, Kinch 1-1-0-3, Davis 6-3-1-16, Terry 4-2-3-13, Wiegman 1-1-0-3, Taugher 6-4-0-16, Thomas 1-1-0-3, Clark 1-0-1-3, Combs 1-1-0-3. TOTALS 27-13-5-72.
FIELD GOALS: M 21/61 (Kostowicz 4/13, Lindner 4/7); N 27/51 (Lyttle 6/8, Davis 6/8, Taugher 6/9, Terry 4/8)
3 POINT FIELD GOALS: M 2/19; N 13/19 (Taugher 4/5, Davis 3/5, Terry 2/2)
FREE THROWS: M 7/8 (Kostowicz 3/4); N 5/9 (Terry 3/4)
REBOUNDS: M 36 (Ford-Washington 9, Kostowicz 8, Lindner 6); N 28 (Terry 6, Lyttle 4, Davis 4, Taugher 4)
ASSISTS: M 11 (Kostowicz 3, Cunningham 3); N 19 (Terry 7, Davis 5, Thomas 3)
STEALS: M 8 (Farley 3, Ford-Washington 3); N 8 (Lyttle 2, Davis 2)
BLOCKED SHOTS: M 5 (Kostowicz 4); N 4
TURNOVERS: M 17; N 15