SGA candidates make final pitch to student body
March 28, 2017
All three Student Government Association presidential candidates and their vice presidents worked to sway voters in their favor, discussing topics ranging from state funding for the university, sexual assault and rape culture to inclusiveness on campus during Monday's debate.
About 50 people watched the debate moderated by The Northerner's Mackenzie Manley and Nicole Browning, in the Student Union.
The night kicked off with the candidates being asked about the issue of unity on NKU's campus.
Kaitlyn Schaefer and Taylor Gagné said their campaign wanted to bring back the NKU ROCKS Living-Learning Community and further promote the Flex Housing option.
"If we can actually promote that program, which is a program where people can live together regardless of their gender, which we believe helps our LGBTQIA+ community feel more comfortable with their living situation and their communities," Gagné said.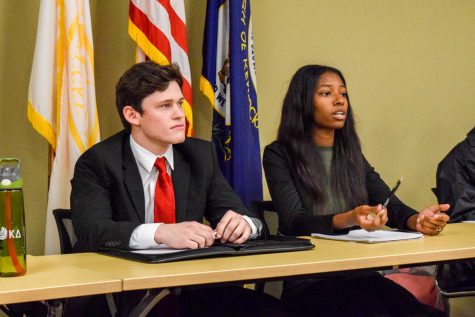 Dejah Rawlings and Troy Cornes also said they felt NKU did need to bring back the ROCKS LLC, but in addition, the staff needs to be trained to deal with those diverse groups.
Rawlings noted as well that unity on campus starts at the administration level.
"If students don't see that the administration is pushing for unity then they're not going to want to push for it," Rawlings said.
For Sami Dada and Erica Bluford, unity at NKU comes from building relationships.
"When I came in I wanted to branch out to a bunch of organizations and a lot of students want to do that too, but they don't feel like they have either friends or they feel like they need to know someone to be able to get involved," Dada said. "So start building relationships finding ways where we can kind of band together."
State funding recently became a hot topic specifically for SGA after they sent about 30 students to Frankfort t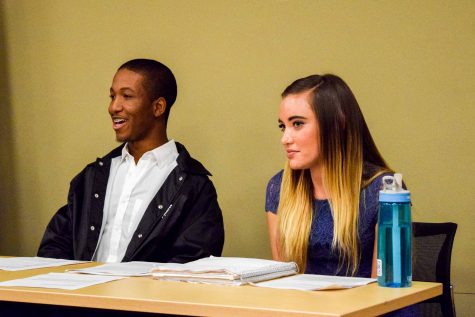 o encourage the government to give NKU $5.2 million.
Dada said that they need to continue fighting for more money, but also branch out to the community.
"Us at NKU we're invested in it and if they can invest in us then we'll show a return on that investment and that's something that we have started but I think with SGA's help and just collaborating with a lot of other organizations we can really work on that," Dada said.
Schaefer brought up partnering NKU's Future Leader Internship Program which allows students to intern in Frankfort with Kentucky legislatures.
"Essentially they're putting a face to the students that those legislatures are affecting," Schaefer said. "We're sending them those emails saying 'we want this money, we deserve this money' but they're not thinking of the actual students they're affecting when they are in legislative sessions."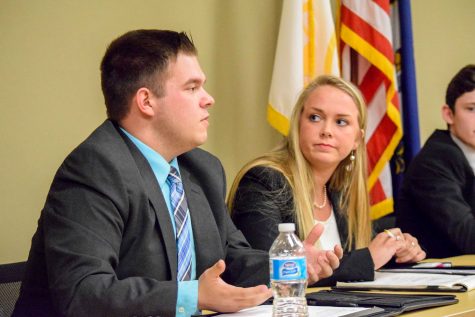 Sexual assault has been a prevalent topic of discussion nationwide and even at NKU, especially in relation to college campuses. 
Related: NKU student says four basketball players involved in her assault
Both Schaefer and Rawlings highlighted that NKU is ranked as one of the safest universities in the state as well as the nation.
Dada brought up creating or pairing up with an app that you can set to alert an emergency contact if you don't check in with it when you're out as a way to make the campus even safer for students.
Gagné, however, said that a safety awareness app was looked into by SGA this year, but didn't have the necessary funding.
"I think it's something you could definitely see coming to NKU," Gagné said.
Rawlings was a supporter of the safety awareness app, but would prefer to spend resources on partnering with an existing app rather than creating a new one.
Rawlings also brought up the need for state legislatures to see students when it comes to any bill they may be passing about sexual assault.
"Recently there was a bill on the floor but it did not pass through the court," Rawlings said. "That would've affected how universities dealt with sexual assault training and code of conduct."
In addition, Rawlings said she wanted more transparency between administration and students for how those things operate.
To close, Dada urged whoever wins the election to be present at events throughout the year.
"I know today we were all campaigning outside which was awesome, but there was a pride march going on," Dada said. "I took time out of my campaign to go to that because those are the students we're representing and I wish you guys would've joined instead of continue campaigning because that matters to a lot of these students."
Rawlings took Dada's sentiment a step further saying it's more than just marching with the students.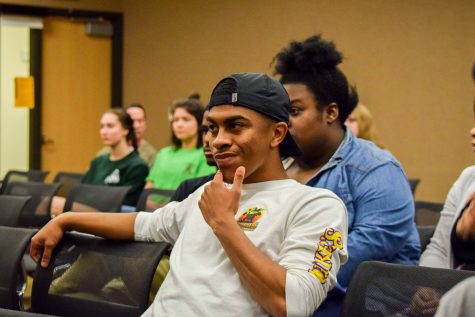 "I think that you also should be attending their meetings and seeing where they come from like the common ground," Rawlings said. "Make sure you're coming to their events where they're talking because right after the pride march they actually did have an event where they had speakers and they announced everything they had accomplished for the year as well."
Schaefer and Gagné said that while they're only two people and making it to every event could prove difficult that if elected they'll work to have a representative at as many events as they can if they can't make it.
"I just want to reiterate that Taylor and I are both very passionate about this university, our student body as a whole," Schaefer said. "Again we are two students, it's hard to reach out to every single organization on our campus but we do our best to at almost every event that our campus holds and if elected we plan to continue that."
If you would like to watch the debate you can do so at The Northerner's Facebook page. The SGA election will take place March 29 and 30. For information on voting, visit the SGA homepage at sga.nku.edu.