St. Amand to lead NKU while Mearns replacement found
March 15, 2017
As expected, the NKU Board of Regents voted to approve Gerry St. Amand as interim president of the university upon the departure of current President Geoffrey Mearns.
Wednesday's vote, which was unanimous, means St. Amand will assume the office of president after spring commencement on May 7. That is the date that Mearns will depart to prepare for his new role as president of Ball State University.
St. Amand will serve as interim president until a new university president is selected.
"I feel pretty deeply honored that the board would ask me to assume this kind of a role," St. Amand said. "It's a role that has a lot of responsibility. To have the governing board of the university put its trust in me and believe that I can be a positive contribution during this interim period, it is an honor to be thought of in that light."
This was not necessarily an opportunity that St. Amand saw in his future. What he saw in his future was retirement. One phone call made him temporarily reconsider.
"There's an excitement about it because I love this university," St. Amand said. "Although we had other plans beginning in May — it's called retirement — I love the university. So when the opportunity to help it was something that excited me."
Related: Mearns to leave university after spring commencement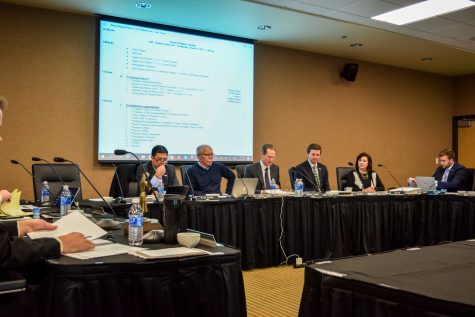 As Board of Regents Chair Rich Boehne mentioned in an email to faculty and staff March 6, by selecting St. Amand, the university won't have to ask someone to take on more than one role in the leadership team.
"I've had a chance at this university to serve in interim roles before when I already had another job," St. Amand said. "Trying to do two jobs, and do them both well, it's hard. So, for the university to have an option to find … someone to step in without asking someone who's already got a very responsible position, it helps minimize the disruption … to the office of the president."
St. Amand said that he and Boehne have discussed how the university cannot afford to stand still during this upcoming transition period.
"The expectation of the board is that this interim period ought not be a period where we simply mark time waiting for a new president to take over," St. Amand said. "This is a competitive business enterprise. Sometimes we don't think of it in those terms. The old adage is, if you're standing still, you're falling behind."
Before being appointed as interim president, St. Amand previously served as Vice President of University Advancement and the Dean of Chase College of Law. After retiring, he continued as a faculty member at the Chase College of Law.
"Gerry's particular experience with our university, his familiarity with the strategies and culture that have come to define NKU, in addition to his proven and diverse leadership skills, make him my recommended candidate for this key position," Boehne said in the March 6 email.
Related: St. Amand to be considered for interim president
St. Amand is excited getting the chance to continue to work with NKU students, as he has done in his previous roles and in his current role as a faculty member in the Chase College of Law.
"The most rewarding part of my job was the teaching dimension and the opportunity to meet and sit with students, provide career counseling, career advice," St. Amand said. "If you take a look at the staff and faculty around this campus, the reason they're here is because of the students.
"They want to be around students. Students are the people who energize you."
Like the rest of campus, St. Amand is excited to see the men's basketball team advance to play in its first NCAA Division I tournament. He even mentioned jokingly that his announcement last week may have inspired NKU's wins in the Horizon League semifinals and championship game.
"The announcement that Rich Boehne nominated me to be president came on a Monday," St. Amand said. "The next two nights, NKU's basketball team went on to win and qualify. I'm thinking, perhaps, that announcement was the inspiration that put them over the top."