NKU, UK and St. Elizabeth to partner on regional medical school
February 27, 2017
Northern Kentucky University will partner with St. Elizabeth Healthcare and the University of Kentucky to develop a UK regional medical school campus at NKU.
NKU and UK made the joint announcement during a Monday morning press conference in the Student Union Ballroom.
Dr. Robert DiPaola, dean of the UK College of Medicine, said the Lexington campus of the College of Medicine is at full capacity, so regional partners are necessary to fill the demand of the applicant pool.
According to NKU President Geoffrey Mearns, there will be preferred slots reserved for NKU students in the new regional medical campus.
"My understanding is it's going to start at 30, then it may over time grow to as many as 40 students," Mearns said. "Once the full program is up and running, there will be about 160 students in the program. It's a big number; it's a big contribution."
Students interested in applying to the regional medical school will have to meet the same admission criteria of the Lexington campus.
Mearns said the goal is to have the program in operation by either the summer or fall of 2019. While the program will utilize the new Health Innovation Center, a separate location on campus will be needed for the UK regional medical school.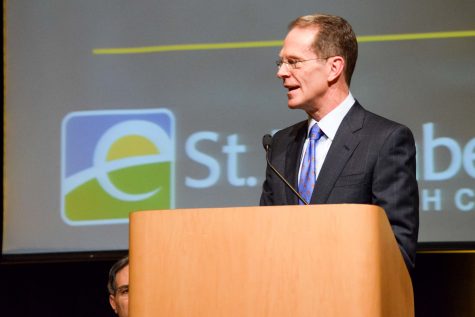 "We're in the process of identifying that specific location," Mearns said. "Then there will be opportunities for their students and their faculty to work in the space of the Health Innovation Center. They'll have their own dedicated space on campus."
While some of the details are still being worked out, Mearns anticipated costs related to the renovation of space for the medical school will be absorbed by the University of Kentucky.
The collaboration between the medical schools and existing NKU students is something that excites Mearns.
"What this means for our students is an opportunity to train with medical school students in our Health Innovation Center," Mearns said. "There will be interprofessional training opportunities, which is the future of healthcare — having healthcare professionals work together as teams. The best way to prepare them to do that is to have them train as students together."
Mearns and DiPaola were joined by UK President Dr. Eli Capilouto, NKU Provost Sue Ott Rowlands and St. Elizabeth President Garren Colvin.
The program is the third regional medical school campus announced by UK. The other campuses are slated for Bowling Green and Morehead.
The joint venture between Northern Kentucky University and the University of Kentucky is just the latest collaboration between universities in the state of Kentucky, according to Mearns.
"This is what our constituents expect; this is what our elected officials expect is working together in collaborative programs and not competing in every different way," Mearns said. "This fills a hole in our health innovation center in terms of having medical students participating in interprofessional training with our students.
"This is one of the major pieces we needed to fill and we're so excited that UK is willing to partner with us in this way."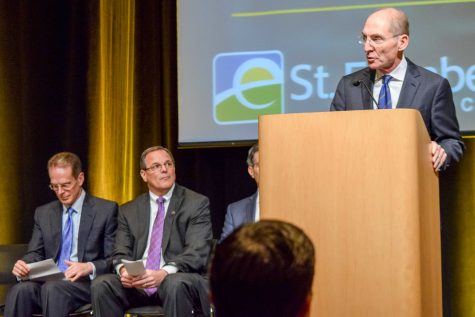 According to Capilouto, forming these regional partnerships will allow UK to expand its medical program at less cost than a physical expansion in Lexington.
"We're out of room in Lexington," Capilouto said. "To expand, we're doing it through partnerships. We're taking advantage of facilities that are available here, excellent professors, excellent clinicians who will be a part of our teaching force. We're able to do that with less dollars than it would take to do it in Lexington."
Capilouto said the curriculum would be identical at the regional medical campus. The tuition rate would also be the same. In-state tuition, according to uky.edu, is $37,716 per year while non-resident tuition is $65,861 per year.
During his address to a standing-room-only crowd in the Student Union ballroom, Capilouto said the state of Kentucky continues to deal with serious health issues.
"Our former president, Lee Todd, used to remind us that we're first on all the wrong lists," Capilouto said. "We led the nation in cancer and respiratory disease. We were sixth in heart disease, seventh in diabetes and eighth in stroke.
"Too many lives cut short; too many dreams extinguished."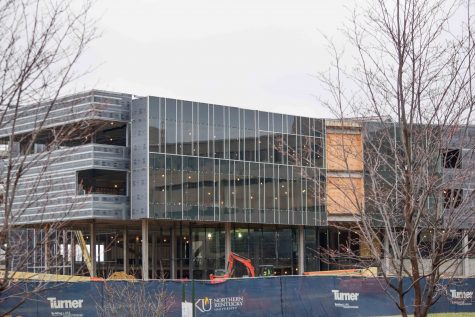 The partnership was announced as work continues on the new Health Innovation Center.
RELATED: A look inside the HIC construction zone
Project Manager Mark Jones told The Northerner in December that the project was ahead of schedule and under budget. He expected the building to be complete in January or February 2018, and fully operational by the fall semester.
"There is a period of time where we test all the systems. We make sure everything is working, then we begin to move in the furniture and equipment," Jones said. "We will begin to bring in faculty and staff right at the end of spring semester and use the summer for training and activation so it would open up in the fall semester."
RELATED: NKU breaks ground on Health Innovation Center
The Health Innovation Center is connected to Founders Hall, which is being renovated during construction. The five-story facility will boast 95,492 square feet in addition to the 111,639 square feet available in Founders Hall.
The Commonwealth of Kentucky granted $97 million to fund the entire project, and St. Elizabeth gifted another $8 million towards the development of a two-story simulation center.