Preview: Expectations high for reigning Horizon League champions
November 9, 2017
When Newport Central Catholic graduate Drew McDonald committed to NKU to play basketball, he dreamed of making the Norse a competitive Division I program.
What he didn't anticipate, however, was standing on the court of the Joe Louis Arena in Detroit celebrating a Horizon League championship in just his sophomore season.
"I wanted to get a program going in the right way and change a program to something I can take pride in after I leave," McDonald said. "I can come back to games, I can be an alumni that loves being here, season ticket holder, donor, whatever it is I just wanted to be a part of something that was local. To see all of that come together in the two years I've been here, I never would have dreamed it would come together that quickly."
The championship game was just a blur to McDonald. He can barely remember his 14-point, 12- rebound performance that helped lift the Norse over Milwaukee. After the final buzzer sounded, McDonald found his way up to the stands, where his mother, father and two sisters were waiting for him.
Related: Norse up! NKU to the NCAA Tournament
"I knew I wanted to go see my family before anything else because they helped me get to where I am today," McDonald said. "I went up and hugged my mom and she was crying, my little sister was crying, my older sister was crying and my dad was crying. I don't see it very often when all four were crying."
While McDonald believed from the beginning of last season that this team could be something special, it wasn't until after a three game losing streak that he knew for sure.
After losing an 18 point second half lead to Green Bay and conceding games to Milwaukee and Oakland, the Norse held a locker room meeting the day before facing Detroit Mercy to refocus.
The next day, McDonald scored 21 points, grabbed five rebounds and blocked three shots in NKU's 101-87 defeat of the Titans, snapping the three game streak.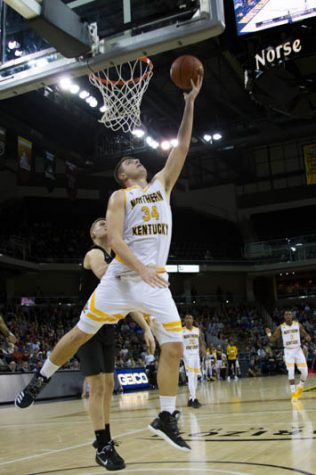 "I knew at that moment we had something because we were able to bounce back from adversity and that the team was something special," McDonald said.
McDonald's impression can be seen on most every aspect of last season's success, whether it was his 11 double-doubles throughout the season or his 37 point performance against Cleveland State where he made five of his six three point shots.
The Horizon League took notice of his 16.4 points per game and 7.7 rebounds per game last season and named McDonald the Horizon League Preseason Player of the Year for the 2017-2018 season.
NKU head coach John Brannen said while his play on the floor has been impressive, it's his intelligence, court awareness and ability to adapt that makes him stand out.
"He is the most intelligent guy on our team, coaches included," Brannen said. "When he is out on the court he can call out coverages and he really helps me a great deal. When you can tell a young man that he needs to change a behavior or attack something with a different mindset, not schematically, but more from an emotional side, Drew is a guy you tell once and then he runs with it."
While he admits he is not the most athletic player on the floor at a given time, McDonald makes up for that with his anticipation of the opponent's play and his ability to be a general on the floor.
"I realize where my strengths lie and one of them has to be I want to be the vocal guy and know where I need to be at all times before it's going to happen," McDonald said. "I need to know what the other team is going to do before they do it so I can get our team in the right position and I can get there specifically."
With the success of the Norse last season, McDonald notices that more people approach to him on campus to asking about the new season and congratulate him on his success.
"The excitement on campus. It's unbelievable how many more people have said stuff or asked about games," McDonald said. "So many more people are texting me or just stopping me in the hallway and saying congratulations. There's jerseys out there now. There's more basketball around the campus and there is more paying attention to the athletic program now that we have a couple Horizon League championships."
'We want to be a program of expectations'
NKU finished 24-11 last season with a 12-6 record in Horizon League play. The Norse were ranked second in the Horizon League preseason rankings behind Oakland. For John Brannen, that doesn't mean much.
"We were picked seventh last year and second this year," Brannen said. "It's the same media people that picked us seventh last year that picked us second this year so I don't know why we pay any attention to them."
Even so, Brannen, like McDonald, has seen the excitement around Norse basketball grow over the past year. He has also knows there will be a target on the team's back from opponents, but doesn't see that as a detriment.
"We talk about the target on your back and that's a good thing," Brannen said. "We want to create expectations and we want to become a program of expectations and I think our guys sense that. We've got some things we have to go through but I think that pride and wearing that NKU jersey and being apart of this community is something our guys thrive on."
Ten members of the Norse roster return this season, including four of their primary offensive weapons in McDonald, senior point guard Lavone Holland II, senior forward Jordan Garnett and sophomore forward Carson Williams.
Holland was named to the preseason All-Conference Second Team after averaging 14.3 points per game and 3.9 assists per game. When asked if he was surprised if he wasn't named to the first team, Holland was brief.
"I'm just grateful for the award… That's all I got to say about it," Holland said.
Against Kentucky in the NCAA Tournament, Holland provided a thunderous dunk in the first half, as if to say the Norse weren't going away, and scored 22 points in the 79-70 loss to the Wildcats.
Often times, the Norse success often depends on how well Holland plays. While he isn't a vocal leader, he provides contagious energy, according to McDonald.
"He's not always going to be the one to get on you if you do something wrong," McDonald said. "But he's the one who can move the needle the most and bring the most energy. When he plays at a high level it brings the rest of the team to a high level. He is more of a focused leader and wants everyone to be focused."
With so many guys back from the 2016/2017 roster, Garnett feels a sense of unity on and off the court.
"I like our comradery," Garnett said. "We all get along well on an off the court. In practice we can get on each other and tell each other the truth and that makes us better as a team and better as individuals."
The Norse have also added freshman Chris Vogt, Paul Djoko and Darian Childress to the roster. Vogt is seven footer from Glasgow, KY who could make a difference in the middle of the court for the Norse.
"I tell all our freshman you don't know what you don't know," Brannen said. "So right now play hard and learn our offensive system and our defensive system."
Players to Watch
The success of the team this season will likely be dependent on how well the sophomore class performs.
Williams was named to the Horizon League All-Freshman team last season after averaging 10.8 points per game and 5.9 rebounds per game. The talent is there, but the scoring was somewhat inconsistent throughout the year. The Norse could be dangerous if he becomes a more consistent scorer.
Point guard Mason Faulkner and guard Dantez Walton played critical minutes for the Norse in conference play last season. Faulkner averaged 7.4 points per game coming off the bench last season, including a 29 point performance against Detroit Mercy and a 24 point performance against Youngstown State. Brannen experimented with playing Faulkner and Holland together last season and is something to expect again this season.
Walton played well of the bench toward the end of conference play, posting double digit scoring games against UIC, Wright State and Milwaukee.  
The Norse will also look to get redshirt freshman Jalen Tate back into form after suffering a season ending hand injury just eight games into last season.