Is UC basketball coming to BB&T Arena?
In need of a home next season due to renovations to Fifth Third Arena, the University of Cincinnati basketball teams could be headed to Highland Heights.
Reports intensified Thursday led by a tweet from the Cincinnati Enquirer's Tom Groeschen. He reported the Bearcats would likely play at BB&T Arena next season.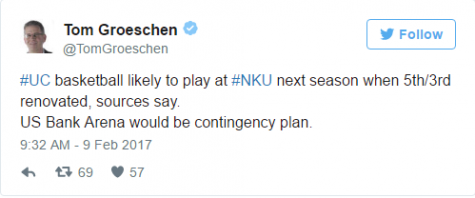 The Northerner contacted BB&T Arena Friday. Matthew Merchant, director of booking and marketing with the arena, said nothing with UC basketball had been confirmed.
The Bearcat men's team, which is enjoying a resurgence this season, would likely fill the 9,400-seat capacity of BB&T Arena. The Bearcat men are averaging 9,215 fans over 15 games at Fifth Third Arena this season.
NKU is averaging 2,534 over 10 men's home dates this season. On Thursday, 3,413 people saw the Norse defeat Green Bay 69-67.
Related: Late defensive stops propel Norse over Green Bay
If the Bearcats call BB&T Arena home next season, it will add yet another residence to the storied history of the UC basketball program.
Cincinnati opened the most successful era in program history in 1954 with a new on-campus arena, according to gobearcats.com. The Armory Fieldhouse played host to a period of UC basketball which saw the Bearcats win the national championship twice.
In addition to the titles in 1961 and 1962, the Bearcats lost in the national title game in 1963. This came after two Final Four appearances in 1959 and 1960, led by one of the greatest basketball players of all time, Oscar Robertson.
The Bearcats left the Armory Fieldhouse in 1976 as they moved to Riverfront Coliseum, now known as US Bank Arena. They remained downtown until plans for a new on-campus arena were revealed, according to gobearcats.com.
Two years from moving into Fifth Third Arena, UC moved its games once again to The Cincinnati Gardens in 1987, sharing the building with archrival Xavier. In 1989 the Bearcats' opened the Shoemaker Center, which would later be renamed Fifth Third Arena.
This latest departure from the Clifton, Ohio campus is due to an $85 million renovation of Fifth Third Arena announced Aug. 25, 2015.
The Northerner will continue to follow this story.
The Northerner Sports Editor Christopher Decker contributed to this story.