Preview: Norse will look to lone senior for leadership
November 8, 2017
After going 9-22 in her first season as head coach of the NKU women's basketball team, Camryn Whitaker is looking to improve, but it won't be easy.
"We've got five sophomores and seven freshmen, so the makeup of our team right now is so different." Whitaker said.
Of the 13 Norse on the roster, only two of them are upperclassmen. Forward Kasey Uetrecht left the team towards the end of last season, leaving the Norse have just one senior on the roster: guard Mikayla Terry.
The Norse also added junior guard Kennedy Archer, who just transferred to NKU during from Coastal Carolina in the offseason. Whitaker said that the experience is what the Norse are missing most.
"Every day I have to take a deep breath and I have to tell myself that we have seven freshmen," Whitaker said with a smile. "But for me it's exciting, I have to be more patient on the floor. There's a lot of teaching that we have to do right now."
Terry was one of the most impactful players on the court for Whitaker last season, averaging 9.6 points per game.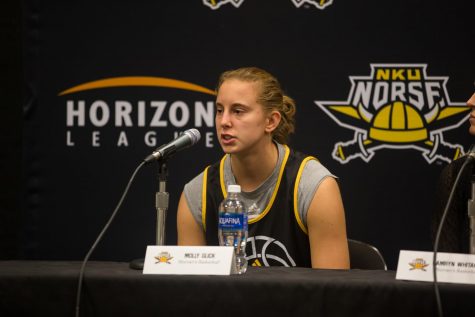 This year, her impact is being felt on and off the court. Guards Molly Glick and Laura Thomas see Terry as someone that leads by example.
"Leading by what she does on the court, how she plays defense, how she carries herself, she does a great job with her work ethic and her experience and that helps out our team a lot," Thomas said.
Terry, who Glick says is a standout Norse defender, had 39 steals last season and pulled down 124 defensive rebounds.
Despite the youth and inexperience, Whitaker has been impressed with what she's seen so far.
"They are just really together, we've got good chemistry, you can tell they all like being around each other," Whitaker said. "And they work extremely hard."
Establishing work ethic is Whitaker's number one focus leading into her second year. 
One area the Norse have improved on during the course of recruiting is size. Four Norse are now six feet or taller, including 6-foot 3-inch Grayson Rose, a freshman forward who is expected to have an impact.
All of this preseason preparation has culminated in the Norse being ranked ninth in the Horizon League preseason poll. Green Bay and Wright State are expected to battle it out for the conference championship, but that's not something Whitaker pays much attention to.
"Preseason rankings are a necessary evil, aren't they?" Whitaker said. "For us, we know that's not where we want to finish. Nobody in the room wants to be ninth. I think it's motivating for our players."
In the locker room, confidence is high that the Norse can improve on last season, and surprise a few people in the 2017-2018 season. The Norse attribute most of that to the chemistry they are building together.
Overall, the Norse are young, but they are talented. Playing in the Horizon League is a tall task and won't be easy, but with that culture of hard work, a team with chemistry, and a coaching staff that's excited to come to work and coach each day, the confidence is high for an exciting season.