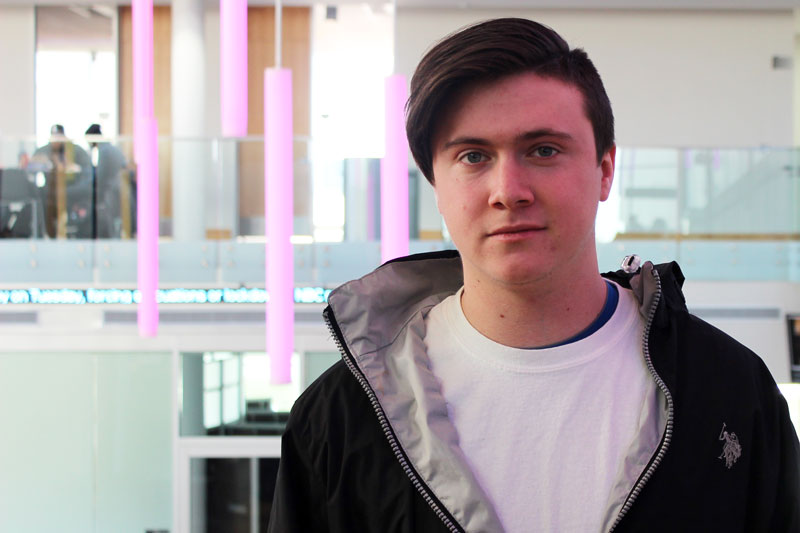 This will be Derek Daley's fourth year here at NKU. With a background in multiple different types of media, ranging from Video, Audio, and Design, all the way to Web Development, Derek brings together his experiences in each different discipline to help himself accomplish tasks efficiently and effectively.
After his first semester Derek found his path choosing to pursue Media Informatics as his potential career path. Derek has always had a feel for Visual Media. In high school he would constantly be fiddling with Photoshop and messing with video production. He states, "I've always had that creative side, but have always had a thing for technology as well, and when I came to NKU and found out that I can combine that creative drive alongside that technological urge, I knew I was where I wanted to be."
Derek has many hobbies, of which include gaming, technology, and most of all music. He's been making music ever since he was a kid, and it helps him stem his creative juices into a single use. This love for music turned into a love for sound in general when he was introduced to the sound design courses at NKU through his Electronic Media and Broadcasting Minor. Through the resources at NKU he now has access to the recording studio in Griffin Hall and this allows him to push his creative processes to a professional level.
Derek is looking forward to graduation in 2017, and looks forward to working with the Northerner to push his skills to the next level!
Derek Daley, Digital Innovations Team Member
Dec 05, 2016

NKU officials review policies after OSU attack  

(Media)

Oct 31, 2016

Students fall prey to scammers, check fraud

(Media)

Oct 13, 2016

Life threatening or life saving? The battle to legalization

(Media)

Oct 04, 2016

What do you think of Victor's new look?

(Media)

Sep 28, 2016

Campus project to incorporate housing, local businesses

(Media)

Feb 09, 2016

An agent for change

(Media)

Jan 28, 2016

Cincy Global Game Jam: A chance for anyone to make a video game

(Media)

Aug 26, 2015

Defining our purpose

(Media)

Aug 16, 2015

Kelsey Bungenstock

(Media)