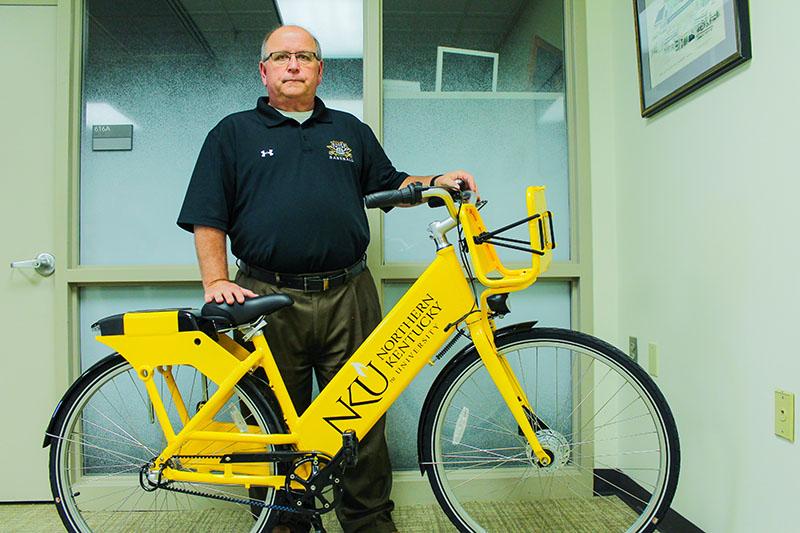 Don't drive, ride with campus bike share
April 4, 2016
High-tech bicycles featuring rust-proof aluminum frames, puncture resistant tires and GPS tracking systems will be available to students at the push of a button.  
Gotcha Bike will be a campus transportation option with the launch of the university's bike share program on April 22.
Built from the wheels up, the bikes are easy to ride, and even easier to reserve. Each bicycle can be checked out from the convenience of a smartphone.
Katie Sargeant, director of Gotcha Bike, said the program was developed after evaluating the current
transportation issues of universities throughout the country.
Sargeant said the goal of Gotcha Bike is to offer an alternative to cars for short trips. She hopes that bike travel will help reduce traffic and alleviate some of the other methods of transportation on campus.
"We really hope to create new bicycle commuters by offering something that's active and fun and convenient," Sargeant said. "You don't have to be an experienced rider to take advantage of this bike share system. They're really easy to ride. One of my favorites parts of my job is watching people who haven't ridden a bicycle in a while go for a spin. You can just see their face light up."  
Andy Meeks, director of Business Operations and Auxiliary Services, said the program piqued his interest when he met the Gotcha Bike group at a professional conference.
"It's got a ton of environmental implications," Meeks said. "But mostly as the campus continues to expand, we just wanted to give the students on campus some opportunities to bike share around campus."
Morgan Lyons, a senior environmental science major, has conducted research on the toxins that are released into the atmosphere as a result of frequent driving.
Lyons believes the alternative method of transportation provided by the bike share will prove beneficial for the university, as NKU has made a commitment to work towards having a carbon footprint of zero by 2050.
"It makes me really happy," Lyons said. "I get very frustrated with the mindsets that some people have about sustainability. The future is going more sustainable, and if NKU can continue to do things like this bike share, they're going to reach their goal of carbon neutrality by 2050."
In addition to using the bike to traverse campus, Meeks said students will be able to bike to some areas off campus too, such as the Kroger plaza, Applebee's and even as far as the Chipotle strip.  
A software package featuring GPS  is located at the back of the bike, which enables Meeks to track the bikes at any given time.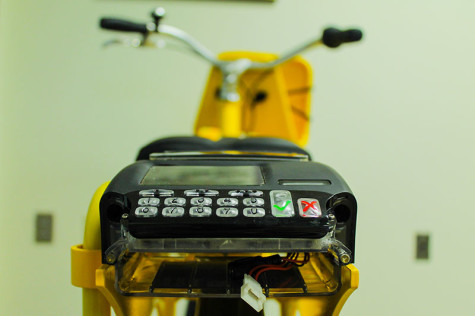 Not only does the GPS system prevent theft, it also prevents students from taking the bikes too far off campus. A fee will be charged if the bikes are taken outside of the determined radius.
Students will also be charged a fee if they do not return the bikes to the designated hub.
The program will cost $60,000 a year. Meeks said costs for the first year will be covered through marketing, advertising and university funding.  
Meeks plans to have the program fully funded through marketing by the second year of operation. He plans to utilize the actual bikes as well as the bike racks as advertising space.
The initial launch will feature 50 bikes and 3 sets of bike racks. One will be located at the Student Union, another at Norse Commons and one at the East Village near Callahan Hall and Northern Terrace.
Meeks said students can ride for free for up to four hours. After four hours of use, a fee will be charged.
Meeks said this system is in place to discourage someone from checking out a bike for the entire day. He wants the bicycles to be available to other students when not in use.
To reserve a bike, students must create an account through the Gotcha Bike app. Students will be given an account number and a PIN code. The PIN code will unlock the bike when it is entered on the GPS system.
When an account is created, students can also rent available bikes at the racks by entering their account number followed by their PIN number.  
After completing their ride, users can share details of their trip on social media. The bikes track statistics such as miles traveled, carbon dioxide emissions reduced, calories burned and money saved versus driving. 
Gotcha Bike is currently operating at Auburn University and six student housing apartments in Arizona, Oklahoma, Michigan, Missouri and Minnesota as well as one corporate campus in South Carolina.
They are also in the process of launching bike share programs at Georgia Tech, Florida State and the University of Delaware.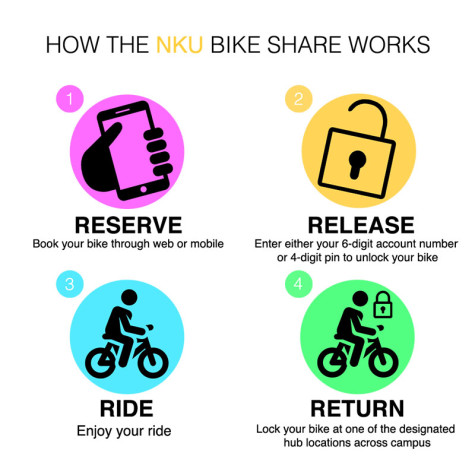 Derek Daley