Student research shows drug prevalence on campus
April 12, 2016
A group of NKU social work majors surveyed random students and found that a significant percentage used some kind of substance, ranging from marijuana to heroin, within the past year.
The group conducted a survey asking 298 NKU students if they used drugs in the past year. Of the 298 students surveyed, 44 percent reported using some kind of substance.
Abagaile Long, a student in the Master's program for social work, has focused most of her graduate work on substance abuse and was interested in conducting the survey to gauge how present heroin is at NKU.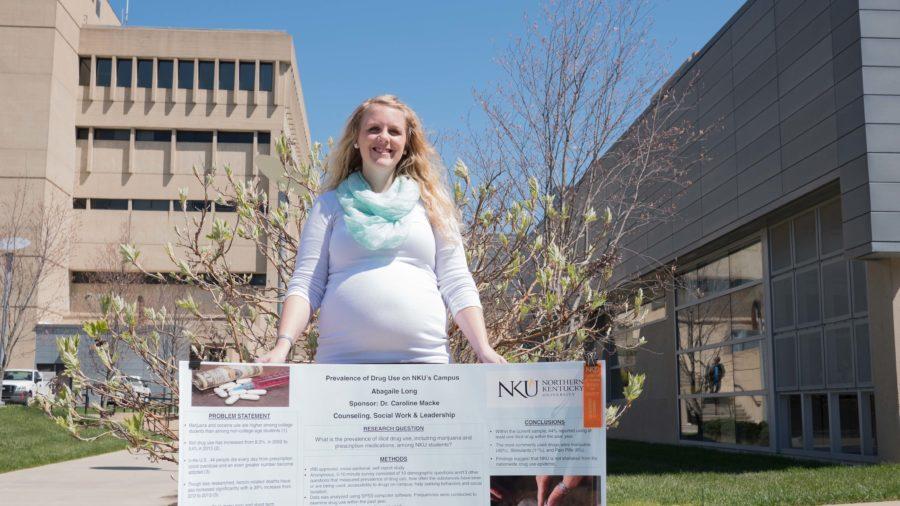 "That's definitely always been a passion of mine," Long said. "I've lost people to heroin, so I'm very passionate about this work."
Dr. Caroline Macke, associate professor in social work and adviser for the project, explained that the group of students developed their methodology for the survey during the fall semester.
According to Macke, the students examined relevant surveys that had been conducted nationally to develop their own survey, which consisted of 10 demographic questions such as age, ethnicity and GPA. Thirteen other questions measured prevalence of drug use, frequency of drug use, accessibility to drugs, help-seeking behaviors and social isolation.
The survey was distributed to those willing to participate over a three day period; two days in the Student Union and one day in Steely Library.
Long examined the prevalence of drug use among NKU students. She researched what substance students were using and how often they were using the drug, ranging from one to five times a year to daily.
Of the 244 students who reported drug use, 0.7 percent reported using heroin daily.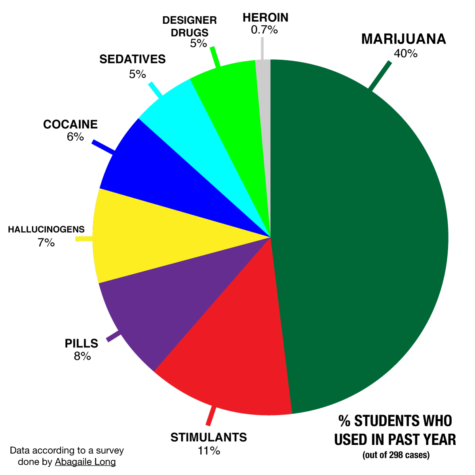 Despite the low percentage, Long feels as if it is still too many.  
"That's actually only two people, but they admitted to heroin use daily," Long said. "That's a problem. That's two people on our campus, and that's only of the 244 people who admitted use.
"We have a campus of 16,000. Who knows. If you look at that small sample size and two people admitted to using and are not seeking help for [using heroin], that is a problem."
Macke explained that the 298 sample size does not represent NKU students on a large scale. Since the survey was only distributed to those in the Student Union and the library, students who do not visit those locations are not represented in the sample that was surveyed.
"For instance, non-traditional students who are working full-time jobs and come to campus, they're going to go to class and immediately go to work or go home," Macke said. "They're not going to be hanging out at the Student Union or the library necessarily."
Macke said that although this factor limits the generalizability of the findings, the findings can be considered accurate among the 298 sample size.
"I do feel that these findings are a good representation of our campus, and they're in line with national rates, which makes us feel more confident in their validity," Macke said.
Aimie Willhoite, a student in the Master's program for social work, conducted research related to accessibility of drugs to students on campus.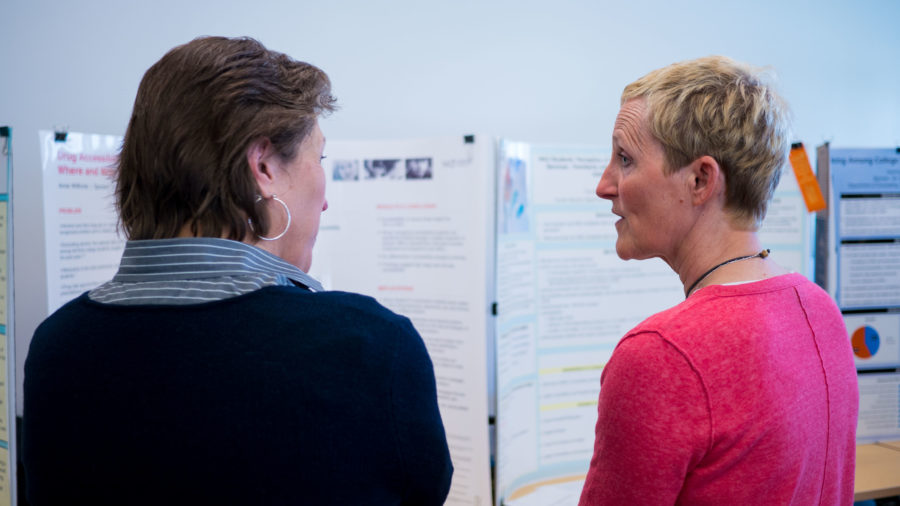 Of the 298 students surveyed, Willhoite found that 4.7 percent reported knowing someone who had purchased heroin on campus.
"When I saw that number, it really was not surprising to me," Willhoite said. "Out of 298 students, 13 answered that question, so I thought, 'Wow, what does that mean? We only surveyed 298 students, so what does that mean for the whole campus? There's over 15,000 students at NKU, how many more are there that know of this going on?' But I wasn't shocked to be honest.
"I figured if it has hit the larger community, it has to have hit NKU as well."
Lieutenant John Gaffin said the NKU Police Department encounters an individual in possession of heroin less than once a year.
"It's not super prevalent," Gaffin said. "Obviously, if we were to see a big spike, or that we had people trafficking, or tons of heroin possession on campus, we'd swing into action and take some steps to fix that. But it's just not something that we see in any quantity whatsoever."
Gaffin said he does not believe that heroin trafficking is an issue on campus, but he is aware that there are students who are using heroin.  
"I would say though, that through talking to with our Health, Counseling and Student Wellness folks, we do know that there are a handful of opiate addicts here on campus," Gaffin said.
Siobhan Ryan-Perry, alcohol and drug clinician, treats students who have substance abuse disorders. She also provides mental health counseling for those struggling with addiction and for those who have a loved one in active addiction.
Ryan-Perry has worked with five students in the past year who are either using heroin or are in some form of treatment.
Although she has worked with those using heroin, she thinks students prefer seeking treatment off-campus.
"Our students here are actively working jobs. They're students, and when they come on campus, they just want to blend in," Ryan-Perry said. "They don't want to be identified as an addict or somebody in recovery because this is the first time they get to, as they say, 'be normal.'"
Along with the fear of being stigmatized, she thinks students are leery about the confidentiality of the counseling services.
"Coming to us is confidential," Ryan-Perry said. "I am a licensed clinician, and I want to help, and I understand their concerns. I really try to reassure students that our system is completely separate from the rest of the university. Nothing that they say to us is released to anybody."  
Ryan-Perry hopes students who are struggling with substance abuse know that there is help available to them.
"They're not alone. There's no judgement," Ryan-Perry said. "I would love to just sit with them and find out what's going on, how it's impacting them as a student, and help them come up with a recovery plan that works for them so they can be successful and healthy as a person and as a student."
Long believes conducting the survey and research will help spread awareness and understanding within the campus community.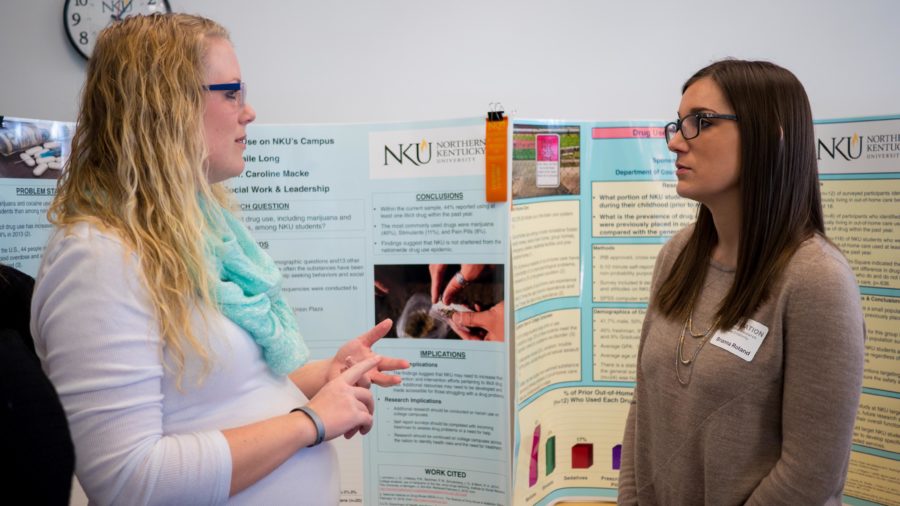 "A lot of people don't recognize that it really is happening close to home," Long said. "If it hasn't affected you or you haven't talked to someone who has been affected, that stigma is there. People are quick to talk about addicts and use that kind of language like 'This is what they want to do, they want to be down this path. They just deserve to die.'
"I'm constantly fighting that battle with people."
She said the hardest part of the project was that she can't reach out to the anonymous students who are using heroin.
"I think about those two people who are using heroin on our campus, and I think, 'I wonder if they're going to live. I wonder if they'll overdose. I wonder if they know that there's people that are willing to help them,'" Long said.
The research will be showcased in Greaves Hall prior to Sam Quinones' conversation on April 18 at 7:00 p.m. 
CORRECTION: This article originally stated that 82 percent of the 298 students surveyed had used drugs in the past year. It has been corrected to state that only 44 percent of the students surveyed have been used in the past year.