'We are here' LGBTQ program to support community
In the aftermath of the worst mass shooting incident in U.S. history, NKU LGBTQ Programs and Services welcomes everyone with comforting arms and supports those still feeling the shock from the Orlando tragedy.
"I think people are remembering but trying to forget, as well," said Amber Caines junior anthropology major and president of Common Ground, an organization devoted to providing a safe place and educating the public about the LGBTQ community
With National LGBTQ Center Awareness Day and Pride Week kicking off in October, the LGBTQ programs and events will help support the entire community.
"Hopefully more people will realize we are here and they need to come participate," Caines said. "Everyone is an ally. It's about bringing everyone in."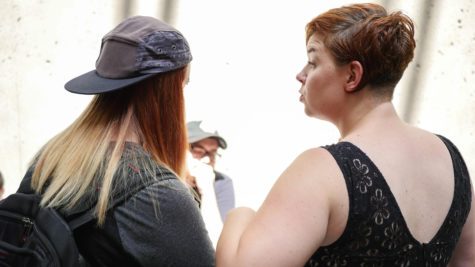 Caines plans to work on diversifying Common Ground this year. She seeks to brings in more of the minority groups and get more members to participate in the community by working with more programs.
"Last year it got kind of white washy because there is a separate minority, Colours of Pride. so I'm hoping to coordinate with them more," Caines said. "I'm hoping to work together because the problems in the LGBTQ community, there's two differences when it comes to African Americans and Latinos, and then there's white. Two totally different things. I'm hoping to get us more in the community."
Bonnie Meyer, director of LGBTQ Programs & Services, agrees that appealing to the larger community will bring more awareness and equality.
"We're a community where we welcome everyone, regardless of race, religion, ethnicity and sex. People are afraid of what they don't know or what they've never had experience with, so all the work we do is about bringing awareness to the needs of the whole community, which can be tricky with intersectionality and the overlapping identities we have." – Bonnie Meyer 
During the first few weeks of the new semester, Meyer said they concentrate on visibility and outreach. They also continually work to increase their support and reach across campus.
"We are here. We provide support for all students," Meyer said. "We have a thriving community and focus on education, advocacy and awareness."
Meyer is excited for the upcoming semester and events, the LGTBQ Services and Programs have never had as many sign ups than this year. Just in the first week they've had over 200 sign ups.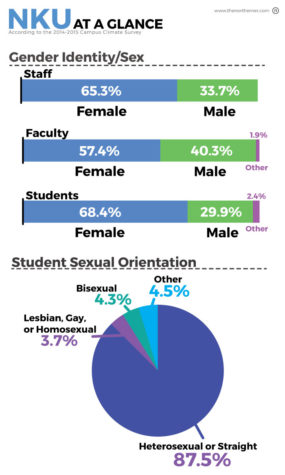 LGBTQ Programs & Services Coordinator, Rachel Loftis suspects that because of all the nationally recognized days in October like Asexual Awareness Week, Inclusive Excellence Symposium and Anti-Bulling, students are seeing how helpful their services can be.
"I feel really good about where we're at and the direction we're moving in this semester," Loftis said. "It has been phenomenal seeing all the people signing up and taking our pins to show support."
Working at the Center for Student Inclusiveness LGBTQ History month also overlaps with Latino History Month and Disability Awareness Month. Loftis wants to take that opportunity to address intersectionality and focus on programming together.
"How can we work together to make sure we're not only focusing in our areas but others as well and create more programming that speak to the students," Loftis said. "I'm always wanting to say society is becoming more accepting. Pockets of society are more acceptable. We want students to know we are here."
Nick Snider, senior English major and Lead LGBTQ Ambassador, is also looking forward toward October, especially Ally Awareness Week. He thinks it's a great opportunity for making people feel more comfortable and welcome.
"It'll be interesting working to make sure allies understand how to be good allies and it's not just about sharing a pretty, nice rainbow on Facebook," Snider said. "There are concrete actions that all members should be taking to help improve our service, especially during LGBTQ History Month.  People who aren't a part of the community should take some time to learn something about what we're trying to say."