Cincy Global Game Jam: A chance for anyone to make a video game
The sun sets on the valley. Its rays glisten on the still waters of a lake while insects steadily chirp amongst the foliage. You guide your horse to the shoreline so she can drink and so you both can get some rest after a long day of adventuring. Just as you finish setting up camp, a pack of wolves arrive, and you draw your sword with a click of the mouse.
Dramatic music plays as the creatures snarl viciously and prepare to strike, but then you remember your secret weapon: you press a button on your keyboard to grab some dog treats from your inventory, and suddenly the wolves become as playful as golden retrievers. You save your progress and turn off your PC.
Video games allow for these sorts of multifaceted experiences all the time. They are an extensive collaborative effort: artists, musicians, writers and coders — among others — all come together to share a vision and create the games so many people play daily.
One way this happens is through an event called a game jam. In a game jam, participants work together for a limited time, usually just one or two days, to create an entire video game before the event is over. This Friday, Jan. 29, a game jam is being held in Cincinnati and is open to everyone.
The Cincy Global Game Jam is coordinated by two NKU alumni, Branden Middendorf and Brendan Dickinson, from their independent game startup Gear5 Media, and their meetup group, the Cincinnati Game Developer's Association (CGDA).
The event is being hosted by TiER1 Performance Solutions. After Middendorf and Dickinson hosted a successful 12-hour game jam there last October, they decided to work with the Global Game Jam for a larger event.
The two want the game jam to be an opportunity for local developers to meet each other and gain experience.
"The game jam experience is great for anyone interested in video games," said Dickinson. "This is a great learning experience as well as a way to experiment and create a prototype that could have the potential to be a full-fledged game one day. I also think it's a wonderful way to meet new people around you that are interested in game development."
They also welcome people without any experience or skills to come learn about the development process.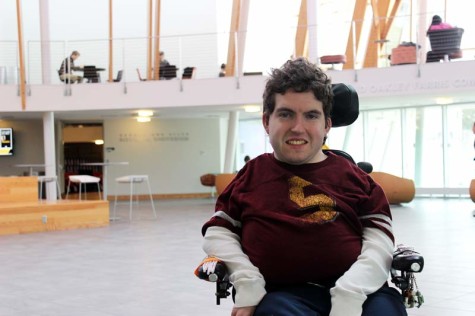 "Really, anybody can show up to it," said Middendorf. "I've gotten e-mails from a couple of people because they want to show up but they don't necessarily have the skills to make a game or don't know where to start. I highly encourage anyone who is just remotely interested in making games to show up to a game jam because you can see all sorts of different talents being put to use making a game and that could steer someone in the right direction, like, 'This is what I want to do.'"
According to Dickinson, they've even had producers and lawyers that want to attend the game jam and become involved with game development.
NKU senior AJ Ryan went to the game jam in October, and is doing it again because of how much he enjoyed the event.
"I just love the fact that I can just sit down for a few days and make a game, and it doesn't have to be this big expensive title," Ryan said. "It's not draining, you just think of an idea and try it out and see how it works. I just like the speed of everything."
Those interested in participating can sign up here.
Directions to TiER1 and other additional information can be found here.