Health Innovation Center makes headway
Health Innovation Center construction on time despite rainy summer
With the structural steel frame set to be completed by mid-September, students filing into campus for the upcoming fall semester will be able to see the progress that's been made on the Health Innovation Center as it begins to take shape.

"What we can look forward to is the contractor saying that by Christmas the building will be enclosed," said Mark Jones, project manager. "It won't have all the final exterior elements, but the building will be enclosed. We should be able to see the shape of the new Health Innovation Center coming into this upcoming semester."
The project is both on schedule and on budget thus far, according to Jones, despite a rainy summer season.  
The Health Innovation Center, which will be the new home to the College of Health Professions, is funded by $97 million that was allocated in 2014 by the Kentucky General Assembly, according to a press release by the university.
An additional $8 million has been invested by St. Elizabeth Healthcare, which will go towards equipment and construction of a two-story St. Elizabeth Healthcare Simulation Center.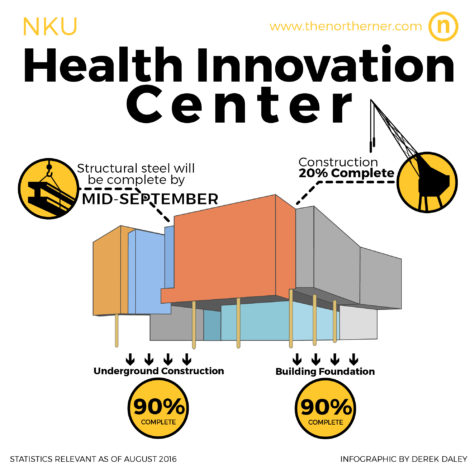 Derek Daley
Along with new construction, the project also includes the renovation of Founder's Hall, the second-oldest academic facility on campus.
While progress has been made, the construction site is the same as the previous semester, according to Jones. The fence beside Griffin Lawn is still in place and parking restrictions at Lot C are the same as last semester.
"We haven't created any more difficulties that weren't there six months ago," Jones said.
With the center scheduled to open in the summer of 2018, Amanda Nageleisen, spokesperson for the university, said in an email that the construction is already transforming the campus.
"When it opens in 2018, the Health Innovation Center will transform the study of healthcare in our region – but the construction is already transforming our campus,"  Nageleisen said. "As students return to campus this fall, we hope that they enjoy watching this exciting new academic facility take shape as much as faculty and staff have over the summer."
Nageleisen also hopes the campus community will join the university for the topping out ceremony, which will be held on Sept. 8 when the final beam is laid.
The ceremony will begin at 11 a.m., and the beam will be signed by the campus community as a whole.