VIDEO: Setting insecurities ablaze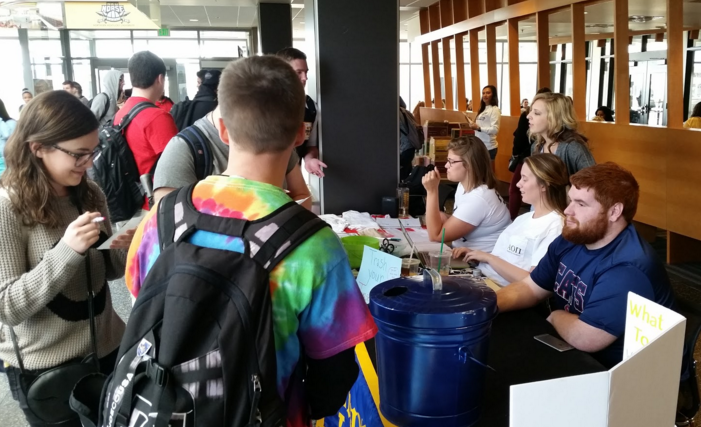 Rob Gruen, Grant Bowling, and Abby Evans
Alpha Phi Omega is embracing spring and encouraging all students on campus to adopt the new season with a new beginning and a new self-image.
Trash Your Insecurities was a program on campus this past week encouraging students to let go of all that is holding them back.
"Throw away the winter lag and find your happy escape," said fraternity member and sophomore visual communication design Bridgette Gootee.
Gootee along with her fellow fraternity members set up and manned a booth inside the Student Union every day this week.
The table overflowed with blank paper and pens encouraging any passerby to write insecurities and throw them into a metal, blue garbage pail.
"Let it go! Write anything, any insecurities and then let me go," said early childhood development education senior Cheyenne Cochran.
Passersby were following this advice as men and women stopped to trash their insecurities.
Students and professors stopped to trash their insecurities and left the booth smiling.
"I feel it is important to purge things in life," said passerby Danielle Smith sophomore special education major. "Let it go and feel better."
Trash Your Insecurities continues beyond a booth in the student union.  
"We want to improve general campus moral," biology freshman Jamie Macke said.
Friday night from 8pm-11pm Alpha Phi Omega held a bonfire where all the recorded insecurities went  up in flames near the Callahan volleyball courts.
"The goal is to burn them, have fun and not think about them anymore," Gootee said.
Trash Your Insecurities coincided with Women's History Month.  
"This whole month should be about self-empowerment, we have had more women participate but this activity is for everyone. We all have insecurities," Gootee said.
Macke said he feels more positive through volunteering and encouraging people to trash their insecurities
"It's a really cool and unique idea to bring people together, we need more of this positivity on campus," Cochran said.