Despite constant changes, Murray thrives for Norse
Cole Murray has seen everything during his time as a member of the Northern Kentucky University men's basketball team.
He endured the coaching change from Dave Bezold to John Brannen, played in two Division I conferences, switched from Nike to adidas and played on two different floor designs.
"Everything I came into the first day I got here has changed. Nothing has been overly difficult," Murray said. "You just have to adapt to it. As players you just have to roll with it. When you have team chemistry like we have there's nothing you can't overcome.
"It's been fun to go through all that stuff and look back on it and see how much you've gone through."
Brannen recognizes that Murray, along with fellow senior Matt Rosenwinkel, could have rejected the philosophy the new coach was trying to implement.
"I've felt like I've known them for 20 years and I've coached them for a year and a half," Brannen said. "They didn't have to buy in with a new coaching staff coming in, but they did."
None of that has stopped the senior from becoming one of the best shooters in the country. Murray ended the regular season shooting 41.5 percent from three, which ranks him 36th in the nation.
"All credit has to go to my teammates," Murray said. "My job is easy. They create and get me the ball in the spots I need to be effective."
Had the Norse not been in reclassification period last season, Murray would have ranked in the top 15 in three-point shooting percentage.
He also ranks in the top five in NKU history in threes made, which he views as one of his biggest accomplishments.
Murray was a naturally good shooter in high school. He knew if he had any chance of becoming a college player he needed to become even better.
"I worked on it every day," Murray said. "I would go to the gym by myself or have my high school coach rebound for me and I would just shoot shot after shot."
In high school Murray would put up 700 shots a day, trying to perfect his shot. At NKU, Murray estimates he puts up about 500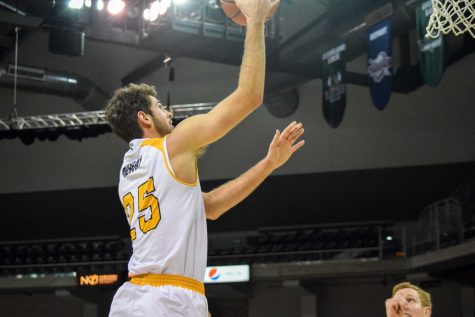 shots a day during practice.
Murray doesn't like to do a whole lot of extra work on his shot during the season. To him, it makes him feel like his shot isn't where he wants it to be.
"It plays a mind game on me," Murray said.
A Family Affair
Murray played his final regular season home game Sunday, capping off his NKU career beating Horizon League powerhouse Valparaiso.
Prior to victory, Murray walked across the floor arm in arm with his two biggest supporters in his basketball career: his mother Angie and father Dave.
"They have been the most influential people," Murray said. "Going through all the changes I've been through, for them to always be there — I know I can always call them and tell them what's going on and ask their advice on anything.
"I'm thankful and blessed I have parents like that."
Dave said walking out with his son before his final game was a culmination of all the success Murray has had on and off the floor.
"The sense of accomplishment for what he worked through from the third grade to where he is today is overwhelming to his mom and I," Dave said. "Not only from the basketball perspective but from the education side and the people he has been able to connect with like President Mearns and the relationship he has been able to develop there."
At least one of his parents have been at every game this season and throughout his career they have tried to make every game they could, including many road trips. Angie is often wearing a number 25 jersey to games.
Murray got his start in the driveway playing his father, who played college basketball at Hanover College in Southern Indiana in the mid-80s. Murray recalls his father standing outside for hours rebounding for him and helping him improve other areas of his game.
"The funny thing is, he wouldn't tell you it, but I've always been able to shoot better than him," Murray said. "So when it comes to shooting advice, I would just blow him off and and be like 'You don't know what you're talking about, I'm a better shooter.'"
Dave noticed early on that his son carried himself in a way that could bring Murray success in the future.
"I think early on, even when he was in little league, he had a mental capacity about him that was calm and in the moment," Dave said. "I always thought from a shooting perspective that's good, because you don't get caught up in the emotion of the game."
Finishing a career strong
This season has been the most fun Murray has had in his career at NKU. He's tried to enjoy himself more in his final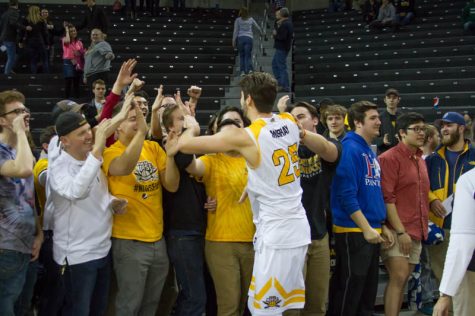 season as a Norse. Guiding the Norse to its first 20-win season in the Division I era didn't hurt either.
"I'm just trying to take everything in because I know I'm going to miss it next year," Murray said. "Stuff before that would be a drag to me I now look forward to."
Murray was the only senior who saw the court for the Norse this season, and while Murray will say he is more of a quiet leader, Brannen has watched him grow as a communicator.
"We have a philosophy that no one leads by example, you lead through communication and he's become a great communicator. He's added the toughness plays," Brannen said. "There's nothing I can do to help him shoot. He's a great shooter. His communication and his level of toughness has really developed."
Murray wants to see his career end in the NCAA tournament after the Norse win the Horizon League tournament. They will have a chance to do that in a week, when they begin the tournament on Sunday against Wright State.
Regardless of when the Norse's season ends, Murray will cherish this final season as NKU's sharpshooter.
"If it ends with us getting beat," Murray said. "It's something that I will have to accept and will look back on it and know I really enjoyed my career here and every aspect of this game."