NKU slides past ETSU in their first series win of the season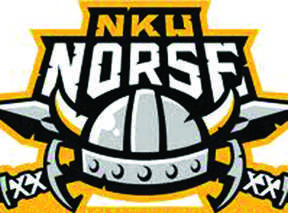 The Northern Kentucky University baseball team earned its first wins of the season, after defeating East Tennessee State in two out of three games this weekend.
The Norse bats heated up quickly, setting a program record of 21 runs off 20 hits in the third game of the series on Sunday.
Down 2-0 in the ninth inning of the first game, Junior Kyle Colletta stepped to the plate and led off the top of the inning with a double to left center. Catcher Jake Hickey followed with a single, sending Colletta home. Logan Spurlin then clubbed an RBI, tying the game at two. A single from Colin Ledger, plus an ETSU error, pushed Spurlin across the plate for the game-winning run.
In game two of the series, NKU led in the eighth inning when Ryan LeFevers crossed home on a sacrifice fly, 6-4. ETSU would tie the game and send it to extra innings. A walk off single by Kevin Phillips allowed the winning run to score for ETSU, 7-6.
After the loss Saturday, the Norse rebounded in the rubber game of the series. After two scoreless innings, the Norse exploded with a six-run fourth inning, then continued the onslaught with a pair of three-run homers from Quint Heady and Mike Moffatt in the fifth and seventh inning. Mofatt's home run handed him a career-best three RBIs as the sophomore also crossed the plate three times for NKU.
The Norse went on to win the game by a score of 21-12. The last time NKU scored 21 or more runs in a game was back in April, 2010.
The Norse will look to carry the hot bats and momentum into next week, when they will play their first home series of the year again Western Illinois. The two teams will play a pair of doubleheaders. The first game both Saturday and Sunday begins at noon, while the second game will start at approximately 3 p.m.