Ross looks to guide Norse to Horizon League success in 2018
With spring just around the corner, the Northern Kentucky Baseball team is gearing up for another year of play..  After finishing third last season in the Horizon league, the team looks to overtake that second or first seed and  possibly reach the NCAA Tournament for the first time in school history.  
"Our goal for this season is to win the regular season and conference tournament as well" said Mike Moffatt, senior outfielder for the Norse. "We definitely have a lot of depth and experience to reach that point."
The Norse hope to overtake Wright State and UIC, who they finished their last season behind. This year, they definitely have the confidence to make that jump.
"UIC won the conference tourney last year," said Cameron Ross, senior pitcher for the Norse. "We definitely feel like we have the opportunity to pass them up this season."
Even with that confidence, the Norse may see themselves slightly struggle early on due to the departures of Trey Ganns to the MLB Draft and TJ Alas to graduation. Ganns and Alas served as the Norse's three and four hitters last spring.  
"There's no doubt that Trey and TJ were staples in our lineup," Moffatt said. "However, we have a lot of new guys and returners to step up in their place."
The pitching staff, led by Cameron Ross, who finished third in the nation in appearances last season, also looks to be a catalyst for this team's success this season.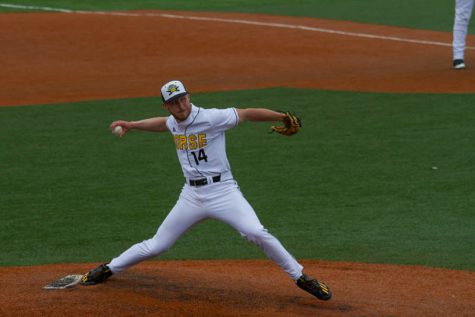 "I definitely got tired throughout the season, but I wanted to go out there and compete every single day," Ross said.  "We have a lot more viable arms this season and we plan to use each guy in whichever situation fits best."
Ross was the anchor that held down the back end of the bullpen last season, and he is planning to be a starter for the first couple of weekends this year.
"They're just trying to find ways to manage my usage for this season and use me, along with everyone else, in the best ways possible," Ross said.
New faces in the locker room should also boost team confidence as they prepare for conference dominance.
"Freshmen like Kaleb Meeks and Kyle Service have a lot of maturity at a younger age,"Ross said. "They always go out there and compete and are always ready to roll."
On the offensive side of the ball, new guys will also be a factor for this team.
"Cole Heavilin and Nolan Ratti are two Junior College transfers that should definitely help us out big time this season,"Moffat said. "Griffin Doersching is a freshman that should help out as well.  He hits the ball a country mile."
Doersching is a 6'4", 250 pound first baseman from Wisconsin.  "Griffin is an absolute bear," added Ross.
With healthy arms, new faces, great bats and extreme confidence, the Norse want to win this year, and win a lot.
"We understand there's going to be failure," Moffatt said. "But that's just another stepping stone to winning 30+ games this season."
Moffatt also said that each and everyone one of them need to be there for their teammates this season to succeed.  
"We understand that this is an extremely long season" said Moffatt.  "Being there for my teammates is definitely the most important part in overcoming that.  Everyone out there adds a piece to this whole puzzle.
The Norse opened up the season last weekend at East Tennessee State, starting with a 1-2 record. NKU is scheduled to play their first home game on March 11 against Miami (OH).