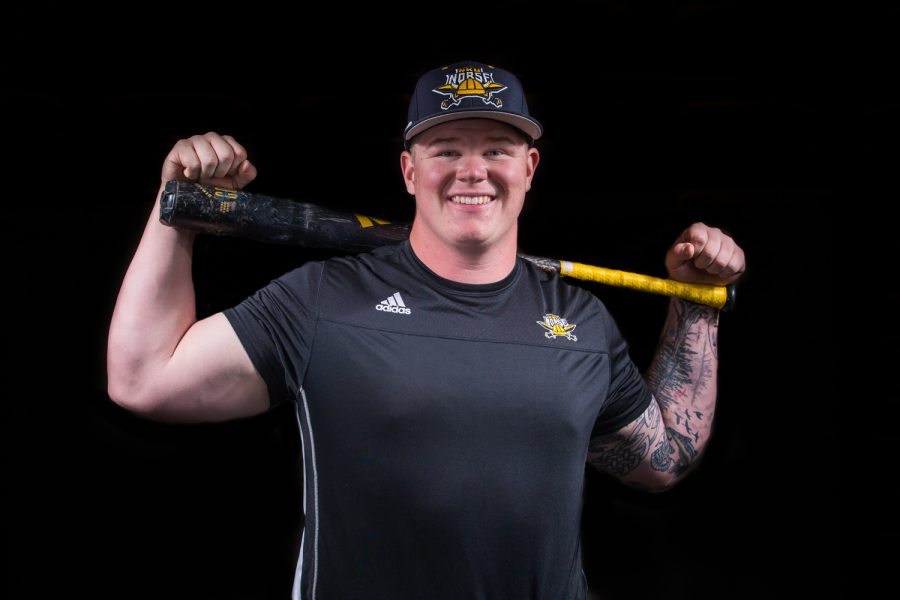 A Conversation with Griffin Doersching: Home Run Derby Champion
March 5, 2020
As Griffin Doersching, the NKU Norse junior first baseman and Home Run Derby champion, stepped up to the plate for his first-round swings at TD Ameritrade Park in Omaha, he had just one thought going through his mind.
"Wow."
In June of 2019, Doersching was invited to participate in the 2019 College Home Run Derby in Omaha, Nebraska. With his victory, Doersching became not only the first NKU player to win the event in its 10-year history, but also the first representative from the Horizon League to win as well.
In the Derby, six participants are given four minutes in the first round to hit as many home runs over the fence as possible. Once two players are eliminated after the first round, the remaining four hitters hit again for four minutes, and the player with the top two total scores from both rounds advance to the final round.
Doersching totaled a field-leading 31 home runs in the first two rounds, and his first-round score of 16 was the most by any contestant in a round throughout the first two rounds. It was at the end of the second round, however, when Doersching got the feeling that the trophy was within reach.
"At the end of my second round, I was leading in home runs and getting ready to go to the final round, and I was like alright let's win this. Let's do it," Doersching said.
In addition to Doersching, a lot of the pressure fell on Assistant Coach Dizzy Peyton, who served as Doersching's pitcher for the event. Peyton tried to take a simple approach with his pitching mindset.
"It was pretty easy for me. Just throw him good pitches so he can do what he does," Peyton said.
Doersching advanced to the championship round against Tyler Keenan from the University of Mississippi, who finished second in the first two rounds with 25 round-trippers.
"I knew [Keenan] had juice, like he can really hit. So, going into my final round, I was like I need to put up a big number," Doersching said.
After a strong showing through the early part of the event, Doersching struggled to regain that same mojo at the outset of the final round.
"For the first two minutes and twenty seconds, I only hit six homers. So, I took my timeout with about 1:40 left," Doersching said.
What happened after that timeout will become legend in NKU baseball history, with a little help from—of all people—one of Doersching's competitors.
"During the timeout, Chris Lanzilli from Wake Forest came up to me and said 'Hey, take your hat off … it will help,'" Doersching said.
Doersching obliged. With just under two minutes remaining, he proceeded to go on a homerun mashing rampage, swatting an unbelievable 14 home runs in such a short time frame.
After finishing with 20 home runs in the final round, Doersching had to watch as his competitor, Tyler Keenan, tried to match his total as the event's final hitter. He was unsuccessful, and Doersching brought the hardware home to NKU with a 20-15 victory.
Now eight months removed from his thrilling victory in Omaha, Doersching has had time to reflect on the special accomplishment and what he can take from the experience moving forward.
"It has helped my confidence so much. Being successful there helps me maintain my confidence through all my-bats, because baseball is an up-and-down game, and you are going to have games when you're 0-4 with four strikeouts, and other games when you go 3-4 with two home runs and a double," Doersching said. "It definitely has helped me keep my confidence when I'm not doing well."
Doersching's win established NKU and the Horizon League as competitors with other major schools.
"I think it says a lot about [Doersching] to be able to compete against guys who get publicity all the time, and I think it's great for the program. But I think more than anything, it's great for mid-major programs, having the chance to compete against bigger schools, and taking them head on," Head Baseball Coach Todd Asalon said.
Doersching has now joined an exclusive list of previous College Home Run Derby winners, headlined by New York Yankees superstar right fielder Aaron Judge, who won the event while playing at Fresno State in 2012.
While nobody would mistake Highland Heights, Kentucky for the bright lights of New York City and the legendary Yankee Stadium, Doersching's teammates have taken the opportunity to joke about him becoming the second coming of the MLB All-Star.
When talking about his MLB role models, Judge was not a name that immediately came to mind for Doersching. Rather, it was former Milwaukee Brewers first baseman and two-time MLB Home Run Derby winner Prince Fielder.
Growing up right outside of Milwaukee, Doersching has many memories of watching Fielder play—including a video of the hulking Fielder hitting an inside-the-park home run, which became one of his favorite videos to watch as a kid.
The lone concern that many Major League Baseball and other professional baseball players have about participating in a Home Run Derby is that it can affect their swing in the future, as players may begin to subconsciously think about hitting the home run, leading to more swinging strikes.
However, Doersching is not concerned by that narrative.
"Honestly, when I catch myself thinking about hitting the ball in the air is when I run into trouble," Doersching said. "Now I have tried to get to the point where I am not thinking too much at the plate, and just trying to hit the ball hard. That's my new goal, is just hitting every ball hard."
Heading into a new season in 2020, the statistics and records have been wiped clean for every team across the country. But Doersching still expects to carry the experience and memories that he made in 2019 through the rest of his life.
"It was just the coolest experience of my life. And to be able to do it for a school like NKU, it just means the world to me," Doersching said.