New residence hall adds creative twist to on-campus living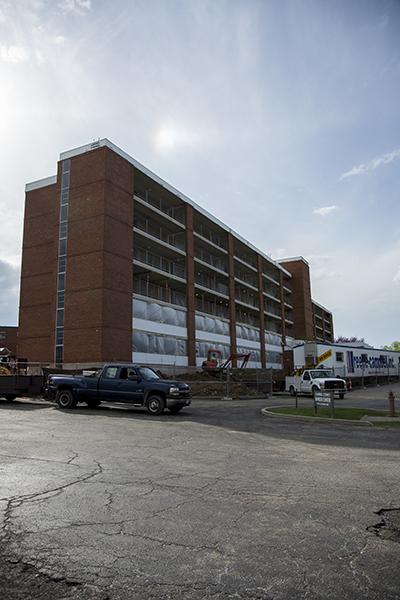 In Fall 2014, residents of University Housing will be able to take part in an entirely new living experience. Northern Terrace will boast the campus' first open-concept dorm with an expansive space to customize each suite.
Each suite will house four residents, with the exception of Resident Assistant rooms that will be housing three. The open concept design will offer the largest square footage of any other residence hall, beating Norse Hall and the Suites by 200 feet.
Northern Terrace is located directly next to Callahan Hall, about a quarter mile off main campus. The building, formerly an assisted living home known as Lakeside Terrace, was officially purchased on July 1, according to project manager Marilyn Heflin.
All the furniture inside the rooms will be movable, including beds, desks, armoires, closets and more.
Each room will have two bathrooms, meaning two showers, two toilets and two sink areas. Part of the design is the placement of these pieces. Technically, Arnie Slaughter, director of University Housing said, each resident of the room could be using a different part of the bathrooms at the same time, while ensuring their privacy.
"Students will love the layout," Heflin said.
Richard Fleischman + Partners Architects is the group in charge of the layout. This design is similar to the construction of another one of their dorms, the University of Cincinnati Morgen's Hall, as featured on the website. It has the same open design and ceiling to floor windows that are being incorporated into the new building.
Slaughter explained that NKU housing has been full or over capacity for the past five years. That combined with a low "melt rate," the number of students who leave housing the first five weeks of school, which signaled the need for a new facility.
Finding the appropriate addition in the newly named Northern Terrace, was a relatively easy task.
"Lakeside pretty much fell into our laps," Slaughter said. "The building has not had permanent residents for awhile, and when the empty building came up for sale early last year, the timing was in sync with future plans, and the purchase was made."
The new residence hall will have some major benefits to residence life at NKU.
One of the biggest benefits will be the creation of a community near Callahan Hall. Now, Callahan "won't be so isolated," according to Slaughter.
With the side-by-side halls, Slaughter said the off-campus area will begin feeling more like a residential village of its own.
Heflin spoke about plans to connect the two individual buildings, making the area a more cohesive space.
The parking that residents are used to in front of both halls has already been removed, and in its place will be a circular turnaround zone like the one in front of Norse Commons. Decorating this area will be plenty of new grassy zones, trees and pedestrian walkways.
The community garden now located outside the Callahan classroom, will be removed. However, Heflin believes there is possibility for relocation in the future.
"I'm excited to see students use [the area]. It's a more homey environment," Heflin said.
Current University Suites Resident Assistant Erin Parrott doesn't fully agree. She explained that though the open concept allows for greater flexibility and creativity, it also removes a privacy aspect that most residents are used to.
"The first few years will be a learning experience," Parrot said.
Parrott explained that residents of Northern Terrace should learn what they can deal with living in that style, and should have a safe place to get away from it all.
One place where residents could break from their rooms would be in the many other amenities that are available.
Heflin said that within the building there will be one computer lab/study room, two kitchens that are similar to those in Callahan, and two laundry facilities that will remain free of charge.
As well as those within the building, Slaughter said that the intent is that Northern Terrace residents will use Callahan amenities as well, such as the Bistro dining hall, the computer lab, study room and the multi-purpose and exercise areas.
With the removal of the parking between the buildings, there has been some concern expressed about where residents will keep their vehicles. Slaughter made sure to clarify that there will be sufficient parking for all residents in Callahan's current lot and in the pit next to the building.
Slaughter expressed that though it is not right next to the doors of each hall, and maybe not the ideal, "it's a lot closer than some other colleges."
The residents of this building, Slaughter explained, will most likely be half freshmen and half returners of campus living. With priority housing registration assignments being sent out recently, that means the only spots left are for incoming freshman.
The last building to be open on campus was Callahan in 2010, and Slaughter is excited that newer residents will be able to see some change in the university's environment.
Slaughter wants future and current residents to know that, "We're doing this for you. It will provide a unique opportunity to have a creative community," he said.
NKU currently houses 1,850 students, according to the Housing website.
The completion date for construction is July 1, and the building is currently on schedule, Heflin said.
Slaughter explained that some final inside touches may not be complete until Aug. 1, but the building will be completely livable by the time RA's and residents move in.