Student's summer plans include a rock 'n' roll road trip
Cincinnati's 70s hard rock and early metal-influenced band, Electric Citizen, started their national tour on Saturday, April 26  in Kansas City. The group will then head to San Francisco to join California stoner rock band Fu Manchu for the next several weeks. With their tour mates, they will first travel north to Portland and Seattle in the Pacific Northwest before cutting back across the American heartland, stopping in Denver, Salt Lake City, Minneapolis and Chicago.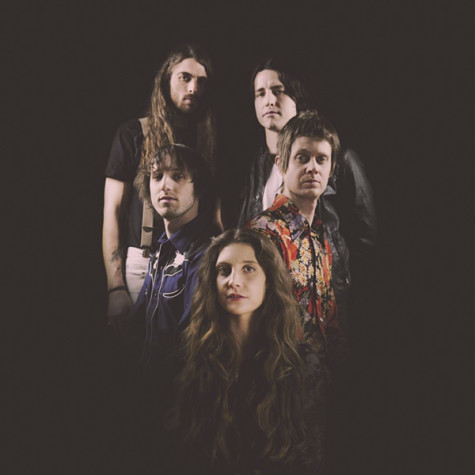 Chicago is where the temporary bass player will not join Electric Citizen on stage and Nick Vogelpohl, the band's bass player, will.
Vogelpohl will be finishing exams for his integrated studies major here at NKU before joining his band to finish the rest of their tour until June 3.
"The thought process is to take it a day at a time and get through finals first, as exciting as the prospect of going on tour is," Vogelpohl said.
He will be fitting exams, a job, and even the Flying Pig Marathon into the days leading up to him joining his bandmates.
A new label and new places
This tour with Fu Manchu comes with the help of their new label Riding Easy Records. The group was signed to the label for a two album deal after hearing about it while playing a festival in Milwaukee last year, according to Laura Dolan, the group's singer.
"After signing with Riding Easy Records, this was the first big opportunity they presented to us and we wanted to accept right away to show them that we want to play with bands of that caliber," Vogelpohl said.
He is excited to play venues he's never played as well as see cities and parts of the country he hasn't had the opportunity to visit, such as most cities on the western leg of this tour.
"We did a two-week tour last May and went to a few of these cities: Atlanta, Philly and a couple spots," Vogelpohl said.
This shorter tour involved him leaving for the road just after finishing final, he added.
Laura Dolan said she and her husband Ross, who plays guitar in Electric Citizen, have never seen the west coast either.
"Actually this is a completely different tour for us. Usually we do the Midwest, but we're starting the tour out west this time," Dolan said.
Vogelpohl said he is looking forward to playing bigger venues that draw bigger artists. While looking into some of the venues they have been booked to play, he was glad to see that there were many shows he would pay to watch visiting these same venues; such as a band in Electric Citizen's style called Graveyard, and OFF!, Keith Morris' old school punk group.
New Record
While on tour, the band will start selling their new 7 inch for "Light Years Beyond". It will be released on May 20, but you can pre-order it onRiding Easy Records website. The label is in the process of changing its name from Easy Rider Records, due to talks with Easy Rider magazine, said Vogelpohl.
The song will be included on Electric Citizen's first full-length album, "Sateen," which will be released July 1.
"It's with a new label who is also fairly new," Vogelpohl said. "They're just as giddy about putting this out as we are."
The tracks were recorded at Brian Olive's studio, The Diamonds in Northside, said Dolan. Olive used all analog equipment to record them and the songs were even mixed using an old mixing board from the 70's.
"There's something about that style that you can't replicate," Dolan said.
The group is looking into booking a show when they return home in June.
For more information you can visithttp://electriccitizenband.com/